An unusual summer reading roundup of books that blend meaty subject matter with engaging visual storytelling
Who doesn't love comic books? While infographics may be trendy today (and photography perennially sexy), there's just something special about the work of the human hand. Good old-fashioned manual labor, literally, brings a unique richness to storytelling where words alone sometimes fall flat. I've put together a list of some of my favorite graphic non-fiction. These hybrid works combine the best elements of art, journalism, and scholarship, and provide the perfect way to mix some visual magic into your summer reading list.
1. THE BEATS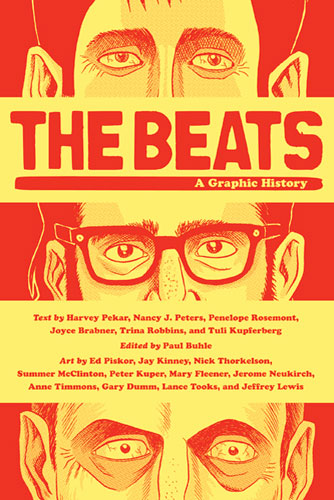 I've long loved authors Jack Kerouac, Allen Ginsberg, and William S. Burroughs, so I was thrilled to discover The Beats: A Graphic History, an anthology that mashes up biography, criticism, and literary readings from the seminal creative movement. Comic art legend Harvey Pekar presides over the enterprise with a boldness befitting the Beatniks' sensibility, along with graphic geniuses Peter Kuper (of Mad magazine fame), Ed Piskor, and other big names in the medium.
The Beats invokes the immediacy of 1940s and '50s art, music, and writing; even better, it provides political context and introduced us to an entire panoply of artists whose contributions to the era are lesser known. From painting sessions in Jay DeFeo's flat to strains of mental illness throughout the movement, The Beats is an invaluable addition to our picture of a charged moment in creative history.