'Boyz n the Hood,' 20 Years Later: The Making of a Movie That Did Race Right
The studio exec who green-lit the influential inner-city film looks back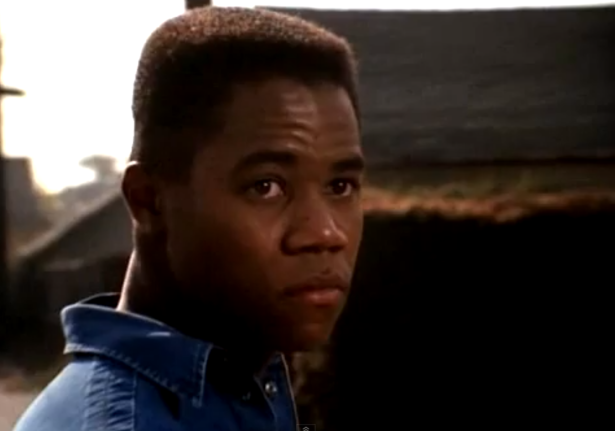 Columbia Pictures
The conventional wisdom in Hollywood is that if you want to have a film about minorities, there need to be white actors in the lead roles. Just look at the current box office success The Help—Emma Stone, a white actress, stars in the film about the black experience during the Jim Crow era in the South. The picture, as many have noted, fits into a mold that critics label a "white savior" film, the kind of movie where white stars appear to help the black characters do something they might not otherwise do on their own. Many find it patronizing.
But 20 years ago this summer, director John Singleton—who returns to theaters in September with Abduction—defied that wisdom. He proved that a movie with no white faces as major characters, about the dicey topic of black-on-black crime, could win over critics and audiences of all colors.
The film was Boyz n the Hood. Press coverage of violence attributed to its opening made it controversial, while rave reviews made it one of the most critically acclaimed of the year. Later, the Motion Picture Academy nominated Singleton for writing and directing Oscars, making him not only the youngest filmmaker nominated for directing but also the first African American. The film is now considered one of the centerpieces of modern black cinema for its realistic portrayal of life in the inner city. Boyz n the Hood also introduced a national conversation about inner-city gang violence, a subject that until then had been mostly a local urban issue.
The story behind its making is one of a young, talented screenwriter and a studio executive who took a chance on him.
That executive, Frank Price, was chairman of Columbia Pictures, responsible for developing and green-lighting hits like Kramer vs. Kramer, Tootsie, Gandhi, Ghostbusters, and Out of Africa. Late one Friday afternoon in March 1990, Amy Pascal, who was then a production vice-president at Columbia (she now heads Sony's Columbia Pictures), asked to see Price to discuss a unique script that she wanted him to include in the usual weekend reading he would do at his house in the Malibu Colony.
"Normally anything to be given to me for weekend reading would have been brought up in the regular Friday morning staff meeting," Price said. "This script was not presented in that meeting. I suspect Amy feared that the project would be shot down by other staffers' comments, which is why she asked to see me in a separate meeting late that afternoon."
The script was about life in South Central Los Angeles, and its author was a USC film school student, John Singleton. Price agreed to read it, and he immediately recognized that Singleton had written something unique.
"I was profoundly moved by his portrayal of the lives of three young men in South Central L.A.," said Price. "His script gave me insight into their hopes and dreams that they clung to as they faced the often grim events of life around them." Price said it reminded him of one of his favorite movies, the Italian film The Bicycle Thief, which he saw when he was 18 years old and living in Flint, Michigan. "It made me identify with an Italian family struggling against poverty in post-World War II Italy," he said. "Why wouldn't enough of the American public identify with the story of an inner-city family told in such a compelling, insightful way?"
The Boyz n the Hood script had been read by filmmakers all over Hollywood, Price said. But without major stars or directors attached, it hadn't gotten any traction. "Those are the projects with the greatest risk," Price said. "If they don't work, they're a total loss. People in the industry ask, 'What idiot made that movie?' Those are the pictures for which they can throw you out of the studio."
Nonetheless, Price allocated $6 million of Columbia's money for the rookie to make it.
The film has grossed $60 million. No one is calling Frank Price an idiot.
As a studio chief who started in the business as a writer, he says his philosophy is, In the beginning was the word.
"You can have a lot of good actors and a good director, but if the movie is about something we don't care about, nobody's going to go see it," he said. "Probably more than anybody else, I emphasize the script."
An additional selling point was that Boyz n the Hood dealt with a segment of the population—young black males—who were underrepresented in film. Price had tried to draw them to theaters in 1980 with the comedy hit Stir Crazy, starring Richard Pryor and Gene Wilder and directed by Sidney Poitier. "When we had a preview in San Francisco, half the audience was white, and half the audience was black," Price said. "Everybody laughed. The only problem we had was people couldn't hear the lines, the laughter was so loud."
Price expected success with A Soldier's Story, as well. The 1984 film starring Howard Rollins and Denzel Washington tells the story of an African-American attorney investigating the murder of a black soldier killed in the Deep South. It was intended to appeal to black and white moviegoers equally. "But we didn't draw young black males," Price said. "A Soldier's Story would have entertained a young black audience. They just didn't come."
Boyz n the Hood seemed to be the answer. "I said, 'A-ha, it's contemporary, it's not period. It's a black story, but I believe there's a chance to pull in a white audience, too,'" Price remembers
Singleton's screenplay tells the story of Tré Styles, a 10-year-old boy who's heading toward trouble in his single-mother-led household. Mom sends him to live with Furious Styles, the boy's stern but wise father. Tré grows up over the next seven years with his friends, Ricky and Doughboy, as they each figure out how to survive in the violent, crime-filled Crenshaw neighborhood of South Central Los Angeles. Unlike his friends, Tré has the benefit of a strong father who not only tries to help his son develop into a man but gives the story its often inspiring conscience.
Price was aware that Singleton wished to direct Boyz n the Hood himself, a prospect that didn't trouble Price as much as it would some studio executives. He said he believes that if a writer can envision a movie shot by shot, the writer ought to be able to direct it.
"I questioned John on various elements of the production," Price said. He asked how the young filmmaker-to-be planned to handle the helicopters that ominously hover above the actors and audience throughout much of the movie. "Singleton said that clearly he wouldn't need a helicopter, he would handle those scenes with sound and light."
Price liked Singleton's creative solution to a potentially expensive production problem—as well as his general approach and thinking. Singleton's confidence reminded Price of a young Steven Spielberg, whom Price watched develop at Universal Television. (As an executive of Universal, Price was responsible for getting a TV movie called Duel made with Spielberg directing.)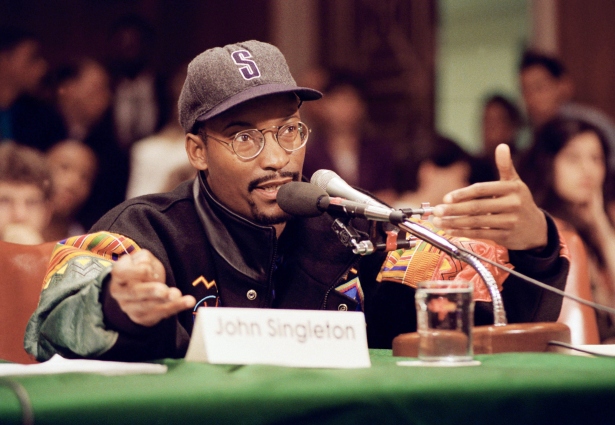 John Singleton, director of the movie "Boyz N The Hood" testifies before a Senate Labor and Human Resources subcommmittee Thursday July 23, 1992 on Capitol Hill. (AP Photo/John Duricka)
Price was careful in choosing a producer for Singleton. "Since John was inexperienced, I didn't want somebody who would be overpowering," he said. He selected Steve Nicolaides, who had recently worked well with Rob Reiner to make When Harry Met Sally, because Nicolaides was expert at coordinating the artistic temperament of a director with the business realities of making a major motion picture.
As for the cast, which included Ice Cube, Cuba Gooding, Jr., Angela Bassett, and Laurence Fishburne, Price regarded Singleton's candidates as superb choices. "When we screened the tests, the first actor that appeared on the tape was Ice Cube," Price says. "It was clear that he was a star. I had never seen him before, but whap, he jumped off the screen."
The final product was captivating. In order to gain mainstream credibility for the movie, Price took Singleton to Europe for the Cannes Film Festival. Graffiti-style billboards advertising the movie drew much notice, as did the festival's first-ever rap concert, put on by Ice Cube—but it was Boyz n the Hood that stole the show.
Critics loved it, too. "Roger Ebert wrote a love letter of a review, and that got the film great attention throughout the U.S.," Price said. When the picture was released that summer, Price and Columbia achieved the audience they sought—it was large, young and "evenly split, black and white."
The press expected unrest to surround the film's release. Unlike Spike Lee's more-incendiary Do the Right Thing, which sparked similar pre-screening anxiety in the media two summers before, the message of Boyz in the Hood was explicitly anti-violence. Yet gunfire erupted in some movie houses on opening night. In Los Angeles's Universal City, moviegoers were still in line to get popcorn before the movie started when shooting began. According to news reports, rival gangs apparently showed up in the same place at the same time to see a movie of common interest and ended up in a territorial confrontation.
Price said he believes that reporters were looking for a story. "If you had an incident within a mile of the theater, it was somehow connected to Boyz n the Hood," Price said. "I think that tamped down the box office. There were some people who got the impression that it might be dangerous to go to the movie. Hard to get people to risk their lives to attend your movie, worthwhile as it may be."
Despite this early, negative publicity, the film stands as a commercial and artistic achievement.
The former studio chief and the writer-filmmaker continue to be colleagues and friends to this day. Both are involved with the University of Southern California's School of Cinematic Arts, where Singleton is an alumnus and Price is chairman of the Board of Councilors. Singleton still sends scripts to Price for his feedback.
The motion picture industry has changed since Price backed the film the rest of Hollywood didn't want to touch back in 1991. "Most decisions are made by committee today," he said. "When I was running studios, it was much different. If the board of directors didn't like what I was doing, they were free to fire me, but they weren't free to tell me which movies to make."
The movie that Price chose to make those 20 years ago is now a part of the canon of American cinema. The coming-of-age story it tells is timeless; the view of a hurting South Central L.A. is unnerving, not to mention heart-breaking; and its stance on violence, unlike many other films documenting inner-city struggles, is unapologetic—the words "Increase the Peace" appear on the screen at the close of the film.
For reasons more complicated than a screenplay, since Boyz n the Hood was released, the homicide rate in South Central L.A. has decreased 75 percent. Maybe some took the final line of the film to heart.