Barbie gets a sustainable makeover with a home featuring solar panels, bamboo floors, and an eco-friendly toilet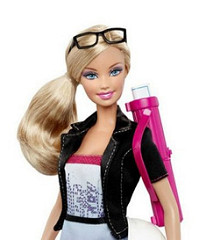 I vacationed in Prague not long ago and wandered into a museum full of Barbie dolls. Pretty impressive, in its way. Barbie has come a long way over the years, and her newest incarnation is as an architect with a green home.
Bridgette Meinhold previewed Architect Barbie in Inhabitat:
Various people and organizations have long been vying to get Barbie to become an architect and, finally in 2010, Mattel agreed. University of Buffalo professor Despina Stratigakos and Kelly Hayes McAlonie consulted for Mattel and made suggestions about Architect Barbie's clothing and her accessories. While many disapprove of Architect Barbie's choice of footwear, the architecture plan tube, and her choice of pink, the designers had good reason to choose all the items. They had to find a balance between stereotypes and pushing the boundaries.
I don't have a big problem with that, actually, and would sooner hire an Architect Barbie than a hypothetical Architect Ken to design my building.
If I did, chances are the building might have some cool green features. This summer, the American Institute of Architects held a design competition for Architect Barbie's "Dream House." Among the guidelines, according to Meinhold, were that the home should reflect "the best sustainable design principles" with a smart home office, a top of the line kitchen "and tons of space to entertain."