An Artist's Pop Genius Rediscovered
A jobless architect during the Great Depression, James Avati went on to become one of the most widely circulated illustrators of the 21st century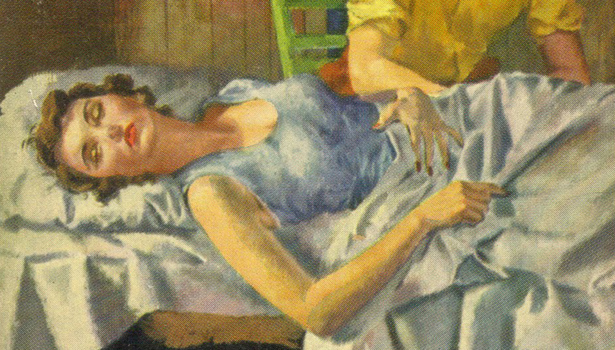 Signet Books
Hard times and the future of generations can be a gloomy topic, so the record of college graduates of the 1930s has some encouraging notes. Adaptable men and women often found their real vocations. My favorite example is the illustrator James Avati (1912-2005), subject of a museum exhibition reviewed in the New York Times.
I started to collect 1950s paperbacks with Avati signatures even before I knew who he was. What Norman Rockwell was to middle-class magazines, Avati was to mass market paperbacks of the 1950s and beyond. His signature was one of the first to appear on covers; publishers found that paperback outlets would buy more copies with an Avati cover. So his work could be found in tens of millions of homes, even though Avati collecting has always been a niche category. Avati was a self-taught painter but a master of interpreting a book, whether William Faulkner or Mickey Spillane. (The original for Catcher in the Rye recently was auctioned for over $21,500.) He was an early representative of what sociologists of the arts later called an omnivorous approach to culture, mixing "high" and "low." He read books carefully before illustrating them and made his canvases extra large, so many of the printed covers have remarkable detail and tonal range. No mass market illustrator could express a greater range of emotion. It was almost as though he were a theatrical or motion picture director plus production designer.
I interviewed James Avati by telephone and met him at a reception in New York in the late 1990s. He'd retained an amazingly youthful outlook despite health problems, and other admirers among the included some of his models -- still as striking in person as on the covers -- and at least one photographer who produced almost nothing but images for illustrators. He was one of many 1930s architecture graduates, including the Romanian-born Saul Steinberg, who discovered new careers in the building slump. (Steinberg once declared that the study of architecture is great preparation for anything but architecture.) Despite his Princeton degree, Avati knocked around in a variety of jobs before the Second World War; his un-Ivy experience illustrating the despised pulps (subject of another exhibition I've discussed here) turned out to be excellent preparation for the postwar illustration marketplace. One little-known fact about Avati covers is that the scenes of the deep South were really based on actually houses and amateur models near his home in Red Bank, New Jersey. (Coincidentally it also was the home town of the critic Edmund Wilson, another Old Tiger.)
My favorite Avati image is his Atlantic cover portrait of his slightly younger contemporary Arthur Miller:
Story continues after the image
Miller might have been a great screenwriter or journalist, but his experiences after the near-failure of the family coat manufacturing business helped develop his empathy as the depression architecture market did Avati's. A manuscript discovered among Miller's papers identifies the real Willy Loman, according to a New Yorker article [quotation from abstract]:
A note attached to the manuscript reads, "The real Schoenzeit of the story threw himself in front of an El train the day following the incident." "I've always thought of the formation of my approach to writing as springing directly out of the economic crisis of the thirties," he said in an interview. The shock of the Depression and the subsequent collapse of his father's power just at the moment in adolescence when Miller was trying to make an identity from his father's example, had a traumatic effect. "It struck me often that this wound possibly is expressed through a quest for order, which literature is," Miller said. Miller said of the charge that Willy Loman had no values: "He does have values. The fact that they can't be realized is what is driving him mad."

There are no grounds to be nostalgic for misery. And the fact that some people adapt creatively doesn't justify the suffering of those who don't survive. But James Avati has always appealed to me as an unusually resilient person, and it has been wonderful that his legacy is receiving the attention it deserves.