Photographic beauty and cultural analysis collide in these in-depth reads about Arabic graffiti, Japanese manhole covers, and the history of a ubiquitous art form
Street art is a frequent fascination of mine. Today, we turn to seven stunning, intelligent books that examine street art from a variety of angles, from the artistic to the sociocultural to the political and beyond, to glean holistic understanding of this ubiquitous, important, but often misunderstood medium for public dialogue and civic self-expression.
1. TRESPASS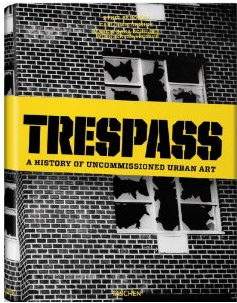 WoosterCollective is among the most authoritative blogs on street art. Last fall, its founders, Marc and Sara Schiller, poured years' worth of expertise and insight into Trespass: A History Of Uncommissioned Urban Art -- a gorgeous and thoughtful anthology that covers everything from Guatemalan guerrilla gardeners to icons like Banksy and Barry McGee that's as much an exhaustive compendium of compelling artwork as it is a modern manifesto for activism, democracy, and freedom of speech. And since the lavish 320-page volume comes from Taschen, easily the most visually ambitious publisher today, it's an absolute treat for the eye.
"What makes Tresspass different from other street art books is that it's not a street art book. It's a book that certainly includes street art and graffiti but goes beyond that to also address performance, protest, sculpture, and the whole goal of the book was to really look at the context of street art in a much larger historical perspective." - Marc Schiller