The World's Best Design Magazine?
FORM magazine—an essential read for anyone who cares about product or graphic design—shows why print design publications are still better than websites
I don't care what anyone says, design magazines are still the best network for reporting and critiquing design trends, fashions, and innovations. The Internet is nice, but nothing beats the visceral sensation of turning pages and finding inventive new and inspiring old objects of design. One of my favorite magazines is
FORM
for its holistic (and bilingual—German and English) coverage of industrial, product, graphic, and hybrid designs. German-born Gerrit Terstiege has been editor-in-chief since 2006, and has set the magazine on its current trajectory. I recently spoke to him about the past, present, and future of his magazine.
FORM, published by Birkhäuser GmbH in Basel, Switzerland, founded in 1957 by the Bauhaus designer Wilhelm Wagenfeld and three partners, began as a cultural magazine with musical and theatrical reviews, poems, and black-and-white photography. "I love those early issues of the '50s," Terstiege exclaims. "In the '60s the influence of the famous Ulm School of Design became greater, since our longtime editor-in-chief Karl-Heinz Krug had studied product design there. In the '70s and '80s more and more graphic design was covered. And today, our readership is basically split in half and both graphic and product designers read us."
Most FORM readers are German, Swiss, or Austrian, with subscribers in Holland or England, and distribution worldwide throughout Amazon. Terstiege sees this broadening demographic spread as function of design being more international. "A British designer is heading the Apple design department, a Dutchman is running things at BMW, and an Austrian is New York's most famous graphic designer, while the Berlin art and design scene is strongly influenced by Americans these days," he says. "So I don't think that much in terms of nationality. All I am interested in is good design. But I guess from an American point of view, our magazine is very European."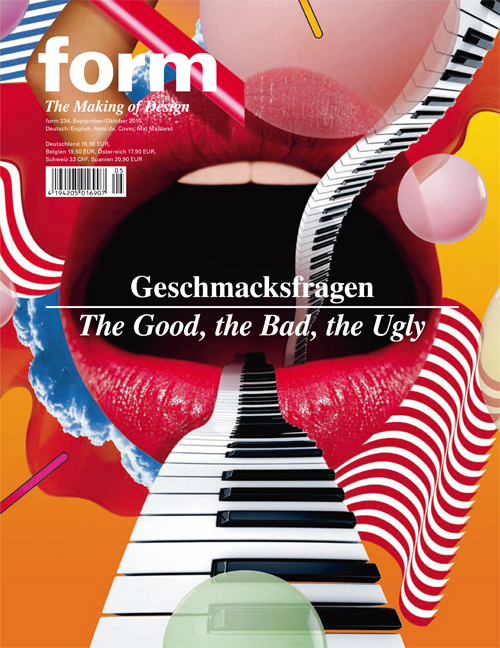 Terstiege's European focus derives from studying art history, German languages, and philosophy, before switching to design at Köln International School of Design. "An American book called
Quintessence
by Betty Cornfeld and Owen Edwards triggered my interest in design," he explains. "Back in those days, there weren't that many design books out on the German market. I was lucky a friend showed it to me. It certainly changed my life. That book featured very simple things like a bar of Ivory Soap, a classic American pencil sharpener, Ray Ban sunglasses, and the Coke bottle. I was thrilled to read about those products and wanted to learn more about design." Since coming to
FORM
in1996 as an intern he has worked on over 80 issues in various editorial positions. He also taught design history and theory at German and Swiss design schools and edited three design books so far, including one about three-dimensional graphic design,
Three D - Graphic Spaces
(for which I wrote an essay).
Although decidedly print-centric, Terstiege acknowledges, "all printed media have to react to what's going on in the digital world." Because it is a bi-monthly magazine, FORM has eliminated its news section, in favor of placing all the immediate news on the website www.form.de. "Our readers want longer articles, features, and themes you won't find on the web," he insists. "I also started a poster series with international illustrators and graphic designers. A poster on the wall next to me is still a very clear statement to communicate one's love for graphic design."
Terstiege builds FORM's issues on general and specific themes, from the current "New Talent" issue to illustration, education, innovation, and more, and integrates various disciplines seamlessly. "Our title stories or focal themes reflect what's going on in the design world at any time, what's being discussed. And they should be well-balanced in terms of graphic and industrial design. So if we do a title story on young international illustrators in one issue, the next issue will most likely have a product design focal theme like car or furniture design."
Although FORM is devoted to the new and newest, Terstiege is not as Pollyanna as he might be about new things. Concerning the qualitative increase in design, he says, "Good design is always rare. Very rare." He adds, "Speaking of chairs, it doesn't get any better than Eames. Speaking of posters, it doesn't get any better than Glaser. But of course, design doesn't stand still."
In fact, design is moving at such a fast pace on the web that
FORM
is struggling to keep up. Admittedly though, the magazine is not as webcentric as it is object-oriented. "We have done an entire issue on interaction design and Web 2.0. But visually speaking it's not that exciting to look at a web design on a printed page with nothing going on. But with a future
FORM
app, that topic will have a new impact."
FORM has become such an essential outlet for reportage and criticism, I could not resist asking Terstiege how design writing is faring today. "That's hard to say," he replies. "Designers are rarely trained to write in a journalistic way. But there are some very good writers out there who are or have been designers. Since we don't want to spend our time too much on re-writing someone else's text, we rather ask people of whom we know that they will deliver a good article with the desired length and on time." So what would the dream team of design writers for FORM look like? "Tom Wolfe, Nicholson Baker, Douglas Coupland, Alice Rawsthorne, Paola Antonelli, Gail Anderson, Michael Bierut, Mike Meiré, Mario Lombardo, Eike Köning, Stefan Sagmeister, Peter Saville, Paula Scher, Rick Poynor, and you," he says.
Now, that's good FORM.
Images: Courtesy of FORM