'The Ward' Marks John Carpenter's Unspectacular Return to Directing
Poor reviews have greeted the horror legend's first film in ten years—not that he cares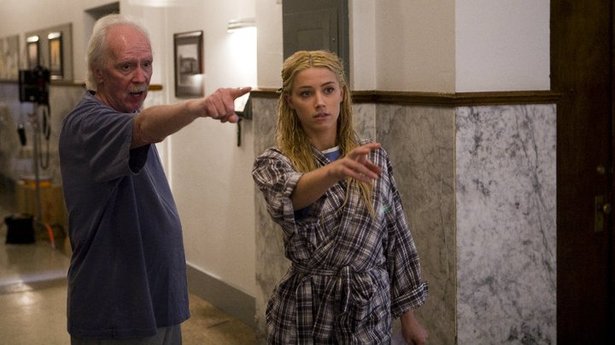 Film Nation
What happened to John Carpenter? It's a question that's been asked a lot by horror fans lately, and not just because the once ubiquitous maestro behind indelible hits such as Halloween and The Thing has been absent from the big screen for a decade.
To hear Carpenter tell it, what happened was he got tired. "I went from one project to another, often writing and directing and doing the music," the 63-year-old says. "I realized, 'I gotta lay down for awhile."
That time away following Carpenter's poorly received Ghosts of Mars in 2001 finally ends this weekend with the theatrical release of The Ward. On the surface, the film offers Carpenter a challenge worthy of a return from the sidelines. A character-driven psychological flick, it chronicles the tumult experienced by five women faced with a murderous, ghostly force in a '60s psych ward. It's also one of the few Carpenter films written by someone else—in this case Michael and Shawn Rasmussen.
Yet the The Ward, the making of which Carpenter mystifyingly described as "an assignment" to The New York Times, is strangely one-note and empty. Introducing stock, wooden characters and sending them through a rote ghost story-meets-psychiatry ringer, the picture feels less like an enthusiastic return to filmmaking for its helmer than, well, some sort of weird obligation, an "assignment" of questionable purpose.
Carpenter's oeuvre has been marked by vibrant, cross-genre pollination, sly self-references, and infectious, tongue-in-cheek humor. At their best, his movies have reminded people that it's acceptable to laugh while being frightened or thrilled. He built his brand by playing with conventions while drawing from the world beyond the screen. They Live featured astute, anti-consumerist, Reagan-era social commentary—not to mention an Gene Siskel-esque alien film critic denounced the director's predilection for violence. In Escape From L.A, Snake Plissken broke the fourth wall to directly address the viewer. And the action-horror-comic hybrid of Big Trouble in Little China was basically one big long in-joke.
So it's distressing to see Carpenter play things so straight in The Ward. The film is simple and self-contained, one of the only Carpenter works to exist entirely within its own shell. Critics have not been kind to it, with Salon's Andrew O'Hehir going as far as calling it "an awful lot like a low-budget knockoff of Zack Snyder's Sucker Punch."
Speaking with The Atlantic, Carpenter shared no deeper reason for returning to filmmaking than that he was intrigued by the challenge of a small flick with his first nearly all-female ensemble.
Maybe that's really all there is, and this once-distinctive voice has transformed into a serviceable director-for-hire. But it's hard not to wonder whether Carpenter's hiatus from Hollywood—and his lackluster return—can be in part chalked up to the fact that horror movies have changed, and Carpenter's old, out-of-the-box approach is no longer in fashion.
The filmmaker admits there's less of an audience for the "slower, more leisurely paced" movies he's accustomed to making. Beyond that, however, few modern films reflect the glorified B-picture comedy-sci-fi-horror blended spirit that Carpenter perfected. Those that do, like the recent Hobo with a Shotgun, occupy a niche market of limited theatrical releases and desperate on demand airings. It's not a feeling that can be adequately captured in two-minute commercial spots. Though Carpenter's films are frequently remade by other directors, the newer versions of his works (such as the 2005 Assault on Precinct 13) tend to hew toward safer conventions.
Admittedly, from a commercial standpoint, Carpenter hasn't had a hit in decades. Each of his '90s efforts—from Memoirs of an Invisible Man to Vampires—performed poorly business at the box office. Ghosts of Mars was a fairly significant flop. It is, therefore, not surprising that he's making his comeback on a miniscule budget, with a limited theatrical release (the film is also available on demand) for small distributors ARC Entertainment. But it is telling.
The lukewarm response that has greeted The Ward since it debuted at last year's Toronto Film Festival is, of course, nothing new for Carpenter. "Welcome to my career," he says. In fact, even some of his most affectionately-regarded movies were initially received with less than total enthusiasm. "This material has been done before, and better," Roger Ebert wrote of The Thing. Variety, amazingly, called the seminal Halloween "just another maniac-on-the-loose suspenser."
That's why Carpenter knows to not put much stock into what's written or said about The Ward. Time, after all, is the truest judge of art's worth, and it has already smiled on the veteran, whether this film hits or not. And there is hope: He doesn't speak with the finality of a man who's finished.
"It's never pleasant to get a bad review, but you have to look at it long term," Carpenter says. "That's where it all lies. One day I'll be gone, but my movies will be around. And they'll say, 'Oh that bum was directing.'"