The NBA Is Totally Republican, and Other Lessons From Last Season
What 2010's gonzo free agency period taught us about the league and its fans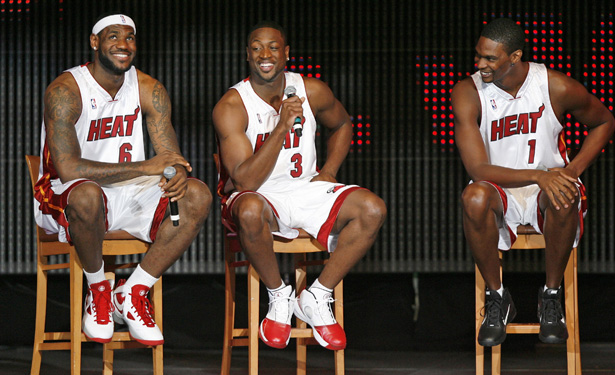 Reuters
When LeBron James announced just over a year ago that he was joining Dwyane Wade, Chris Bosh, and the Miami Heat, the NBA world exploded with questions. Were stars free to buck loyalty and team up in the city they liked the most? For big-market teams, was this the new model of roster-building to aspire towards? Were the Heat going to win the next decade of championships? Was life worth living in Cleveland? The noise never died down, and "The Decision" was the catalyst to an especially memorable NBA season. But it also exposed the NBA's hierarchy, leading to greater existential questions like whether some teams are too big to fail (yes), and whether some teams deserve to succeed at all (sometimes).
It's no big secret, but parity doesn't exist in the NBA. In the last 30 years, just eight teams have won the championship, of 19 franchises who've made the Finals and 30 in the league overall. The winning teams have three things in common: smart management, a lot of money, and luck, which was evident in last year's free agency period. Of the teams with salary cap space to pay for big-name players, only Miami, Chicago, New York, and New Jersey had the type of organizational clout to go after James, Wade, and Bosh. (The Los Angeles Clippers had money to spend and a big market, but they're a carnival.) The Heat had grand master Pat Riley showing off a beautiful city and a stable organization, while the Chicago Bulls sold the House That Jordan Built, a promising core in Derrick Rose and Joakim Noah and genius coach Tom Thibodeau's team vision. The New York Knicks pitched free agents on the glitz of playing in New York, after then-GM Donnie Walsh was able to sort out the hellishly convoluted roster he'd inherited from Isiah Thomas.
But the New Jersey Nets, though they had the money and the market, lacked similar decision-making skills. After being denied their big free agent targets, they betrayed owner Mikhail Prokhorov's Russian cool by panicking and threw $69 million at a fast-food menu of unspectacular role players like Jordan Farmar and Travis Outlaw. To put it in perspective, they spent almost as much on Outlaw—$35 million over five years—as the Bulls spent on three key role players. Chicago almost made the Finals, New York at least made the playoffs, but New Jersey stayed crappy and gunked up their roster for years to come, barring trades or a potential amnesty clause. It was funny for everyone besides Nets fans. The lesson was that if you'd completely bottomed out, as the Nets had the previous season when they'd finished a historically pathetic 12-70, you'd attract just about no one worthwhile.
Even though New Jersey messed it up, they were at least in a position to control their destiny. Successful or not, big-market teams are allowed to approach free agency as a get-out-of-jail card to make up for years of bad decisions. The Minnesota Timberwolves were just as bad as the Nets, but they didn't have Jay-Z pitching for them. Free agency simply isn't a reinvention option for small-market teams (unless they're lucky enough to already have a superstar recruiting for them like Miami, but even LeBron James couldn't convince anyone to come to Cleveland), who either end up with nothing or overpay past basketball value (like the Golden State Warriors, who dropped $80 million on hustle hard David Lee). Small-market teams have to settle for being smart by drafting well and not overpaying for bad players, like the Oklahoma City Thunder and the San Antonio Spurs, respectfully entering and exiting their franchise primes. And if there's one thing the last 30 years have taught us, it's that most small-market teams have done a bad job of winning on smarts. But there are promising signs of evolution: the long-mismanaged Charlotte Bobcats hired stats whiz and ex-Portland GM Rich Cho to run their operations, while the Pacers have turned to Kevin Pritchard, who previously orchestrated Portland's resurgence. Maybe more ex-Portland GMs need to be on the market, or maybe the small market teams are beginning to learn.
After the dust settled last year, pundits were quick to claim that free agency would be forever skewered towards those richer and geographically preferable teams. But fan interest thrives when the country's biggest markets are being served, and the 2010-11 NBA season was one of the best since the hypercompetitive '80s. The league prospers when the rich stay rich; sad to say, but the NBA is totally Republican. Acknowledging that would undercut the league's meritocratic ideal, which is why the owners will gripe about contract sizes and greedy players instead of hiring better GMs and being honest with their fans. Of course, the rumor mill has already started again as superstars Dwight Howard, Deron Williams, and Chris Paul approach the ends of their contracts. They're expected to go to New York or Los Angeles.