Roger Clemens Is a Rich, Powerful, World Series-Winning Victim
The iconic pitcher's lawyer is trying to convince jurors his client was tricked into lying under oath. Will it work?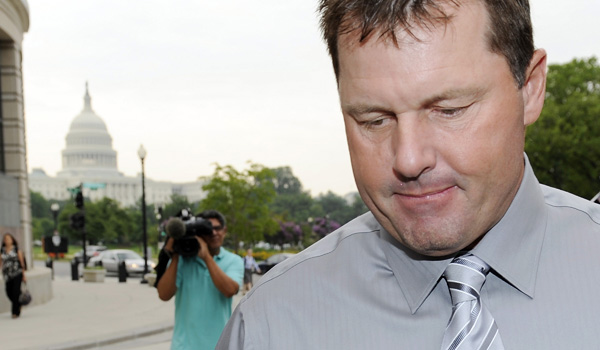 Reuters
Roger Clemens, one of the fiercest competitors ever to don a baseball uniform, is a victim. He is a victim of Congressional bullying and trickery. He is a victim of his friends and former teammates, who have "misremembered" key episodes in their long relationships with him. Clemens also is a victim of his former trainer, Brian McNamee, who has concocted a story about him, replete with syringes and other physical evidence. And he, Roger Clemens, the mighty strikeout king, is even a victim of Mike Wallace, the broadcast legend at CBS News' 60 Minutes.
These arguments came out of the mouth of Clemens' attorney Wednesday morning during opening statements in the perjury and obstruction trial of the former All-Star pitcher. Rusty Hardin bluntly told a federal jury of 10 women and two men that his client was set up to fail by a vast confederacy of malefactors. "Sometimes when people reach the mountain there is the unwillingness to give them equal consideration when people come down on them," Hardin told the panel, highlighting the "official persecution" theme the defense will focus upon during the course of the trial.
Hardin's strategy is terribly risky and could easily backfire. And it says a lot about what the defense thinks of its own case. Here Hardin is, standing up in a Washington, D.C courtroom, speaking to a group of ordinary citizens, many of whom have never before possessed any great measure of wealth or fame or power, and he is telling them that one of the richest, most powerful, most prominent baseball players of our time was unfairly tricked into lying under oath to Congress about performance-enhancing drugs. Tricked, mind you, even though Clemens had lawyered up before, during, and after his Capitol Hill testimony in February 2008.
Sure, Hardin needs only one juror to buy into the conspiracy theory to give Clemens an acquittal or a deadlock. And bashing Congress (or McNamee) is easy sport these days. But it's quite a stretch to ask jurors to believe that Clemens couldn't have done any better than he did on Capitol Hill that memorable day. Although the defense wants jurors to believe that Clemens was virtually coerced into testifying, as if somehow that would excuse his alleged lies, the fact is that no one put a gun to his head and forced him to talk. Like any other witness, Clemens could have invoked his Fifth Amendment right to remain silent. He had a choice. Typically, victims don't have choices.
Hardin told jurors: "Roger Clemens ... has a right to be angry ... he has a right to be hurt and mad ... Roger Clemens's only crime was having the poor judgment to stay connected with Brian McNamee." Nothing like a extra dose of righteous indignation to start off a perjury trial with a bang! Maybe one day we'll learn whether and to what extent Clemens is angry at himself, too, for testifying when he didn't have to in 2008 or for otherwise putting himself in the peril in which he finds himself today. Just don't bet on finding that out anytime soon from Clemens himself. He almost certainly won't testify (again) in his own defense.
If you can glean from Hardin's initial salvo that Team Clemens is rightfully worried about the coming evidence, you also might be able to tell from the government's opening remarks how prosecutors plan to win the case. Steve Durham, for the Justice Department, tried to keep things simple and straightforward. He took few chances and uttered even fewer memorable lines. "This courthouse is not the only place in this city that the oath is enforced," he told the panel. "The oath also is enforced in Congress."
It was just the first of many civic lessons prosecutors will try to impart to jurors before the case is through: even though federal lawmakers lie all the time on Capitol Hill, it is a crime for a citizen to do so after being sworn under oath. And here's another lesson jurors heard Wednesday from Durham: Even though Major League Baseball for the longest time took a feckless approach to the use of performance-enhancing drugs in the sport, the federal government never did. There are federal criminal statutes that deal with the sale and use of steroids, Durham told the panel, and Congress is entitled to hold hearings into such matters.
And now the testing of the evidence has begun. One quick thing before I go. It's interesting that both sides were so willing to have jurors in the case who know so little about baseball. Prosecutors don't mind that dynamic because they don't want a star-struck baseball fan sticking up for Clemens. And defense attorneys don't mind the make-up because they don't want a juror taking out on Clemens his or her frustration with the fact that so many baseball players have avoided any punishment at all for their sins. The result, I suspect, is that both Clemens and baseball itself will be judged during this trial, with the respective verdicts coming down from a group of people who neither watch Baseball Tonight nor subscribe to Extra Innings.