Nirvana's 'Nevermind,' 20 Years Later: Highlights from SPIN's Tribute Issue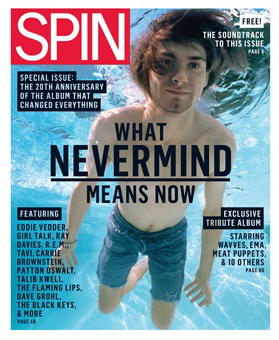 On September 24, 1991, Nirvana's Nevermind was released, ushering in the era of grunge (and, soon, scrunge). SPIN magazine has gotten out ahead of the inevitable wave of 20th-anniversary remembrances by making its own August issue a commemorative tribute to "the album that changed everything."
The magazine roped in a host of acts—past and present alternative stars—to cover the album, and the issue also features lengthy meditations on the decline of angst, the endurance of flannel, and Nirvana's influence in hip hop. But the real treasure trove is in the "What Nevermind Means to Me" section, a collection of "I was there, man" recollections from Gen Xers and backwards-looking appreciations for more whippersnapperish stars. A few choice quotes of the many, many tales in the issue:
The band's manager, Danny Goldberg says that Nirvana was ambitious, but not ambitious enough to expect the reaction that Nevermind got. "When the label was nearing completion, Kurt told me in a tone of quiet determination that Nirvana could be as big as the Pixies. ... In my own mind, the furthest goalpost imaginable was to match Jane's Addiciton, who had some hard-rock fans that had eluded other punk bands."


Black Flag's Henry Rollins, conqueror of the 1980s indie/punk underground, recalls how Nirvana changed his own career. "Nirvana arguably knocked that door down, and then old geezers like me coat-tailed. All of a sudden I get to be on Lollapalooza and a major label and I've got a real budget and a real press person."


Jennie Boddy, former publicist for label Sub Pop—inspiration for Hole's "Jennifer's Body"—dishes on the hype around Nirvana. While most of the other people quoted in the magazine seem astonished at how Nevermind transformed Nirvana into a sensation, Boddy was well-immersed in alternative rock's success by then. "Already in 1990 the hype seemed overblown ... As publicist for the bands, I knew no one could see my eye-rolling through the phone, so I had to tell journalists that doing a story on 'the Seattle scene' was so unoriginal and was so not a story."


Gerard Cosloy of Matador Records, home of Nirvana's underground peers like Superchunk and Pavement, stands out as a rare Nevermind dissident. "I'm not going to apologize for the fact that my mind wasn't blown/life wasn't changed by Nevermind. We've all got our favorite records. I don't honestly expect SPIN to do a 30th anniversary feature on how [the Fall's] Hex Enduction Hour changed music, but it's a much, much better album by a far more important band."


A sidebar features four '80s hair-metal stars whose popularity was allegedly killed by the rise of grunge. Says Nikki Sixx of Mötley Crüe, "I never understood bands saying Nirvana had anything to do with derailing their career. Maybe those bands didn't have the goods. You can't pee like a puppy if you wanna run with the big dogs."


Comedian Joel McHale of Community and The Soup was a fan: "One of the reasons I loved Kurt Cobain so much is that he had a great sense of humor. 'Smells Like Teen Spirit'—just the name of the song is hilarious. I mean, 'A mulatto / An albino / A mosquito / My libido / Yeah, hey, yeah'—that's a lyric from one of the biggest songs of all time."


There's lots more in the issue, of course, which is pretty interesting for both casual fans and hardcore Nirvana followers looking for a nostalgia fix. It went on sale at newsstands this week, and an extended "What Nevermind Means to Me" gallery is online now.
(Full disclosure: I interned at and wrote for SPIN.)