NASCAR: Will Blue America Ever Learn to Love Stock Car Racing?
Millions of Americans love the sport, while millions of Americans can't stand it. Is there a way to bridge the divide?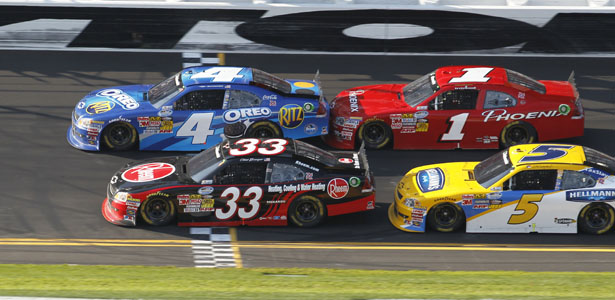 Reuters
Every week, our panel of sports fans discusses a topic of the moment. For today's conversation, Hampton Stevens (writer, ESPN and The Atlantic), Emma Carmichael (writer, Deadspin), Patrick Hruby (writer, ESPN and The Atlantic), and Jake Simpson (writer, The Atlantic), talk about stock car racing in advance of the LENOX Industrial Tools 301 this weekend.
---
Emma, my question this week is simple. Who's your pick to win the LENOX Industrial Tools 301?
That's a car race, by the way.
Okay, I lied. Here's my real question: What gives? So far we've discussed tennis and women's soccer. Which is cool. Both were timely topics. But neither is exactly a mainstream American spectator sport. Not like NASCAR, anyway. Tens of millions will watch the green flag drop Sunday at New Hampshire Motor Speedway—joining the roughly 100,000 (you read that right) in the stands.
Maybe I'm wrong. Maybe you'll all watch the NASCAR event, then tune in again when the IndyCars run at NHMS on August 14. My guess, though, is that you, along with a large percentage of our readers, would rather have a root canal performed during an IRS audit than watch motorsports.
I don't get it. What's not to love about NASCAR? Do you have something against fierce competition? Are you opposed to pageantry and grand spectacle?
Please, no one throw out the "drivers aren't athletes" line. My interest here isn't in flogging the "Is it a sport?" dead horse, but in genuinely understanding why someone would have an aversion to NASCAR. Is it the conservative, red-state culture around the sport? Is it because, on a primal level, you believe that sports should simply be on grass, not pavement? Or maybe it's because racing glorifies fossil fuels? Those cars could run on corn-squeezings for all the drivers and fans care, just so long as they go fast and sound good doing it.
Tell me I'm wrong, Emma. You're ready for some racing, aren't you?
–Hampton
Hampton, I am not ready for some racing, and I never will be ready for some racing. The easy explanation is that I just do not find it very interesting to watch—I really do not find cars circling around a racetrack to represent any kind of pageantry or grand spectacle. It is monotonous and loud and wasteful and—why yes, I am a bougie liberal from a blue state! How could you tell? But I know that all that's kind of a cop-out, so I'll try to be a little bit more specific here.
I have a really hard time with NASCAR because I don't immediately see in it the grace and finesse that I associate with the sports I'm always excited to watch and analyze, like basketball or tennis. You said it best, Hampton: The real requirements that dedicated fans have for their favored drivers is that they "go fast and sound good doing it." NASCAR to me is about blunt power, advanced, expensive equipment, and wasting non-renewable resources. When I've watched a race in the past (or, let's be honest, the 30-second highlight clips I happen to sit through on SportsCenter), I've always felt that what I'm watching is about a human's ability to control a machine and not a human's athletic abilities. I know that this is not entirely true. I know that a driver's crew is much like a team. And I know that football is just as much about power and crashes and that golf or tennis is just as much about advanced equipment as NASCAR.
The difference for me is that we rarely see or interact with this sport's drivers, and when we do—in this country, at least—they are almost universally white men (Danica Patrick notwithstanding). That's a bad recipe for making a sport appeal to a broad cross-section of the country. For those two reasons, I've never felt connected with the sport. But I am also a bougie female liberal from a blue state, and so I know that I'm biased and probably wrong for a lot of reasons. After all, I don't watch it. How can I really criticize it?
What about you, Patrick? Will you ever give NASCAR a chance?
–Emma
Give NASCAR a chance? Is John Lennon's estate sponsoring a stock car?
Rim-shot musical references aside, I've given NASCAR a chance. Repeatedly. Good, honest, open-minded viewing efforts. I've read about racing, too, attempting to absorb its characters and conflicts, hoping that narrative would help me see more than a bunch of fast cars turning left, the way dramatic arcs help me see pro basketball as more than a bunch of tall guys throwing an orange ball through a red hoop. (Coincidentally: the literature of NASCAR is borderline fabulous, from Jeff MacGregor's Sunday Money to Tom Wolfe's genre-defining "The Last American Hero is Junior Johnson! Yes!" Forget rubbin': readin' is racin'.)
Like Emma, my political heart largely bleeds blue. Applied to sports, however, that mostly means I'm sympathetic to players and skeptical of team owners. Otherwise, I just want to be entertained, the same way I would when watching a movie. (I couldn't disagree more with Jon Voight's Fox News bluster; I'm still hoping he'll reprise his ephocally funny role in Anaconda.) Yes, NASCAR's soul is Southern. Yes, the sport burns through fossil fuels like Charlie Sheen through processed coca leaves. And yes, drivers are overwhelmingly male and white. So what? For me, those aren't legitimate reasons to dislike NASCAR, any more than they'd be reasons to dislike Krispy Kremes, commercial air travel, and the all-female, primarily Caucasian U.S. women's national soccer team.
And yet: I've never been able to watch more than five minutes of a race. Why? The answer is simple. And kinda embarrassing. I dislike driving. Always have. The thrill of the open road is lost on me. Destination, yes. Transit, no. I find getting behind the wheel to be a chore, and the worst kind, because it simultaneously bores me to tears—can't read, watch television or get out and move; can listen to sports talk radio, ad nasuem, which is usually plus/minus 45 seconds—while requiring my full attention lest I be maimed or killed. Cars, too, mean nothing to me. They're toasters with wheels. Purely utilitarian. Devoid of romance, zero sex appeal. I know this makes me strange, and in some fundamental way un-American. C'est la vie! I can connect with the grace and skill of physical sports because, hell, I have a body and like to use it. But helmeted guys sitting in cockpits, riding controlled explosions? If I want to watch that, I'll tune into NASA. At least its missions have a chance of ending up somewhere cool, like the surface of Mars, as opposed to a high-tech cheatin' garage.
Jake, am I a lost cause? Or just looking at this all wrong?
–Patrick
I wish I could say you were wrong, Patrick, if only because it would buck Hampton's belief that you, Emma, and I are just blue-state liberal elitists who view NASCAR as lowbrow entertainment. But I can't.
I watched a lot of stock car racing growing up because my brother was a huge fan. Hell, I've covered NASCAR from up close, seen the inside of Clint Bowyer's trailer, and come within six inches of getting run over by Matt Kenseth in Victory Lane. But even when I was close enough to feel the heat radiate off the track and hear the throbbing roar of 43 souped-up engines, I still found the sport dull—like Patrick said, just a bunch of fast cars turning left.
What draws me to sports is the nuance and physical spectacle of human beings using their bodies and a series of carefully designed props to compete (I'm sure I would have been a huge fan of the Roman gladiator scene). Auto racing removes the human interaction from competition and takes a certain measure of success or failure out of the competitors' hands. How many times have we heard a victorious driver say "I just had the best car today" or seen someone toy with the field for 498 miles only to have a tire blow out on the last lap?
But honestly I never had a chance. I've never drag-raced with my buddies or changed my own oil, let alone my own transmission. My car feels like a device to get from point A to point B rather than an extension of myself. I'm sure a lot of NASCAR fans take a great deal of pride in their cars and know them from headlight to exhaust pipe (those are the two ends of a car, right?) so when they watch a race they connect with the drivers in a way I—or many of my yuppie New York friends without driver's licenses—never could.
–Jake