In Miami, an Alternative Cultural Renaissance
Could South Florida be getting... hip?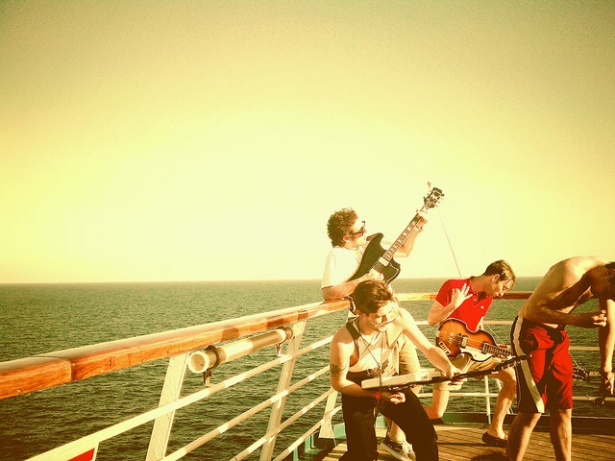 Members of the Black Lips on the "Bruise Cruise" this past February.
The eyes of Morrissey, Bjork, and Iggy Pop gaze out from the mural on a busy street in Little Haiti, overlooking the homeless guys directing traffic, stray dogs dodging cars, dilapidated houses, and Vodun botanicas. Painted by artist CP1, the "Wall of Idolatry" adorns the exterior of Sweat Records and marks the spot next to Miami's most dependable live-music venue and dive bar, Churchill's pub.
Sweat, the record store, isn't just a place where music fans seek out the best new sounds. Owner Lauren Reskin estimates that between vegan waffle brunches, comedy shows, and live music, the shop hosted 150 events this past year. And Sweat's online store went live this March, making Miami's talent available for purchase by the rest of the world with music, t-shirts, and posters by local artists.
Six years ago, when Reskin was just 22, she opened the shop to fill a gaping need on the Miami mainland. "It was embarrassing to me that Miami didn't have an indie store," Reskin says.
Since then, the store has helped usher in a scene. Two years ago, Reskin launched Sweatstock, a free annual concert that takes place on National Record Store Day, April 16. Though Los Angeles rockers No Age headlined the inaugural show, only local bands were on the roster this year. Fifteen hundred people braved the steamy spring weather, and the store broke sales records.
Part of her success has come via a grant from the John S. and James L. Knight Foundation's Knight Arts Challenge. Entering its third year, the Miami-based initiative funds locals to transform the community through the arts, giving organizations and individuals whom they deem worthy the support necessary to thrive. This money has strengthened not only the record store's capacity to sell and entertain, but also contributed to a cultural renaissance taking place in South Florida.
And for people like Reskin, the renaissance feels long overdue.
"It took the work of a lot of different entities planting their feet in the ground saying, I'm not going anywhere," she says. "I'm going to keep doing stuff here until people are paying attention and start going to it."
***
Years of limited musical options often used to send Miami's talent running out of town. For the better part of the last decade, there were only two consistent "indie" nights in Miami—Revolver on Friday and Poplife on Saturday—that attracted alternative listeners to dance and, occasionally, see live music.
"If you wanted to do something on Friday, you basically had to talk to one of the dons of Friday or Saturday night, and say, 'Hey, I'm doing this thing." remembers Miami scene veteran Adam Gersten. "Or not, and then piss them off and they'd do something to ruin your night."
Gersten has been DJing around Miami since 1994, throwing parties at places like the former Two Last Shoes, which is now the Electric Pickle, a popular electronic music venue. He started his night, FM, when it was still, in his words, "a Nicaraguan cowboy bar." Gersten puts out records with his label Needless and is looking to open a bar in Wynwood, the arts district.
One of the "dons" he refers to is Poplife's Aramis Lorie, owner of Grand Central, probably the largest mid-sized live music venue in Miami. It celebrates its one-year anniversary this Saturday. Poplife went from being a weekly party that ran for more than a decade—bringing bands like Interpol, Modest Mouse, and TV on the Radio to town when no one else would—to becoming the name of Lorie's successful booking company.
Lorie believes the scene is maturing. Thirteen years ago, he points out, it was hard to bring acts to Miami: "It wasn't as much of a viable market at that point," he says. "It's definitely come a long way."
"Nowadays, I can call a band like Cut Copy," Lorie says, referring to the acclaimed dance-rock act that's playing Grand Central in September. "Before, only big corporations like Live Nation could have booked a band of that magnitude."
What's changed? The 2002 arrival of the Art Basel Miami fair—a spin-off of the renowned Swiss Art Basel festival—has played a role. As pioneers like Lorie and business partner Barbie Basti opened venues and galleries in previously untapped neighborhoods of Miami mainland, the auxiliary fairs and events associated with Art Basel brought an influx of culture to those areas and downtown Miami as well.
DJ Benton Galgay believes that the service industry economy in Miami encourages a demand for entertainment. "If we're an image-based city, people need to have events to be seen." He says. "There's always something driving the creative aspect in that way. Art Basel is the perfect synergy of that."
"There are a lot of structures lacking for music down here, but I'm able to piggyback on art a little bit," said Matt Preira of the label Roofless Records, which puts on nontraditional and experimental music shows. Along with nomadic art collective SPRING BREAK/the end, he produced the Micro-Show, which gave 15 bands one minute each to perform at a gallery.
"I can ride on the coattails of art doing weird music," he says. Priera sees "Miami as a kind of Wild West, because there's less going on, there's more room to affect."
***
To be sure, Miami has a unique musical legacy: It's the home of booty bass, an entry point for Latin American sounds, the exporter of rappers like Rick Ross and Pitbull, and the host of the electronica-focused Winter Music Festival and Ultra Music Festival.
But indie acts are beginning to secure national attention and strengthening a local fan base. This past February, a boatload of musicians, music nerds, and writers set sail from the Port of Miami on the Bruise Cruise. Two local bands onboard were Miami's Jacuzzi Boys and Surfer Blood from West Palm Beach. Both South Florida acts who have have caught and sustained the attention of publications like SPIN and Pitchfork. Surfer Blood are even slated to tour with the Pixies later this year.
Miami's geographic separation from the rest of the country, though, means it's often expensive to come to town for bands or electronic acts that are relatively popular but not quite mainstream. But the payoff for them is growing. "When bands have come down here recently ... they're having a great time," Gersten says. "And the stereotypes, the weird ideas they have about Miami, are getting blown away."
Growth in other Florida cities' scenes are helping Miami out as well. Rich Evans of the Orlando label Florida's Dying has brought acts from all over the country to play in his city. Reskin plans to expand the Sweat website to include other talent from around the state; the main motivation is to sell records off of Evans's label.
According to Gersten, there have always been plans between promoters in Orlando, Tampa, and West Palm Beach to one day build a sort of co-op, asking bands to play five cities in five days, in order to get them to South Florida. This makes it more affordable for venues that are currently paying a ton of money to bring out big name acts on weeknights for little or no financial gain. And there's an audience: It's not uncommon to find a packed room on a Wednesday night out to watch a national act. Miami is hungry for live shows and good DJs.
The creative communities are working together to form a structure where culture can flourish. The visual arts brought an audience. Locals are responding with music and other entertaining arts. For those who have been here a while, it's a welcome change.
"As a kid, all I can think of was what a shit-hole this place was." says Miami native Kareem Tabsch, founder of indie theater O Cinema. Things, though, got better, he says: "There was this point, where I was like, there's actually cool stuff going on here."