How Northern Ireland Became a Golf Powerhouse
The tiny country has produced three major champions in the past 13 months. What's the secret?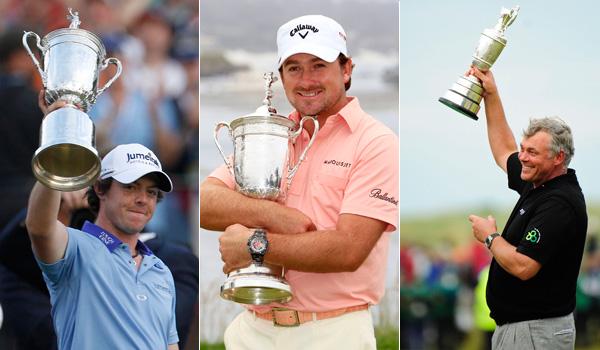 Reuters
The country of Northern Island is 5,345 square miles—slightly larger than Connecticut. It has a population of approximately 1.8 million—about the same as West Virginia. Part of the United Kingdom, it has been the site of religious and political conflict, civil war, and terrorism that has at times been bloody. It's cold, rainy and serves only the best Guinness.
And it's currently on one hell of a golfing run.
With Darren Clarke's three-shot victory at the British Open at Royal St. George's on Sunday, the tiny country has produced three of the past six major winners after having exactly one in the 151-year history of major championships—Fred Daly at the 1947 British Open. Grizzled veteran Graeme McDowell won the U.S. Open last year at Pebble Beach, and 22-year-old phenom Rory McIlroy blew away the field in this year's Open at Congressional. Now Clarke, who struggled to contend in majors during a turbulent past decade that included his wife's death from breast cancer, has made it a hat trick.
On some level the country's dominant stretch is not that remarkable. Clarke, McDowell and McIlroy are all elite players who have been in the top seven in the world rankings at some point in their careers. But the last time a country other than the United States had multiple people win consecutive majors was way back in 1910, when Alex Smith and the immortal James Braid claimed the U.S. Open and British Open titles for Scotland. Not only did the Northern Irish match that with McIlroy and Clarke's major titles just a month apart, but they've got McDowell's U.S. Open crown from last year for good measure.
A large part of the Northern Irishmen's recent major success can be attributed to the gaping void at the top of the golfing world where Tiger Woods once reigned supreme. Between the 1999 PGA Championship and 2008 U.S. Open, Tiger won 13 of 35 majors, an astounding 37-percent win percentage that left everyone else fighting for table scraps. But he is currently on the shelf with significant knee and Achilles' tendon problems, leaving chaos in his wake—a different player has won each of the last majors. Without a dominant player to grab majors by the handful, a run like the one McDowell, McIlroy, and Clarke have put up is far more likely.
But a Tiger-less golf world doesn't fully explain a West Virginia-sized population producing three different major winners in 13 months. The source of Northern Ireland's success can be found in a similar run put up by South Africa over the past three years. Since 2008, three different South Africans—Trevor Immelman, Louis Oosthuizen, and Charl Schwartzel—have won major titles. Part of the secret to that success is the mentorship—and in some cases direct tutelage—of countryman and three-time major winner Ernie Els, who has put a large amount of time and resources into developing golf in his home country. All three spent some of their formative years at Els' school for young South African golfers and credited "The Big Easy" for inspiring them and pushing them to major championship heights.
There's something similar going on in Northern Ireland. At 42, Clarke is a 20-year veteran of the European Tour, and while he has not been as overtly involved in developing Northern Irish golf, he has been close to McDowell and McIlroy throughout their careers and even pulled out of a European Tour event in June to celebrate McIlroy's U.S. Open victory back home. And other than Clarke, the major winners from both countries are all 31 or younger. Whether leading by example or directly steering young countrymen toward success, Els and Clarke have helped spawn a generation of top-flight golfers who have an opportunity to flourish in the void left by Tiger. And at the British, Clarke proved that the mentors have some fight left as well.