How Curt Flood Changed Baseball and Killed His Career in the Process
The Cardinals centerfielder, subject of a new HBO documentary, brought in the era of free agency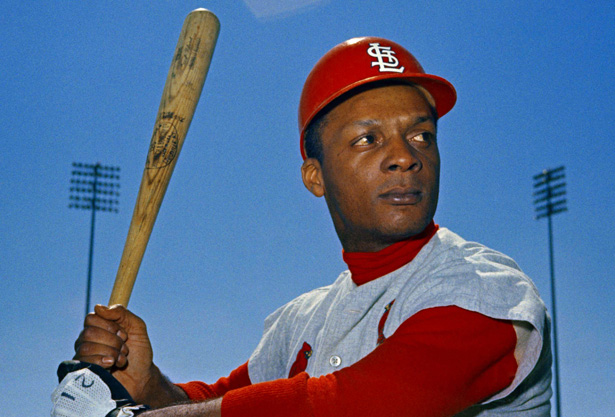 AP Images
If Curt Flood had not existed, not even Marvin Miller could have invented him.
Who Curtis Charles Flood was and precisely his significance in baseball history is something that can't be understood just by looking at the record book. Not that Flood suffers from such an examination. He played 15 years from 1956 to 1971. (He took the 1970 season off, which is something I'll discuss in a moment.) He batted .293, was a three-time All-Star, and, playing centerfield for the St. Louis Cardinals, won Gold Glove seven consecutive seasons, from 1963-1969. He was on three pennant-winning teams with the Cardinals and earned two World Series rings. But it's what Curt Flood didn't do in 1969 that helped change the game forever: He did not accept a trade.
At the end of the 1969 season, the Cardinals traded him, along with Tim McCarver, Byron Browne, and Joe Hoerner, to the Phillies for Dick Allen, Jerry Johnson, and Cookie Rojas. But this trade was turned out to be different from all other trades before or since: This time, one of the two principal stars—most baseball writers regarded it mainly as a swap of Flood for Allen—refused to go.
Not only did Flood refuse to go, but he went to his personal lawyer and then to Marvin Miller, founder and executive director of the Players Association, and told them he wanted to sue Major League Baseball. The decision sent shock waves not only through baseball but ultimately through all professional sports. Those waves reverberate even to this day. And though he was aware that it would cost him dearly, he never wavered.
In 1969, players were still bound to a team for life by the so-called reserve clause. Simply put, a player was a team's property. Unless the team chose to trade him or release him, his first big-league team would be his only big-league team for his entire career. A player's only recourse was retirement.
Oddly enough, the language of the reserve clause was ambiguous. It merely said that if you played for a team, you must play for that team the next season as well. Two players before Flood had challenged the reserve clause only to run up against baseball's exemption from antitrust laws, first established in 1921 in a decision by Supreme Court justice Oliver Wendell Holmes.
The reserve clause, the antitrust exemption, and the legal decisions that had accumulated around it all had an aura of irrationality about them. It was as if, as Miller once put it, "the courts were saying 'Yes, you're an American and have the right to seek employment anywhere you like, but this right does not apply to baseball players."
When Flood came to Miller, his mind was already made up. "I told him," recalls Miller, "that given the courts' history of bias towards the owners and their monopoly, he didn't have a chance in hell of winning. More important than that, I told him even if he won, he'd never get anything out of it—he'd never get a job in baseball again."
Flood asked Miller if it would benefit other players. "I told him yes, and those to come.
He said, 'That's good enough for me.'" When Miller realized that Flood understood the odds against him and was still determined to go ahead with the case, he told him, "You're a union-leader's dream."
All these moments are captured in the remarkable new HBO documentary, The Curious Case of Curt Flood, which premieres Wednesday at 9 p.m. Eastern. The intriguing title is explained in large part by the fact that Flood's real motivations for his decision have never been fully explored in any documentary. Ken Burns' award-winning PBS series Baseball, paid tribute to the historic importance of Flood's suit but gave scant attention to the backstory.
Born in Houston in 1938, Flood was raised in the relatively tolerant Oakland, California. His mother, who had fled the intense racial bigotry of the pre-World War II South, never let him forget what things had been like where she grew up, and in 1962, having little idea of what he was about to encounter, the 24-year-old Flood went to Mississippi to join his idols Dr. Martin Luther King and Jackie Robinson to support the non-violent protests organized by the NAACP.
Less than two years later, to his shock, racial prejudice pursued him to his own hometown—or, to be precise, 21 miles away in the suburb of Alamo—when he rented a house for his pregnant wife and four small children only to denied entrance by the owner, who didn't know they were black when they signed the lease and barred their way with a loaded shotgun. Flood sued and won, but it left him without illusions about what it was like to be a black man in America in 1964—even an affluent one who had just come home after helping a major league baseball team win the World Series.
Most black baseball stars—Willie Mays, Henry Aaron, Ernie Banks—were all but invisible during the Civil Rights movement, so Flood's activism was years ahead of its time. When it came time for him to take a stand on being traded to Philadelphia, he was ready. "I do not regard myself as a piece of property to be bought or sold," he famously told Commissioner of Baseball Bowie Kuhn in a letter in which he requested the right to be a free agent. Kuhn, echoing the court decisions of previous years, replied that he was sympathetic to Flood's feelings but "simply did not see how that applied to Major League Baseball."
Flood's teammates and colleagues were skeptical of his suit and did not support him; on the day he testified only two former players, Jackie Robinson and Hank Greenberg, stood by him. No active players were there—not even Flood's outspoken teammate Bob Gibson dared to support him, all fearful of retaliation from the owners.
What Miller thought was an impossible goal turned out, heart-breakingly, to be within reach. When the decision was announced in 1972, Flood lost 5-3, but only after Judge Lewis Powell, who was sympathetic to Flood, withdrew from the case because of what he called conflict of interest - he owned stock in Anheuser-Busch, whose principal owner, Augie Busch, owned the St. Louis Cardinals. If Powell had remained, Flood could have won a 5-4 decision, but his withdrawal, combined with Chief Justice Warren Berger's 11th-hour switch from Flood's side to baseball's, killed Flood's case.
In effect, the court ruled that yes, Flood should have the right be a free agent, but that baseball's antitrust exemption could only be removed by an act of Congress and that free agency for players should be attained through collective bargaining.
That is precisely what happened. Because of the pressure that Flood's suit brought to the baseball owners, Miller and the union were able to bargain for binding arbitration on grievances. And, finally, in 1976, when pitchers Andy Messersmith and Dave McNally agreed to play a season without a contract, arbitrator Peter Seitz ruled them free agents. Overnight, the system that Miller called feudal, the one that had ruled baseball virtually since its professional organs, collapsed.
Prophets of doom and gloom about the future of the game could be seen on every sports page, but in the end, the Players Association worked out things with management, and salaries sky-rocketed—along with profits, it turned out, as fans liked the exciting new era of free agency and the players it brought to their teams.
As Miller had predicted, Flood never benefited from the revolution he helped begin. High-strung and sensitive, Flood had been a heavy drinker practically since the time he became a professional ballplayer, and by the early 1970s he was an alcoholic. His first marriage fell apart in the mid-1960s from the combination of alcohol abuse, long stretches away from home, and the animosities his unwavering Civil Rights stance inspired. After the Supreme Court decision, he was bombarded with hate mail from fans who accused him of trying to destroy baseball; his teammate Bob Gibson estimated "He got four or five death threats a day."
Flood left the country and opened a bar in Majorca, Spain, frequented by American sailors. Plagued by increasingly debt, including unpaid child support, and guilt that he had been a bad father, Flood was finally admitted into a Barcelona psychiatric hospital. His sister sent him the money to return to the U.S. In one of the most moving scenes in the documentary, journalist Richard Reeves says, "Being with him at that time was like poking your finger in an open wound. He was a broken man and bleeding."
And yet, Flood managed to pull some strands of his life back together. He married a former girlfriend, Judy Pace, and reestablished contact with his children.
Recognition came late. In 1992 Flood was given the NAACP Jackie Robinson Award for contributions to black athletes, and in 1994, in perhaps the most satisfying moment of his life, he gave a speech on solidarity to the players as they prepared to go on strike. The players gave him a standing ovation. It was almost 25 years to the day that he had announced his suit against baseball.
Decades of smoking and drinking finally caught up to him. Early in 1995, he was diagnosed with throat cancer. The Players Associating, urged by former legal counsel Dick Moss, paid his medical bills. He died on January 20, 1997, two days after his 59th birthday. Jesse Jackson's funeral eulogy stands as his epitaph: "Baseball didn't change Curt Flood. Curt Flood changed baseball. He fought the good fight."