Hope Solo: The Loudmouth Savior of Women's Soccer
The women's World Cup goalie is fighting for the same right male athletes are afforded: the right to be a cocky jerk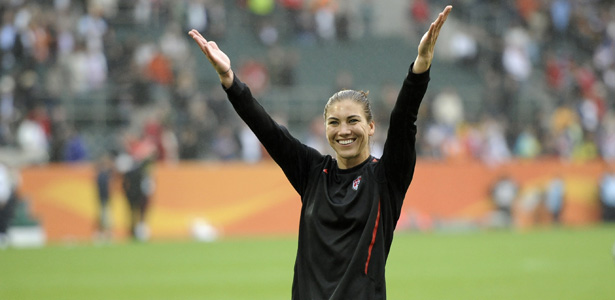 Reuters
In the 12 years since the U.S. women's soccer team won the 1999 World Cup, attempts to popularize the sport haven't found much success: One professional women's league, the WUSA, folded in three seasons, while a second, the WPS, is struggling to stay in business. As the national team prepares to meet Japan in this year's World Cup final, the question comes up again: Can America's World Cup success finally generate interest in the professional league?
If the women's World Cup team does create a new legion of soccer fans, it will likely be thanks to Hope Solo, the squad's outspoken goalie. She's one of the few members of the women's team who is as exciting off the field as she is on it. Solo was the subject of a profile in the September 2009 issue of The Atlantic, where author Jason Zengerle described her appeal—and how it could help her sport overall:
In most professional sports, a large measure of that entertainment typically comes from booing, or at least rooting against, a villainous athlete. The best players in men's sports have legions of admirers and detractors, whether it's Kobe Bryant in basketball or Terrell Owens in football. Alas, many of the stars of women's soccer have been too bland (at least in their public personas) to inspire much in the way of strong feelings, especially negative ones. Could anyone, for instance, dislike Mia Hamm?

Solo doesn't have that problem. Indeed, her outburst at the World Cup, which drew the attention of ESPN and sports-talk radio, was one of the rare instances when women's soccer entered the country's broader sports discussion. Although Solo is considered by some to be the best goalkeeper in the world, it's her off-field as much as her on-field reputation that has garnered her endorsement deals from Nike and VitaminWater. "She's one of the few women players in America that has marketing value right now," says Peter Wilt, the president of the Chicago Red Stars. "And a large part of it is because of her opinionated nature."

Solo relishes being known as, in her words, "that loudmouth goalkeeper"—if only because she wants to be afforded the same liberties sports fans typically grant to male athletes: namely, the right to be a cocky jerk. "For some reason, people want to think that we're girls next door, who all get along and go shopping at the mall together," she told me. "Treat us like professional athletes."
Read "The Bad Girl of Women's Soccer" in its entirety.