Football's Free Agency Period Is Totally Crazy This Year
Thanks to the lockout, all trades will take place in the course of a few days instead of the usual four and a half months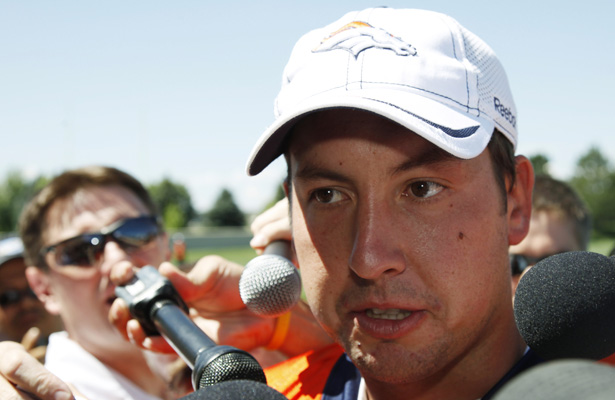 Reuters
Every week, our panel of sports fans discusses a topic of the moment. For today's conversation, Hampton Stevens (writer, ESPN and The Atlantic), Jake Simpson (writer, The Atlantic), Patrick Hruby (writer, ESPN and The Atlantic), and Emma Carmichael (writer, Deadspin) discuss football's free agent frenzy.
---
Hey, guys,
NFL fans got a gargantuan gift this week when the league ended its lockout. Besides, of course, that we avoided the horrors of not playing the full preseason schedule.
But the league's millionaires and billionaires gave us a much greater gift—and it was totally unintentional on their part. NFL Free Agency—that semi-popular combination of cattle auction, game show, and crap shoot—traditionally proceeds methodically over four and a half months, dribbling just enough news to keep us interested. (Unless a Bret Favre comeback is involved, in which case the dribbling is more like water torture.)
Not this year. Free agency has gone from a drawn-out routine and background noise in the nation's sports consciousness to a mad scramble for talent. All four-plus months worth of negotiations, evaluations, and signings are getting crammed into just a few chaotic, and already entertaining days. As of this writing, something like one-third of the players remain without a contract, and the rush is on. It's like the football version of those wedding dress sales where brides-to-be-fight over gowns.
Just look at all the quarterback craziness—all the unfounded rumors and roster-hopping. Matt Hasselbeck wants out of Seattle. Matt Leinart is apparently on his way there. Tarvaris Jackson will likely leave the Vikings to join him, while Donovan McNabb is rumored to be bolting DC to take Jackson's place. Denver, all gung-ho for Tim Tebow, put Kyle Orton on the trading block. He might take his (cough, cough) talents to South Beach, while Carson Palmer has decided to retire rather than be a Bengal—that's got to make a Cincy fan feel good.
There is no question, though, about my favorite rumor in this frantic free agency. Just for old times sake, and because I'm a masochist, it's a joy to know that Brett Favre might be contemplating a comeback.
Jake, I'll bet you've got your eyes on the frenzy.
–Hampton
Oh I'm excited Hampton. I'm riding this free-agent binge 24/7 right now. I'm plugged intoAdam Schefter's twitter feed. I learned how to pronounce Nnamdi Asomugha (it's NAHM-dee AH-sem-wah, people). I'm checking my beloved New York Giants' roster every hour for updates -- hey, they just signed the inspirational story of the year, cancer survivor and undrafted hard-hitting linebacker Mark Herzlich! I'm even psyched about the potential for Favre's 184th comeback.
OK not really, the Favre thing makes me throw up in my mouth a little. But it is fascinating to watch what this a once-in-a-generation free agent feeding frenzy. The usual give-and-take negotiations between agents and general managers has been replaced by a breakneck series of offers, counter-offers, cuts and signings that resembles a time-lapse video of Times Square.
As if this negotiation bonanza couldn't get any better, this week was also the end of Major League Baseball's trading period, so baseball rumors and football innuendo were jockeying for the spotlight nonstop. I found myself wishing for two-sport stars like Deion Sanders and Bo Jackson just so they could be negotiating their NFL and MLB deals at the same time.
Patrick, are you glued to your mobile device waiting to see where Plaxico Burress lands or whether Kyle Orton will take his talents to South Beach ?
–Jake
Huzzah! The NFL is back. Four months of nobody playing professional football has been replaced by ... a hectic week of everybody continuing to not play professional football.
So yeah, I haven't exactly set my smart phone to issue Kyle Orton news alert chirps. Here's the thing about the current free agent feeding frenzy: it's the same thing that happens every offseason, just compressed. And with more anonymous sources.
(Speaking of which: is all the secrecy really necessary? I know who leaked the Pentagon Papers; is it a matter of national security to preserve the hidden, Lucha Libre identity of the first person to spill the particulars of just how Albert Haynesworth was leaving the Washington Redskins?)
My point is this: I enjoy watching football. I don't enjoy watching paperwork. Cramming off-season player movement into a tighter time window doesn't make me suddenly appreciate the process, any more than Taco Bell deciding to be open only one day a week would make me more likely to eat there.
I understand where Jake and Hampton are coming from. This is the league's genius—they've made themselves a year-round entertainment product, conquering the calendar in a way that even Christmas can't. The Draft. Training camp. Guys shaking hands and sharing dudebro hugs with Roger Goodell on a sound stage. Guys broasting under the summer sun in shorts and no pads. Feel the power!
Still, I know why both of you care, why so many people watch. Anticipation. The sweet, sweet dopamine in your brains—narrowing your focus, prompting seeking behaviors, priming your neural reward pathways. Like Christmas, the waiting isn't really the hardest part. It's the best part. Dogs drool more before they get a biscuit, don't they? As sports fans, we've been conditioned. Never mind that the next few weeks are akin to the roster file that ships with "Madden NFL," utterly irrelevant on opening day.
That said, I'll definitely care about where Orton lands. Just as soon as he throws his first interception.
–Patrick
Ah, free agency. We have a special story tag over at Deadspin for this period in sports, which I won't explicitly reference here because it is explicit—but I do think it provides an accurate sentiment about the process, no matter what side you're on. If you don't eagerly check your smart phone for alerts and set your team's homepage to auto-refresh, then you at least tolerate it with gritted teeth. It's a carefully-planned circus, full of phone calls and meetings and paperwork—and above all, a whole lot of hearsay.
A significant part of of the pleasure in (or the disdain for) the NFL's free agency is, as Patrick pointed out, the anticipation that precedes the confirmation. Twitter, in many ways, has totally magnified and made an utter joke of this process. Earlier this week, a fairly anonymous Twitter user tweeted to the account @NFLDraftInsider "Just heard Pat Devlin to Arizona Cardinals." The fallout was laughably predictable: the recipient, which has nearly 10,000 followers, retweeted the information, which was picked up by the CBS football blog's Twitter without citation, which was picked up by an SB Nation blog with credit to CBS, which was then picked up by the official Cardinals blog with citation to the @NFLDraftInsider tweet. What happened next? Devlin signed with the Dolphins . Free fucking agency, indeed.
So yes, it's a frenzy, but it's also a messy, rumor-laden process that often includes more forgotten quotes from anonymous sources than it does actual results. I get that for a lot of fans, and especially Fantasy players, that's part of the joy—but it's also chaotic. The news cycle for the entire process runs on speculation, and so the build-up to the "confirmed," rather anticlimactic finale has become the feature of the show. Call it sports's bachelor/ette party. It's fun to go along for the ride, but when it's over I think we all end up looking a little silly.
–Emma