First Drafts: James Corner's High Line Park
James Corner is one of the premiere theorists and practitioners of landscape architecture, a field that emphasizes the design of outdoor and public spaces to achieve specific environmental, socio-behavioral, and aesthetic outcomes. The principal designer at James Corner Field Operations, a New York-based landscape architecture and urban design firm, Corner focuses on landscape urbanism, an amalgamation of a wide range of disciplines including landscape architecture, ecology, and urban design. Here, he discusses the creative process behind New York's now-iconic elevated park, The High Line, whose second section opened in June.
---
ONE OF THE MOST IMPORTANT THINGS about landscape architecture is the amount of attention you have to pay to the found conditions of any project. The famous 18th century British landscape architect Lancelot Brown coined the term "capability" in landscape architecture: He was always looking at what the capacity of a site was for relative modification and creative transformation. An effective design is always an original response, so much that a project isn't really about a design, or a style, or a look; it's about a unique, highly customized reaction to found conditions. A painter has just a canvas and a regular architect has just a site, and in many cases those sites aren't very complex. With landscape architecture, you're in a specific, unique environment. There's weather. There are seasons. There's soil ecology and chemistry. There are a whole slew of factors that mean, as a designer of a living space, you not only have to amplify existing conditions, but be creative and respond to what you find. You don't just fly in as a superstar designer and do your own thing. A lot of attention, a lot of learning has to happen when you start a new project in a new place, sensitizing yourself to what you find, so that the final product is something that grows out of a site.
Landscape architects often have a design signature; their work looks a certain way. I think my work is always unique because it's always influenced and informed by the site we're working on. My 
Fresh Kills Park
 project in Staten Island demanded an original response, and the High Line was a wonderful found object that required a very sensitive and original design concept. It's not a design that would transfer sensibly anywhere else.
With the High Line, we had this extraordinary artifact that in some ways was an ugly duckling, something with potential. At the turn of the century, it was derelict; the concrete and steel and tracks were obviously in disrepair, the rails rusted, the wood cracked. Most people at the time thought it should be torn down. But where some people saw dereliction, others saw inspiration. It was in the landscape running along those broken tracks. The photographs of
Joel Sternfeld
(fine-art color photography and publisher of
Walking the High Line
(2002), an anthology focusing on the railway) had a remarkable influence in allowing people to view this thing as something with potential rather than something to be skeptical of. Running for a mile and a half through the west side of Manhattan, there's a remarkable dialogue between nature and industry--or rather, post-industry--suspended 30 feet in the air.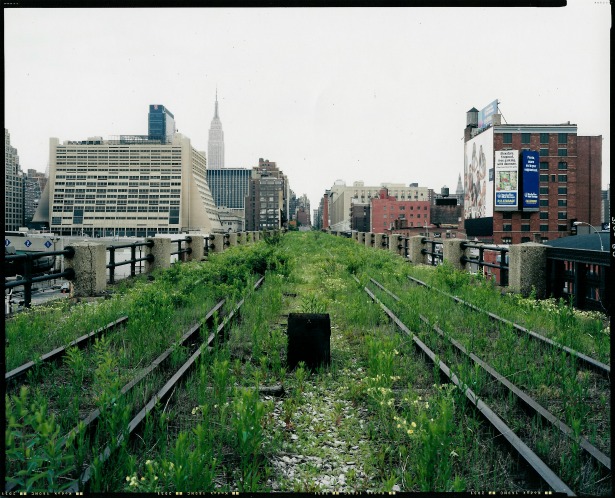 "A Railroad Artifact, 30th Street, May 2000" Photo by Joel Sternfeld, from Walking the High Line (2002)
There were a few general design strategies we adapted in approaching the High Line. The first was to exercise restraint as designers, to not feel like you we had build a lot of stuff. You can simply let the structure reveal itself--or you can reveal the structure. 
We focused a lot on how the paving and furnishing was designed. It's a singular, integrated system that's little like a concrete carpet running the entire length of the High Line. By opening the paving, we allow the plants to bleed through, almost as if the plants were colonizing the paved areas. There's a sort of blending or bleeding or suturing between the hard paving, the surface for people to stroll on, and the planting, the effects of planting taking advantage of micro-climates and local situations to flourish.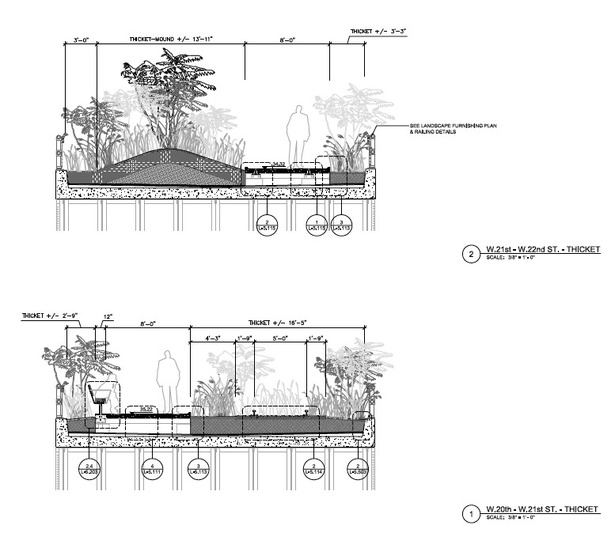 Initial blueprints for High Line thickets. Courtesy of James Corner Field Operations.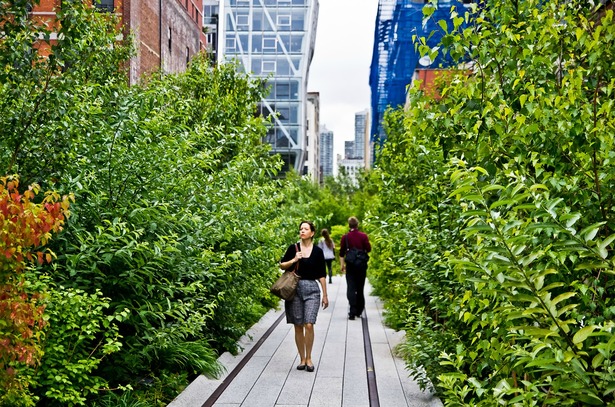 The completed thickets. Photograph by Paul Katcher/Flickr, courtesy of James Corner Field Operations.
The whole design of the paving is quite customized and unique. It's designed as a single, flexible surface, where each of the units is replicable across the entire structure. It's just like putting a plank down, and then another after it, much like how a railroad engineer would design a length of track. It's pragmatic and systematic while remaining quite flexible. Instead of a single path guiding people in a straight line, the nature of the paving allowed us to create something that bends and meander, and we get to bring people down the High Line in a meandering way. 
This sequence of movement is designed -- choreographed, really -- to illustrate different panoramas in an ambulatory way. Its not about static shots, its about how moving through the city in an ambulant way allows interesting vistas and panoramas to unfold.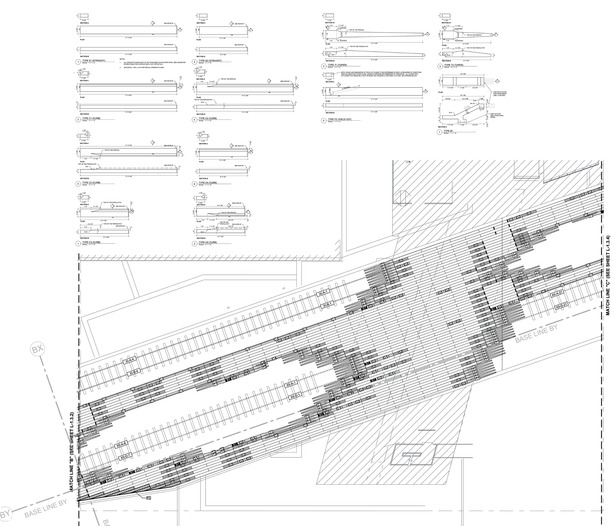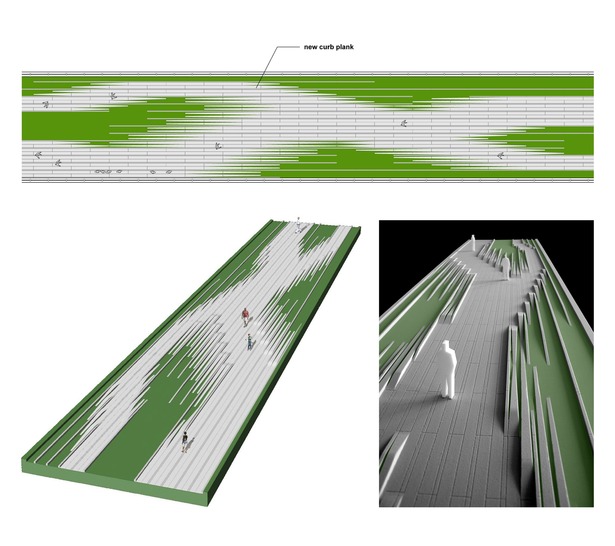 Planking schematics and designs for Section 1 of the High Line. Courtesy of James Corner Field Operations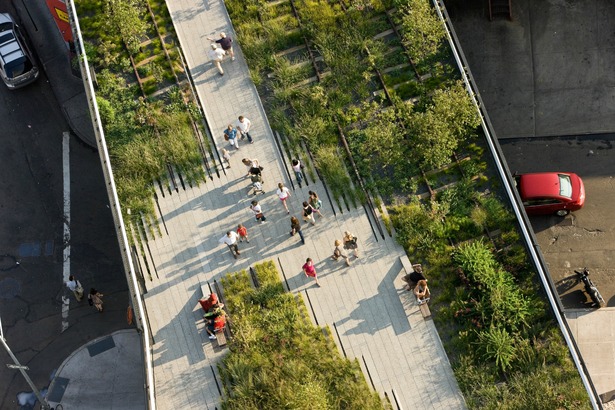 A completed section of the High Line. Photograph by Iwan Baan, courtesy of James Corner Field Operations
The paving has tapered pieces that dive down into the planting beds and open up cracks. You get the illusion of this dialogue between hard inorganic surfaces and an organic, living landscapes beneath. The paving has open joints where rainwater leeches through the planting beds and is collected below. One of the real challenge of the High Line was being able to build a real landscape--something with shallow depth that's windy, hot and dry in the summer, susceptible to significant frost and cold in the winter. The High Line experiences extreme environments with only a bed of very shallow soil. Preserving and retaining water is crucial to keeping the entire ecosystem alive. In a sense, the entire structure was engineered to be self-sustaining, but as the Sternfeld photos show, the derelict railway was alive long before we arrived.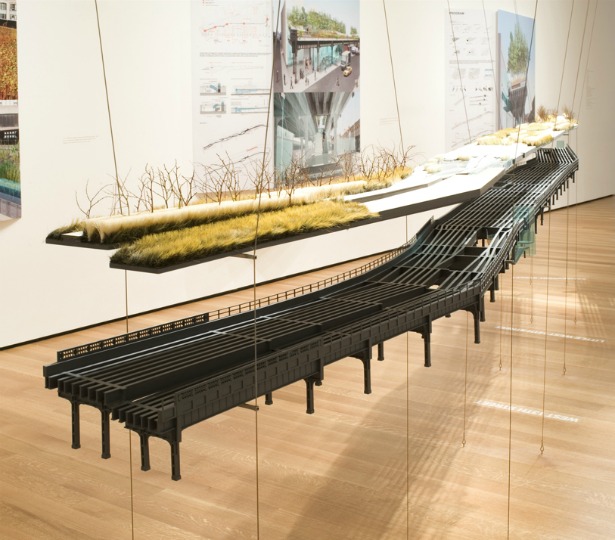 An early model of the High Line. Courtesy of James Corner Field Operations.
The paving, the furnishings, the railing, the lighting, and the planting...those elements remain consistent for 20 blocks on the High Line, all through Section 1. That consistency is important: it creates the effect of slowly strolling in a highly distinctive and original landscape. But then, in certain locations, we have punctuations in places that are designed to be social spaces for people to hang out. It's a singular pathway landscape, but there are a series of places that are much more intense and more unique and designed specifically for specific situations. At the square site up 10th Avenue, we created a large seating venue with a stage and window looking out onto the street. Or the sundeck on 14th Street--that's where the High Line takes a bend--you get great views southwest across the river. That's were we put the chaise lounges; we were aiming for a very dramatic stage setting. It's these punctual places--the 10th Avenue square, the giant sun lawn in Section 2, and the flyover steel catwalk that slices across 18th Street--it's really these episode places that become a stage set for social life to play out.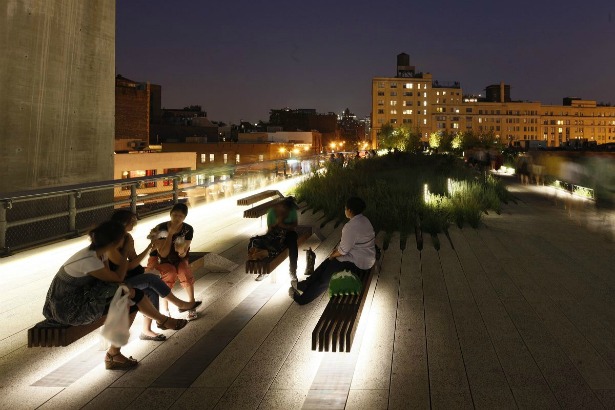 Pedestrians take in the city lights. Photograph by Iwan Baan, courtesy of James Corner Field Operations.
So why do people go up there? They stroll through the gardens, take in the views and vistas, but they also go up because there are other people up there. It's part of the spectacle of being among other people you don't know in the context of the city. The High Line as it's designed works because of people's desire to bring their friends and family up, to move with them in a somewhat dramatic, theatrical, episodic way, and be able to create stage sets where people can linger. These are very traditional landscape architectural tropes: journeys around the garden, journeys through a landscape. In many ways, the High Line is remarkably traditional, but it's also so much more intense because of its very linear landscape. The paths are designed to force people to people slow down, to stroll, to meander, so they're immersed in a certain rail-bed landscape of remarkable textures and colors and unusual forms. The High Line was designed as a living system. If it wasn't for people, you could have just left the High Line as it was. It's a garden in the sky, so very charming and romantic in so many ways. 
- 
James Corner, as told to Jared Keller