Derek Jeter at 3,000: A Fan Favorite, Even as He Starts to Falter
The Yankees' shortstop has a devoted following in New York, who celebrated his historic milestone this weekend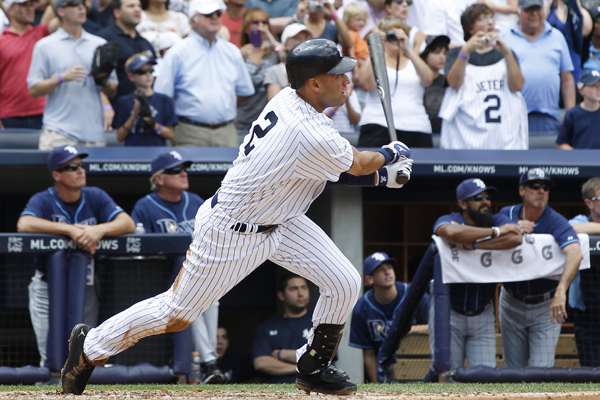 Reuters
"They called it," Mike Rendino said, shaking his head and ducking in out of the rain. Rendino, a manager at Stan's Sports Bar, the iconic bar by Yankee Stadium, had just heard from a New York City policeman that the evening's Yankee game had been postponed due to thunderstorms. "No baseball today."
Judging from the reverberating groans mixed in with the pulsating '90s music, the bad news was spreading quickly. History would have to wait at least one more day, and the fans who had tickets to Friday night's game were bemoaning their missed chance to see a milestone firsthand.
Rendino looked up at the gray sky that seemed more befitting of a Saturday at the British Open than a July evening in the Bronx. Then he chuckled.
"Come back tomorrow, though. When Jeter does get 3,000, I think it's gonna be insanity."
Derek Jeter is a very, very good baseball player with almost perfect fundamentals, an inside-out swing any right-handed hitter would die for and a Larry Bird-like sense of "the moment." He's a first-ballot Hall of Famer, the best Yankee since Mickey Mantle, and on the short list of greatest shortstops in MLB history.
That's an apt but thorough description of the man known alternately as Jeet, The Captain or DER-ek JET-er. But as he has approached the career milestone of 3,000 hits, casual fans and the media alike have looked for some deeper narrative about Jeter to honor as his hit total climbed. Only 27 men in the history of the game have reached 3,000 hits in a career, and none of them had spent the bulk of their career with the Yankees. There had to be something that set Jeter apart from the pinstriped legends that came before him, the Babe Ruths and Lou Gehrigs and Joe DiMaggios who never reached 3,000. Some even wondered whether Jeter is the greatest Yankee ever.
The media and fans pushing that narrative were on a fool's errand, because in truth there is nothing transcendent about Derek Jeter. What makes him great—and what engenders the love and respect so many Yankee diehards feel for him—is that for 16 years he's played as hard as he could every day, led his team by example, and come up big in the biggest moments.
Because of his extensive postseason experience—a total of 147 games, nearly an entire regular season, and the most in baseball history, on the way to five championships—Jeter has a litany of unforgettable moments that make for a great highlight reel. In addition to his many fielding gems, Jeter had the game-winning hit in the 1996 World Series (an inside-out single to right field, what else?) a first-pitch-of-the-game home run in Game 4 of the 2000 World Series and a game-winning homer in Game 4 of the 2001 Series that earned him the moniker "Mr. November" and caused the upper deck of the old Yankee Stadium to literally shake with pandemonium.
But Jeter's career hasn't been about big moments as much as unerring consistency. He never dominated the league like teammate Alex Rodriguez, never won a Most Valuable Player award or batting title, and only led the league in a major offensive category two times. He has just been somewhere between very good and excellent for 15 straight years. Between 1996 and 2009 he averaged 195 hits, 112 runs scored, and a .318 batting average. He reached 200 hits in seven seasons and scored 100 or more runs an astonishing 13 times. Perhaps most remarkably, he's played at least 148 games in 14 of his 15 full seasons, appearing in 94 percent of the team's games in that span.
Somewhere along Jeter's unbroken line of excellence, he became the James Bond of the New York sports scene—men wanted to be him, women wanted to be with him. Jeter's good looks and affable personality made him the most desirable man in town for a decade, and while the legion of young girls who adored Jeter never had a shot with him (he was busy dating Miss Universes and A-List actresses), he spawned a generation of female Yankee fans. "He's the reason I became a Yankee fan growing up," said Lisa Holz, 22, a server at Stan's and master's student at Adelphi University on Long Island. "He was my little crush—you can print that."
Jeter's consistency and PED-free play in baseball's steroid age have inspired a respect from longtime Yankee fans that's both personal and professional. Rich Rubin, a retired music teacher who grew up playing stickball on the streets of the south Bronx and attended his first Yankee game in 1959, called Jeter a "pure" baseball talent. "Jeter plays the right way," he said. "I love him for what he is and what he represents."
Rubin's favorite Yankee is former catcher Thurman Munson, an opinion shared by many at Stan's. Casual fans may find the comparison surprising—Jeter is a future Hall of Famer and 12-time All-Star, while Munson is most famous for his tragic death in the middle of the 1979 season and his running feud with Reggie Jackson. But like Jeter, Munson was a Yankee captain who squeezed everything he could out of his natural athletic talents and separated himself from his peers with consistent displays of supreme effort. Jeter's iconic defensive plays—his backhand flip and leaping catch in the 2001 ALDS and his catch-and-headlong dive into the stands in a 2004 regular season game against the Boston Red Sox—were plays of grit rather than skill.
Like Jeter, Munson was also a company man, who spent his entire career with the Yankees and won the fans' undying loyalty for it. But Munson died before his production slipped off dramatically, and even the most virulent Jeter supporters struggled to discuss life after 3,000 for the Yankee captain. Jeter hit a career-low .270 last year and has barely kept his average above .250 this season. Even his most ardent supporters have been forced to admit that the 37-year-old shortstop is not the player he once was. "I love Jeet—always will" said another Stan's regular. "But when he gets up now with first and second and nobody out, I almost root for him to strike out so he doesn't ground into a double play."
He paused, as if struggling to connect that sentiment to his overall opinion of the Yankee captain. "You know what though? Jeter could bat .200 and I'll still be for him. He's the kind of player I'd try to be."
Saturday dawned warm and clear, and the crowd at Stan's was expectant. With the driving beat of Blur's "Song 2" serving as a soundtrack, Jeter opened the bottom of the first inning with hit 2,999, a chopper through the hole that produced t win roars from the bar and the stadium a quarter of a mile away.
Half an hour later, the bar was packed to the brim thanks to a late-arriving 21st birthday party and a stream of fans who glued themselves to the nearest TV. Jeter battled Tampa Bay Rays starting pitcher David Price to a 3-2 count, then fouled off two pitches as the anticipation in the bar grew palpable. Then Price threw a hanging breaking ball that Jeter crushed into the left-field seats, and the hundred people at the bar turned Rendino's prediction of insanity into reality.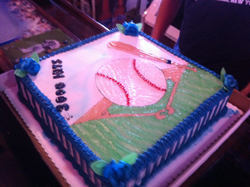 John Simpson
Later, after the high-fiving and chanting and toasting and before Jeter finished off an epic 5-for-5 hitting performance with the game-winning single in the eighth inning, the waiters served a cake commemorating the accomplishment. As the diehards dug in, the staff at Stan's enjoyed the moment.
"To get a home run for the 3,000th hit, it couldn't have been any better," Holz said.