'Curt Flood' and 'The Franchise': A Baseball Documentary Double-Header
HBO and Showtime are each premiering stories about the MLB this week, with mixed results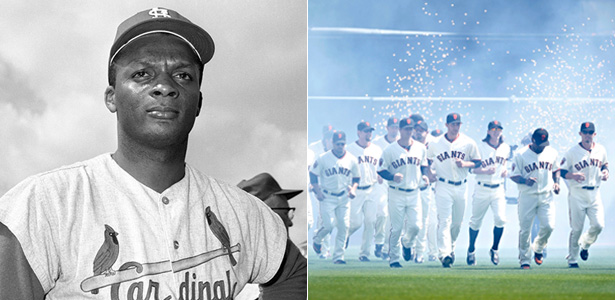 HBO, Reuters
HBO and Showtime will premiere two radically different baseball documentaries on Wednesday.
HBO's The Curious Case of Curt Flood (on at 9 p.m. Eastern) is exceptional. It profiles the complicated—and, yes, curious—Flood, a pivotal figure in modern sports free agency. Flood was a standout center fielder for the St. Louis Cardinals for 12 years: He won Gold Glove awards in his last seven full seasons, led the National League in hits in 1964, and earned two World Series rings. But his playing career is the least interesting part of his story, which has several surprising twists and turns, and national implications, including a Supreme Court argument. Flood was a free agency pioneer whose efforts are still reverberating through the sports labor landscape. The story is brilliantly told by HBO's sports documentary machine.
Showtime's The Franchise (on at 10 p.m. Eastern) takes the current San Francisco Giants as its subject, giving an inside look as an oddball bunch tries to defend its World Series championship. While watching the premiere episode, I found myself intrigued by, as Showtime portrays it, the seemingly pointless lives of the Giants. Showtime makes it seem boring to be a Big Leaguer, and I wonder how the series will sustain any narrative momentum. But perhaps The Franchise is the sports fan equivalent of the mundane happenings of the Real Housewives shows. It is one of those series you watch after the wife and kids have gone to bed because you're a little embarrassed and the Ambien hasn't kicked in.
Since The Curious Case of Curt Flood and The Franchise premiere on the same night, many viewers will use the opportunity to watch them like a baseball (documentary) double-header. And inevitably someone will wonder: Flood's sacrifices paved the way for the lavish lifestyles of these goofballs? I liked both documentaries (being a Giants fan probably made me more forgiving of the flaws of the fluffy The Franchise), but the scorecard will favor HBO, which hits a homer with the Flood documentary, while the less polished Showtime—still trying to train its eye and groove its swing—bangs out a solid single.
With The Curious Case of Curt Flood, HBO weaves the tapestry of a complex man and a complex story. Flood is an enigma who is intelligent, secretive, infuriating, oddly loveable, and fatally flawed. His friends, family, lawyers, team-mates, legal opponents, and ex-girlfriends are more than happy to give their painfully honest perspective on his life. As the documentary begins, Flood says, "In the history of man there's no other profession except slavery where one man is tied to one owner for the rest of his life. In slavery they can ship you from one plantation to the other. In baseball they do the same thing. They ship you from one franchise to the other depending on the whims of 24 millionaires...I don't want anyone to own me." His fellow players were ambivalent at best about Flood's quest for free agency, which would eventually enrich major leaguers. In October 1969, he was traded along with catcher Tim McCarver, outfielder Byron Browne and left-hander Joe Hoerner to the Phillies for first baseman Richie Allen, second baseman Cookie Rojas and right-hander Jerry Johnson. Flood refused the trade, petitioning Commissioner Bowie Kuhn to declare him a free agent. Kuhn--citing baseball's reserve clause, which kept a player bound to his original team--refused. Flood sued baseball, essentially ruining his career and leading to epic financial and personal problems.
"What I really want out of this thing is to give every ballplayer a chance to be a human being and to take advantage of the fact that we live in a free and democratic society and he should have some choice," Flood said.
But thankfully HBO refuses to make Flood's story a hagiography. At their best (Academy Award winning "When We Were Kings") sports documentaries transcend sport and are simply good stories, but weaker filmmakers too often fall into predictable "sports narratives," inspirational tales, usually treacle, in which an athlete overcomes the odds. But HBO is sophisticated and it layers its stories and embraces honesty, which makes Flood a more profound person in the telling.
While HBO tends to guide its documentaries with a strong narrative, Showtime, on the other hand, tends to take a laissez-faire attitude, almost as if it shoots hours of "inside" footage but no one bothers to really edit it with a story-line in mind. In "The Franchise" there is a longish profile of Freddy Sanchez at home with his family. Sanchez and his wife express their love and how they struggled financially before making it to the Bigs, but there is no over-arching theme except to espouse family values and repeat a series of clichés. It's a victory that the producers were given great access, but it's what you do with the access that matters. The Showtime Sports Documentary Filmmaker Manual must read: Let the athletes and people around them tell the story. Don't interfere! More often than not, this is a misguided strategy because athletes don't always have a good perspective on their own story, and—I hate to break it to you fan boys and girls—athletes are typically more physical beings than truly deep, cerebral ones.
Showtime has also taken on the difficult strategy of focusing on current athletes and teams. Unfortunately, our athletes have been trained by public relations experts to say as little as possible because it might hurt their endorsement opportunities. (HBO ran into the same problem when it chronicled the New York Jets before last football season. Jets coach Rex Ryan is a fun-loving character, but overall the documentary was little more than amusing. And I don't have high hopes for HBO's Derek Jeter 3K, on the Yankees player, which is supposed to come out in a few weeks. I'm sure Yankees fans will love it.) As any journalist will tell you, people are often more honest in retrospect than in the moment, which makes "The Curious Case of Curt Flood" rich material in which to weave a story. But both documentaries reflect as much about the networks producing them as the different eras being examined, and baseball itself, and what it means to the psyche of Americans, from yesteryear, and in 2011.
The San Francisco Giants don't seem especially guarded, but they also don't have much to say. It's difficult to blame Showtime because the reality documentary format is basically a reactive one. There is no pretense in Showtime's flippant The Franchise, which seems intent on grabbing the interest of a young demographic. The first scene sets the sophomoric mood. At a victory rally in front of fans, civic leaders and Willie Mays, Giants player Aubrey Huff announces that he is going to pull thong underwear, a la Zoolander, out of his pants. He gets laughs and cheers from his teammates as if they have just witnessed the most hilarious comedy bit ever. (Tim Lincecum, the Giants' star pitcher, just shakes his head and offers a wry, embarrassed smile.) "The Franchise" has numerous perplexing scenes, including showing a player running up the side of a dirt hill barefoot and in designer jeans. It's irritating that the makers of the "docu-series" are reluctant to put much of the footage into context. The reality series feels naïve, like a cub reporter working the beat for the first time; or a metaphor for modern times, a jock-sniffing blogger excited to be in a locker room. There are a lot of predictable story-lines: the rookie trying to make the team, the manager trying to figure out the psychology of attaining a repeat championship, an overweight star trying to get in shape and reach his true potential, and a journeyman pitcher giving it one last try.
When Brian Wilson, the wacky pitcher, comes on the screen, he lights it up because he is unpredictable. At one point, he looks at the camera and says, "When you're a young pup, coming up, you have meetings about media, and controlling the media. Dealing with the media in the past five years, I've learned to hone in on what kind of message I would like to send, even if that's in a sailor's outfit. [Cue Wilson wearing a sailor's outfit.] You think: there he goes again being crazy or just flipping smart. My trigger points are different. My brain waves work in a completely different pattern than a lot of people." Wilson's gibberish doesn't make a lick of sense, but he seems to have some sort of master plan. No one bothers to clue us in on it, of course. He goes onto say, "I'm a pro baseball player in my 20s I'm not just going to walk around monotone like a robot and wake up and I'm 35 and the game is over and I have had zero fun." The statement isn't packed with profundity and maybe it's a stretch to make much of it, but the sports world has become so geeky with sturm-und-drang over salary caps and labor strife and sports analytics, performance enhancing drugs, and media managers, etc. ad nausuem. It is nice to see an athlete show some joy and rebellion. But rebellion is relative. Wilson will receive $6.5 million in 2011 and $8.5 million in 2012. Who is the real rebel? Brian, you might want to watch the Curt Flood documentary.
There are a few touching scenes so, ladies, if you hear your husband, half-drunk, crying downstairs at midnight as he is watching The Franchise, please don't be concerned because the Ambien will eventually kick in. One scene in particular works really well in the meandering Showtime style. Brandon Belt, a young ball player from Nacogdoches, Texas, is called into the manager's office. He is told that he made the big leagues. He gets choked up and doesn't want to leave the office because he is worried that his teammates will rib him about his tears. Manager Bruce Bochy says, "You did good, kid...you need some time you can hang here for awhile." Belt sits there. The manager offers him a beer. The camera lingers on the scene and lets it play out in its awkward but realistic way.
While HBO is clearly the leader in the sports documentary genre (it has earned 31 Sports Emmys and nine Peabody awards), there is certainly room for both networks, as well as ESPN, to go in-depth on sports topics. Using sports as a prism, the documentaries can help define an era, look at issues of race or politics, explain the nuances of a team, athletes, or rivalry, or show raw human emotion. While The Curious Case of Curt Flood capably tells a complex story, the Brandon Belt scene in Showtime's The Franchise works because it captures something real. It could be a high school team or the Major Leagues, but there is a beauty in the innocence: a young man making a team, a dream realized, the acceptance of one's talent, the world seems wide open and pure, and yet he's embarrassed about the purity of his emotion. The Franchise could use more of that sort of clarity.