'Beats Rhymes & Life': A Loving, Unflinching Look at Tribe Called Quest
Fans of the rap legends will find the doc both fascinating and challenging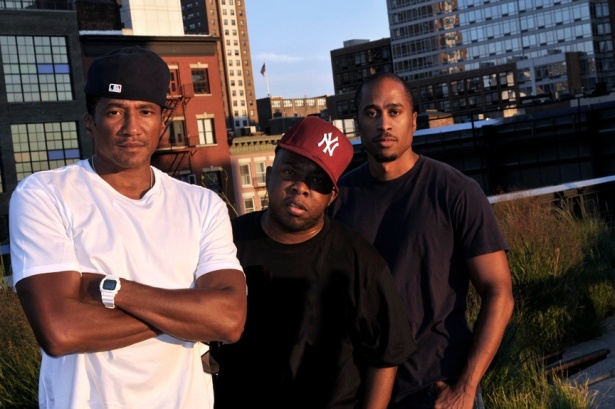 Sony Pictures Classics
"Good things do come to an end."
So declares the rapper Phife Dawg over the opening sequence of Beats, Rhymes & Life: The Travels of A Tribe Called Quest, actor-turned-director Michael Rapaport's tender and riveting new documentary on the legendary Queens hip-hop group. Though speaking about A Tribe Called Quest as a whole, Phife is implicitly referring to his fractured relationship with Q-Tip, Tribe's de facto frontman and Phife's longtime counterpart. A Tribe Called Quest broke up in 1998 and only first reconvened for an ill-fated 2008 tour that's largely the focus of Rapaport's documentary, so there's no good reason for Phife's plainly obvious statement to carry the emotional wallop that it does, ten years after the group's official split. But emotional wallops aren't rational things, and Phife himself even seems hesitant with his words, reluctantly trying them on as though hoping they won't fit.
The sheer existence of Beats, Rhymes & Life attests to its subject's significance as much as the film's content. The most high-profile documentary ever made about a rap group, Beats, Rhymes & Life claims for A Tribe Called Quest the same epochal weight as Pennebaker's Don't Look Back did for Bob Dylan and Scorsese's The Last Waltz did for the Band. Rapaport's film tells two stories at once: the first is a history of A Tribe Called Quest, spackled together with archival footage and rapturous testimonials from hip-hop luminaries ranging from DJ Red Alert to Pharrell Williams to the Beastie Boys. The second is a more literal "documentary" presentation of the 2008 tour, during which Rapaport captured backstage toxicity and infighting between Q-Tip and Phife, the former of whom seems simultaneously protective of and ambivalent toward Tribe's legacy, the latter of whom is dealing with an ongoing health crisis that necessitates the group's return to the road. (This second narrative has been the subject of widely-reported controversy, with Q-Tip and Rapaport publicly squabbling over the film's final cut.)
Beats, Rhymes & Life stars the four men who comprise A Tribe Called Quest—Q-Tip and Phife, plus DJ Ali Shaheed Muhammad and on-again, off-again "spiritual center" Jarobi White—but Rapaport himself looms as a largely silent but compelling presence. In interviews, Rapaport has cited his own obsessive fandom as the inspiration for making the documentary, and this is fitting: It's a film that traffics in wishful adulation, the permanent impermanence and imperfect perfection of idols, a wildly sentimental contribution to a filmmaking genre that tends to loudly protest such things. It is also a deeply powerful movie that draws its success from both the skill and passion of its maker and the singular, magnetic beauty of its subject.
A Tribe Called Quest first assembled as high school students in the late 1980s, and soon gained attention through guest appearances on tracks by the Jungle Brothers and De La Soul, both of whom would join with Tribe in founding the mythic hip-hop collective known as Native Tongues, which in turn philosophically aligned itself with Afrika Bambaataa's progressive Zulu Nation movement. In 1990 A Tribe Called Quest released its first album for Jive Records, People's Instinctive Travels and the Paths of Rhythm (they always knew their way around an album title), an auspicious debut that drew from a bottomless well of musical influences and featured the classic singles "Can I Kick It?,""Bonita Applebum" and "I Left My Wallet in El Segundo."
They followed this up with The Low End Theory (1991) and Midnight Marauders (1993), quite simply two of the greatest albums ever recorded, musical masterpieces that exploded hip-hop and dramatically reset the course of late-20th-Century popular music—and if all this strikes you as hyperbolic then my sincerest apologies that you've never heard them. After a three-year hiatus the group returned in 1996 with Beats, Rhymes and Life , a solid album that didn't live up to the standard of its predecessors because by then nothing could. In 1998 Tribe released The Love Movement , a pensive, ambitious and still-underappreciated work, then announced their breakup shortly thereafter.
While A Tribe Called Quest may not be the greatest rap group of all time, they're at least in that conversation, and they're almost certainly the most beloved. In the early 1990s Tribe—and, by extension, the entire Native Tongues project—presented an alternative to hip-hop fans increasingly alienated by the dystopias of gangsta rap that had come to dominate the mainstream. Tribe's was a vision of hip-hop as utopia, infinitely open, fun, and cool, an expansion of Rakim's famous dictum that "it ain't where you're from, it's where you're at" into an entire worldview. Though they never set the Hot 100 on fire—their highest-charting single, "Award Tour," peaked at No. 47 in 1993—it's impossible to describe the hold that A Tribe Called Quest exerted on the imagination of its audience.
One way of saying all this is that A Tribe Called Quest were remarkably influential, but "influential" is a word that too often describes music we pretend to like and never listen to. A Tribe Called Quest inspired impossible devotion: this was music to be doted upon, fawned over; it was special, it was yours. These feelings emanated most basically from the interplay between Q-Tip and Phife, the former cool and serious with a nasal monotone, the latter irascible and mischievous, all gruff exuberance. On tracks like "Can I Kick It?,""Check The Rhime" from The Low End Theory or "Oh My God" from Midnight Marauders, listening to Q-Tip and Phife felt like nothing more or less than listening to your closest friends, so warm and easy in their rapport and unabashed in their love of music.
Along with visionary production work often handled by Q-Tip himself, their dynamic brought rap music to new creative heights. Take "Jazz (We've Got)," a masterpiece of musical build constructed around a sample of Lucky Thompson's recording of "Green Dolphin Street." Q-Tip opens the track with a mellifluous lyrical turn ("Stern, firm and young / with a laid-back tongue"), Phife takes the second verse and slowly ratchets up the intensity, until Tip finally reclaims the mic for a finale that culminates in a "ya don't stop" out-chorus, completing a seamless four-minute metamorphosis from laid-back meditation to party banger. Or "Electric Relaxation" from Midnight Marauders, a shockingly beautiful piece of music that's arguably the most mature piece of eroticism in all of hip-hop. Tip and Phife trade stanzas, waxing sensual and lascivious as a hypnotic beat changes textures beneath them. Just as the romance begins to feel a bit too thick Phife drops a wildly off-color remark involving a couch (afforded extensive appreciation in Rapaport's film) and the effect is perfect, the audacious and disarming laugh that completes the seduction.
Of course, such things are better suited for speakers or headphones (or, in a pinch, overheated music criticism) than documentary filmmaking, and it's for this reason that Rapaport's film doesn't always perfectly jell. The best music documentaries deconstruct their subjects by humanizing them, rendering them fallible: after all, the most powerful moment of the Maysles' Gimme Shelter isn't concert footage but rather a stricken and overwhelmed Mick Jagger watching film of Meredith Hunter's murder at Altamont. In Beats, Rhymes & Life, Q-Tip and Phife are generally charming on-camera presences who nonetheless come off at various points as petty, vain, insecure and, in the case of Q-Tip, somewhat cruel. It's a disconcerting sight for anyone who came of age hearing these two as a musical ideal of camaraderie, and the film itself seems unsure of how to resolve the tension between the hagiography of its historical narrative and the unhappily flawed individuals of its contemporary one.
But it's this unresolved tension that speaks to the kind of love A Tribe Called Quest inspired, the kind we channel into things like hip-hop because to direct it toward an actual person would be unhealthy and unfair: its burdens of perfection, its perpetual nostalgia, its misplaced conviction that something that has (and maybe wants) little to do with us is a part of who we are. Rapaport's film is made of and from this love, and to watch it is to feel both a snap of recognition and the sinking sense of a dashed dream, the newfound and slowly crystallizing knowledge that maybe Tip, Phife, Shaheed and (even) Jarobi weren't perfect.
And this knowledge lasts you all the way out of the theater, through the lobby and onto the street, when you put on your headphones, "Can I Kick It?" floods your ears and blows open your heart for the ten thousandth time, and you think to yourself: Actually, maybe they were.