Ahead of 'Tabloid,' a Netflix Primer on Errol Morris's Bizarre, Brilliant Career
Curl up with these documentary masterpieces before seeing the director's newest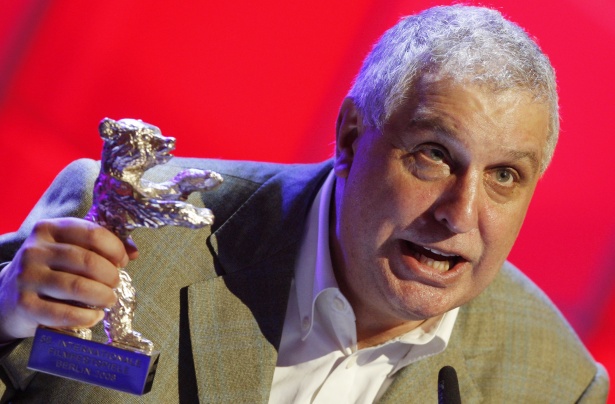 Reuters/Johannes Eisele
Legendary filmmaker Errol Morris's ninth feature documentary, Tabloid, begins reeling off its ticker tape of sensational headlines in select theaters today. The subject of the movie, which premiered at last year's Telluride Film Festival, is former Miss Wyoming Joyce McKinney, who in 1977 set in motion what became known as the "Mormon sex in chains case." Decades later, she had her pit bull cloned five times over in a South Korean laboratory.
Morris, an occasional blogger for The New York Times, probed hotter-button topics in his previous two features—2003's The Fog of War, a soapbox of sorts for former U.S. secretary of defense Robert MacNamara, and 2008's Standard Standard Operating Procedure, an examination of the photographs from Abu Ghraib—and fielded some criticism for letting his embattled subjects off too easily. But with Tabloid, Morris seems to be downshifting into less consequential historical matters; McKinney might fit more comfortably alongside the eccentrics who populate some of the director's earlier work. That work is well-represented on home video, but four Morris titles are particularly accessible ("instantly" so) for most Netflix subscribers. Taken together, the films— Gates of Heaven (1978), Vernon, Florida (1981), The Thin Blue Line (1988), and Mr. Death (1999)—offer a good overview of their director's career.
Gates of Heaven, Morris's debut feature, and Vernon, Florida, an hour-long doc that followed on its heels, are both devoid of the filmmaker's now-trademark slo-mo reenactments that reanimate history, emphasizing how the historical record becomes inevitably altered through revision or general obliqueness. Instead, these two films give their airtime over to oddball, often enterprising, Americans.
The absorbing Gates of Heaven concerns the operation of two pet-cemetery businesses, and its completion by Morris famously compelled director Werner Herzog to eat his shoe (an act immortalized in the short "Werner Herzog Eats His Shoe").The latter focuses on the inhabitants of a Florida swamp town—many of them elderly and eager to shoot the breeze. Much of Vernon, Florida is taken up by one man's turkey-hunting stories; at one point, another man pulls a turtle from a cage in his yard, sets it on the ground, and kicks it along, observing that the animal's "motor is slow-paced." Still other townsfolk peddle bits of personal philosophy. Vernon, Florida might pair well with a novel like Thomas McGuane's Ninety-Two in the Shade or Charlie Smith's more recent Three Delays, mapping a more northerly and benignly outlaw, but no less bizarre, corridor of the Sunshine State.
Morris's hugely influential next film, The Thin Blue Line, debuted many of the stylistic tricks that he still favors: reenactments, behind-closed-doors talking-head interviews, a swirling orchestral score (in this case by Philip Glass), a forensic-thriller structure. The masterpiece, which wound up overturning a conviction, was controversial in its time, as might be expected: In probing what happened on the night a Dallas County cop was murdered by the side of the road, the film appears to play coy with key details, and nearly fetishize the inconsequential particulars (the camera repeatedly returns to a television listing for The Carol Burnett Show; at one point Morris restages the slain cop's partner's Burger King malt, the "choc. liquid" on the pavement in a crime-scene diagram, getting flung through the air). But these minutiae turn out to be essential to the film's repeated re-envisioning of what really happened that night.
The threat of the death penalty looms over The Thin Blue Line, but it's at the forefront of Mr. Death, subtitled The Rise and Fall of Fred A. Leuchter, Jr. Coffee-guzzling engineer Leuchter (he claims at one point he consumed 40 cups of Joe a day) becomes something of a death-row Mr. Fix-It, repairing Tennessee's electric chair, and eventually signing on to design a lethal-injection machine for the state of Delaware. Leuchter says he supports capital punishment, but not "capital torture," and he refurbishes these machines with an eye toward delivering a painless "good execution."
Due to his unique expertise, Leuchter is eventually conscripted by the defense of Ernst Zündel, a vocal Holocaust denier on trial in Canada, to visit numerous death camps in Poland, illicitly chiseling off brick "samples" to determine whether mass executions by gas took place there. His answer—that they didn't—touches off another fascinating investigation by Morris into how we apprehend the past, and the consequences of refusing to accept that it isn't really past. (Leuchter claims he took the Zündel assignment as a principled freedom-of-speech stand, and that he had no personal stake in the outcome of his research; he also doesn't appear to have any particular concern about the uses his report might be put to.)
Mr. Death initially seems too bombastic for its own good: The many canted-angle shots of Leuchter going about his business feel overblown, as do those in which his face is reflected, and sometimes distorted, on various surfaces. The score, by Caleb Sampson, blares out of the gate. But, as in much of his most enduring work—and hopefully his new film as well—Morris plumbs gradually deeper below the surface to interrogate people's versions of events past.