A Musical Fad Becomes Musical Force on Washed Out's 'Within and Without'
A woozy, mumble-mouthed indie genre turns lush and accessible with this Georgia bedroom producer's full-length debut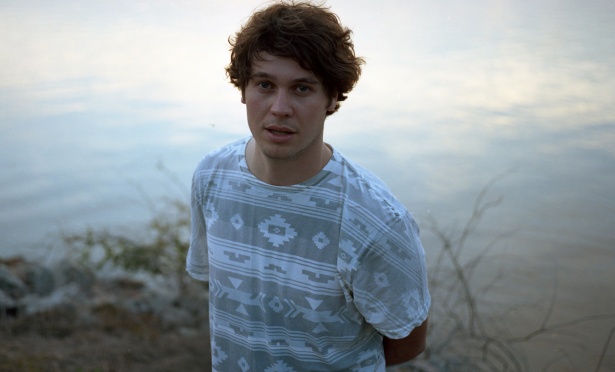 Will Govus / Sub Pop
Micro-genres come and go on the Internet, but few have grabbed as much chatter as did the music labeled "chillwave" in 2009. Coined by satirist blogger Hipster Runoff, the term was used to describe a group of geographically disparate, aesthetically similar bands making records high on '80s nostalgia, sampled synthesizers drenched in reverb, and murmured, obscure lyrics. The pastoral, formless music held captivating moments of optimistic contemplation, if you weren't offended by its tendency to fade into the background rather than leap out of speakers.
Of course, plenty of people were offended. The New York Times ran a memorable take-down of the style, calling it "a hedged, hipster imitation of the pop they're not brash enough to make." Other critics sniped with glee, and the stigma continues to today. "Chillwave is some of the worst, most non-committal music ever made," rock writer Christopher Weingarten recently told the Broward Palm Beach New Times. "Just the hackiest pile up of 'lol-geddit' Nickelodeon references, tape hiss hiding a total lack of hooks, and a sub-Family Guy level of nostalgia masquerading as emotion."
So there's something almost defiant about the fact that Ernest Greene, who records under the moniker Washed Out, has now released an unapologetic chillwave debut—even after being at the center of arguments about the genre more than a year ago with the hotly tipped single "Feel It All Around." But Greene's Within and Without, which was released today to fairly ecstatic reviews, represents a leap forward for the class of '09-'10: If part of chillwave's initial appeal was in its sonic replication of the the hazy interior state, Within and Without flips the formula by being acutely aware of its audience.
When his singles started gaining buzz in 2009, Greene found himself in an entirely new situation, playing his first live shows and being able to record his debut full-length album in a proper studio. The exposure to a greater audience, he tells The Atlantic in a phone interview, influenced his approach, in that a few songs for Within and Without were written with the crowd in mind—like "Amor Fati," where towards the end, the music drops out to a kick drum and there appears "a sort of slightly over-the-top background vocal thing to hopefully get a crowd involved," he says. "That's the sort of thing I never would've written two years ago, having not played for a lot of people." In the chillwave world, this kind of admission seems almost unfashionably populist. "I think we could play this record from start to finish and hopefully be entertaining," Greene says. "That was the way I was thinking about it."
On that count, Greene has succeeded. As soon as the shimmering keyboard tones drop on lead-off track "Eyes Be Closed," it's clear that he has traded formlessness for focus. Live instruments stand sturdily in the mix as free-floating vocals waft in and out of coherency while retaining melodic sharpness. His lyrics continue to feel like unconscious murmurs rather than complete ideas or narratives, but they're grounded in icy, uptempo rhythms and dense webs of lush instrumentation. Rather than pointing to specific feelings, Within and Without broaches self-reflection without turning narcissistic. If his earlier music seemed born out of the childhood bedroom it was recorded in, this record leaves the house for a full night out, from the dance floor to the long walk home.
The album's sound comes out of the age-old story of tuning out critics and trusting the gut. "I felt like reviews would be screwed either way, like you'd get flak for a dramatic change or making the same kind of record," he says. "I had a strong vision of what I wanted it to sound like and some things I didn't want, and some of those things were definitely associated with the chillwave sound. It ended up not shaping things more than just how I wanted to do it."
The last and best song on Within and Without, "A Dedication" opens with sparse piano and a haunting, easily-discerned vocal—not what you'd expect to hear following the album's layers and layers of synthesizers. "The first track on the record is the bridge from the previous record to this one, and as it progresses there's more live instrumentation," Greene says. "That's sort of creatively where I'm moving, so hopefully ["A Dedication"] is a bridge to the next record." It's a stunningly solemn song, an appropriate coda for a fine record. If he continues to push in that direction, he'll validate the existence of chillwave as a legitimate genre, whether he means to or not. A less silly name would help as well, but you can't change everything.