A Brief Visual History of Vintage Typographic Scripts
Scripts: Elegant Lettering From Design's Golden Age is a stunning, sentimental book on fonts that resemble handwriting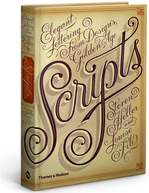 Iconic design writer
Steven Heller
has previously delighted us with a
peek inside the sketchbooks of famous graphic designers
and a fascinating look at the
design and branding of dictatorships
. Now, he and his partner of 28 years, acclaimed designer
Louise Fili
, are back with
Scripts: Elegant Lettering from Design's Golden Age
—a treasure chest of typographic gems culled from advertising, street signage, type-specimen books, wedding invitations, restaurant menus, and personal letters from the 19th to the mid-20th century. Ranging from the classic to the quirky, the 350 stunning images are unified by a common thread: All the typefaces featured are derived from handwriting or symbolic of the handwritten form, and the letters in each touch each other. And in a day and age when pundits are
lamenting the death of handwriting
as a much deeper cultural death, there's a special kind of magic about the celebration of beautiful scripts.
"We started gathering materials for the book by just going through the shelves of my studio: the stunningly timeless black, white and red St. Raphael enamel sign, French button cards, type specimen books and of course my albums of sign photos. While many of the selections were obvious, some were serendipitous: For example, while teaching a summer masters workshop in Venice, two of my students gave me a composition book they had unearthed from a recycling bin on the Grand Canal. It was from 1923 with verses written in perfect Italian school children's penmanship." ~ Louise Fili
At once sentimental and visionary, Scripts is a living capsule of the near-forgotten beauty and allure of vintage lettering, but also of books themselves—lavish, vibrant, tactile, with lush typography winking at you from the page in come-hither seduction like the screen never could.
---
This post also appears on Brain Pickings.
Images courtesy of Felt & Wire