9 Ways Women Get on the Cover of 'Sports Illustrated'
Hope Solo is about to be the first female in over a year to appear on the weekly magazine's cover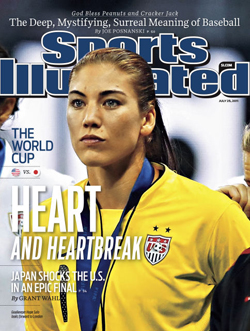 Sports Illustrated
U.S. goalie Hope Solo will be on the cover of the next Sports Illustrated in the wake of her team's loss to Japan in Sunday's World Cup final. It's a rare feat for a woman to grace the cover of the weekly: The last time it happened was more than a year ago, when tennis phenom Serena Williams appeared beside the headline "Love Her, Hate Her, She's the Best Ever." That rate is pretty consistent in light of the magazine's history: In the 57 years since Sports Illustrated's founding, a woman has appeared on a (non-swimsuit issue) cover 66 times—on average, just over once a year.
So what does it take for a woman to get on the cover of SI? After a careful perusal of the magazine's covers archive, nine trends develop:
1.) Get famous before 1962
Somewhat counter-intuitively, the heyday of female SI cover models came before Title IX. In the '50s and early '60s, women appeared on the cover 14 times, many of them for sports that rarely make the covers of mainstream magazines today: fencing, horseback riding, and rock-climbing.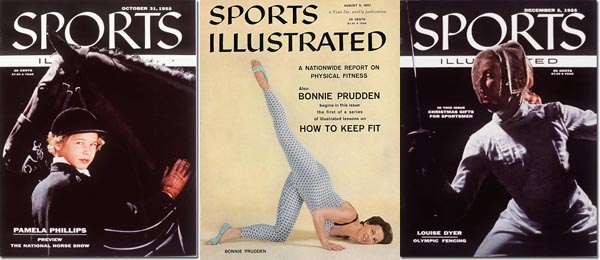 2.) Be a cheerleader
Cliches are cliches because they're cliched: Girls with pom-poms have been a staple of SI covers for decades, whether they're kissing a national-champion football player, cheering on Larry Bird, or celebrating their own 25th anniversary.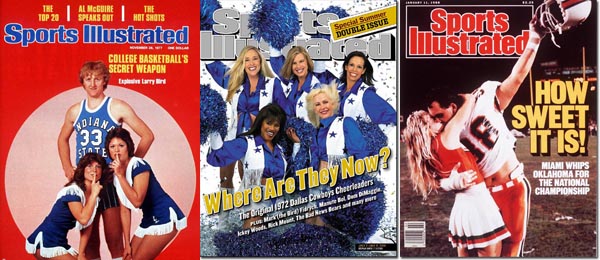 3.) Play tennis ...
Tennis players are among the most represented female cover subjects in SI history. Steffi Graf has appeared several times, along with Monica Seles, Chris Evert, Martina Navratilova, and (of course) Venus and Serena Williams.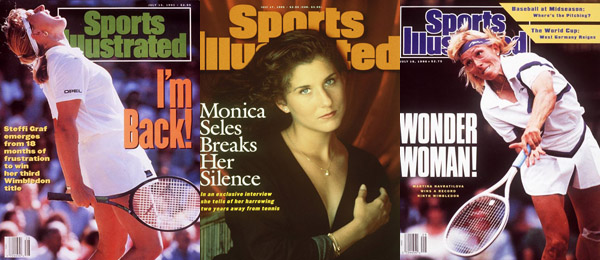 4.) ... or soccer ...
Solo isn't the first female soccer player to appear on the cover of SI: national team predecessors Brandi Chastain and Mia Hamm came before her.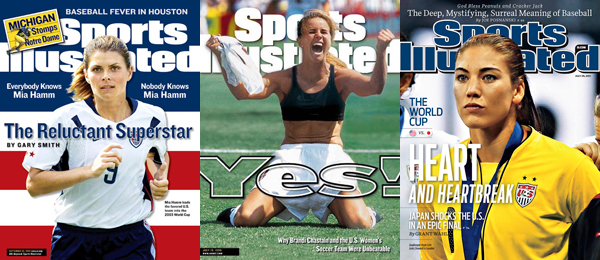 5.) ... or run track
Superstar mid-distance runner Mary Decker was on the cover an unprecedented three times in four years in the early 1980s. Fellow track stars Jackie Joyner-Kersee, Florence Griffith Joyner, and Marion Jones have also made the cover.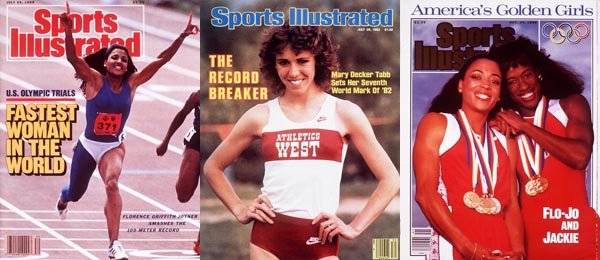 6.) Be an Olympian
Female Olympians have been all over SI covers throughout the years. Everyone from figure skaters (Carol Heiss, Kristi Yamaguchi, Michelle Kwan) to gymnasts (Mary Lou Retton) to skiers (Jill Kinmont, Lindsey Vonn) to softball players (the 2004 National Team) have been featured.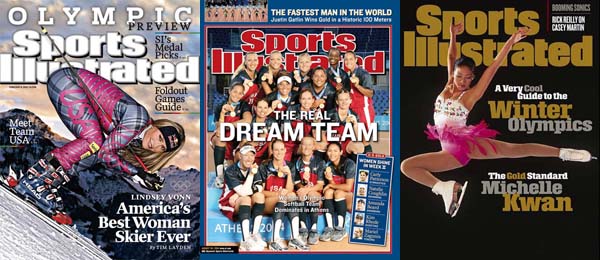 7.) Be an outlier
Being an unexpected presence in a given sport has helped women get on the cover of SI. Danica Patrick, a rare woman in the male-dominated world of stock-car racing, has been on the cover twice. Jennifer Capriati made the cover as a 13-year-old tennis sensation. And Pat Summitt was put on the cover for her accomplishments as the coach of the University of Tennessee women's basketball team, as the list of highly successful college coaches is male-heavy.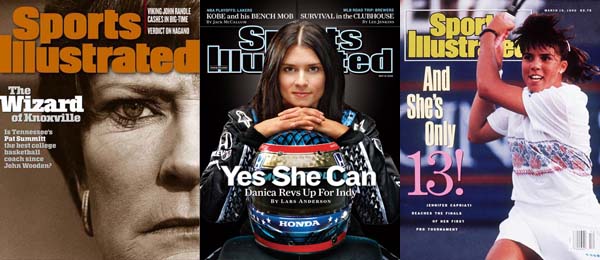 8.) Be beautiful
Athletic ability is not the only way to end up on the cover of SI: Tennis player Anna Kournikova and soft ball player Jennie Finch were clearly chosen for ... another. Notice that Kournikova is photographed clutching a pillow, not a tennis racket, and that Finch is hardly dressed for the pitcher's mound: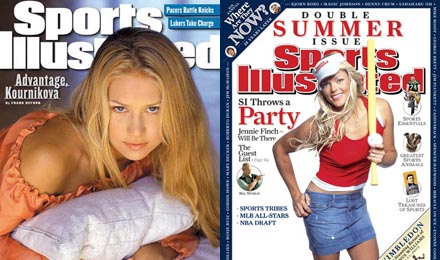 9.) Put on a bathing suit
Of all the ways women have appeared on the cover of SI, by far the most frequent has been as the top model for the annual swimsuit issue. Years have gone by in the magazine's history without a female athlete making the cover, but every winter since 1964 without fail, there's been a woman in a bikini.