Hope Solo is about to be the first female in over a year to appear on the weekly magazine's cover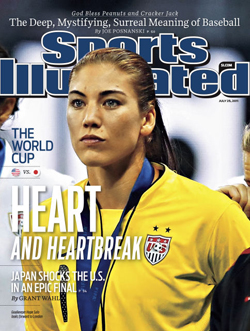 Sports Illustrated
U.S. goalie Hope Solo will be on the cover of the next Sports Illustrated in the wake of her team's loss to Japan in Sunday's World Cup final. It's a rare feat for a woman to grace the cover of the weekly: The last time it happened was more than a year ago, when tennis phenom Serena Williams appeared beside the headline "Love Her, Hate Her, She's the Best Ever." That rate is pretty consistent in light of the magazine's history: In the 57 years since Sports Illustrated's founding, a woman has appeared on a (non-swimsuit issue) cover 66 times—on average, just over once a year.
So what does it take for a woman to get on the cover of SI? After a careful perusal of the magazine's covers archive, nine trends develop:
1.) Get famous before 1962
Somewhat counter-intuitively, the heyday of female SI cover models came before Title IX. In the '50s and early '60s, women appeared on the cover 14 times, many of them for sports that rarely make the covers of mainstream magazines today: fencing, horseback riding, and rock-climbing.
2.) Be a cheerleader
Cliches are cliches because they're cliched: Girls with pom-poms have been a staple of SI covers for decades, whether they're kissing a national-champion football player, cheering on Larry Bird, or celebrating their own 25th anniversary.
3.) Play tennis ...