6 Ways to Fix Baseball's All-Star Game
The mid-summer classic needs more fun, new rules, and a different broadcaster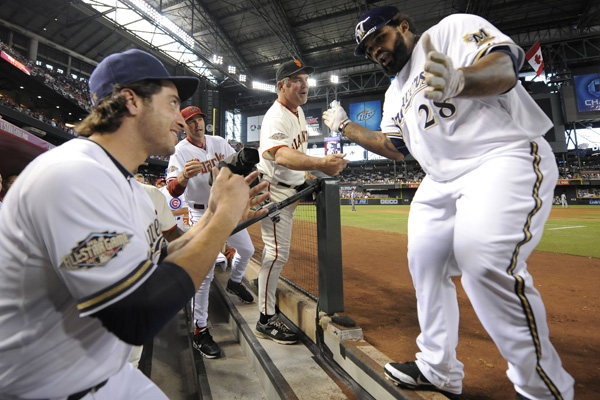 AP Images
As noted on this site yesterday, and by pretty much every other sports outlet extant, Major League Baseball's All-Star game has been declining in popularity since, oh, around the end of World War II. Last night's 82nd edition of the mid-summer classic—a sloppy 5-1 win for the National League—won't help reverse that trend. Neither will oft-suggested tweaks like shrinking the All-Star rosters or fining players who don't show up. Puh-lease. A new paint job won't make this Pinto a Cadillac. Baseball's mid-summer classic needs to be torn down, rethought, and totally rebuilt from the ground up. Here's a five-step plan:
1.) Less Bud
It's obvious, but any discussion of MLB's woes must begin with commissioner Bud Selig. In this case, with the commissioner's utterly unfathomable decision to give the winner of the All-Star Game home-field advantage in the World Series. By what unearthly, twisted logic should an exhibition game in mid-July have a huge impact on who wins the Fall Classic? In last year's All-Star game, for instance, a Braves catcher hit a three-run double off a White Sox pitcher in the 7th inning to give the NL a 3-1 win. Because of that, a few months later, the Texas Rangers had to play Game 1of the World Series on the road, in San Francisco. In what bizarro universe is that fair? Because—here on Earth—home-field for the World Series should go to the team with the best record.
2.) No Joe
Fox Sports broadcaster Joe Buck is recovering from a virus that weakened his vocal cords, and last night was his first trip back to the booth since the medical scare. On a human level, we can all be glad to see, and hear, Joe get behind a microphone again. As a baseball fan, though, Buck is still a bummer. He still somehow manages to make everything sound like an instruction—as though he's always teaching fans about the game, rather than enjoying it with us. Yes, it's great news that Buck is recovering his lustrous stentorian voice. But that doesn't make all the pomp and implied historical significance in it any less grating—especially for a game that doesn't even count in the standings.
3.) Dump the leagues
Every fan knows there's no rivalry between the AL and NL. Not any more. Why pretend? Clearly, the All-Star game shouldn't determine anything between the leagues. It really shouldn't be between the leagues at all. The national pastime would do well to take a cue from the unusual all-star format of Major League Lacrosse. The two top fan vote-getters are named captains, and get to pick their very own "all-star" squad the night before the game with playground-style alternating picks. How cool would it be for the majors to adopt that? Imagine if next year they name Prince Fielder and Jose Bautista team captains, and let them choose their own teams. On live TV. Fans would go nuts with joy. Some would hold dozens of mock All-Star "drafts" beforehand. The players would love it, too. Except for whoever get chosen last. He'd be furious—and most likely try to take it out on the field. In other words, it'd be fun to watch.
4.) Less beard
Seriously. Enough already with the Brian Wilson's beard coverage. Please. We get it. He's got a facial hair. You passed overkill about three inches ago.
5.) More skills
Why is this so hard to accomplish? MLB's Homerun Derby has proven to be nearly as popular as the game itself. Yet baseball refuses to capitalize on its own success by adding more skills contests. For instance, you take a half-dozen players with great arms, stick them in centerfield, and set targets at every base and home plate. Tadah! An Outfield Skills Competition.
6.) Fluff galore
Paradoxical as it sounds, the All-Star game will matter again only once baseball stops trying to make it matter. That is, the mid-summer classic will never be a buzzworthy national event again until baseball stops trying to make the game something it's not: important. The All-Star game is supposed to be fun—a rare chance to see the players' personalities shine through. The less the game matters, the more those personalities get to shine through. Like last night. Bell, the Padres reliever and prime trade-bait, who shined with his trademark sprint from the bullpen, and while chatting up a young fan in the stands.
David Ortiz's young son D'Angelo was another success, doing his increasingly famous batting stance impressions. The Justin Timberlake segment, however, missed the mark badly. Timberlake lives a life that most people can only drool over. If you are going to have a rich, famous, talented, great-looking movie star/pop singer standing next to a swimming pool for five minutes, someone is going to have to push him in.