10 Reasons Not to Watch the Major League Lacrosse All-Star Game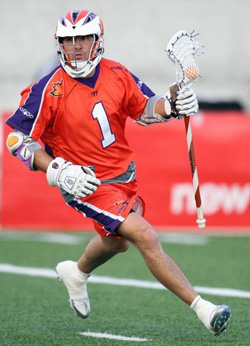 Joe Walters
Whatever you do tonight, please be sure that you and your loved ones avoid a potentially disastrous mistake. Do not, under any circumstances, watch the 2011 Major League Lacrosse All-Star Game. Yes, the game will be broadcast live on ESPN2 at 7:00 pm, which lends a certain legitimacy. Sure, missing the broadcast, brought to you by The Sports Authority, means you won't get to experience all the fun and excitement when the best of the 10-year-old, six-team MLL gather at Harvard Stadium. Watching the game would still be a huge, huge mistake. We've we've got the ten best reasons why.
1. If you watch, you might miss important, late-breaking news about the NFL and NBA lockouts.
2. You are too freaked out by the MLL's unusual all-star game format, in which the two players chosen by fans as captains, Nathan Solomon and Michael Hatala, got to choose their own squads for the match by alternating picks, playground-style.
3. You are a baseball fan, or like golf, and so all the excitement of lacrosse will frighten and confuse you. As Michael Evans of the MLL champion Chesapeake Bayhawks says, lacrosse is "fast-paced, hard-hitting, high-scoring. No one is standing around, like a lot of other sports, and the game doesn't end with a 1-0 score or a tie. " Action? Hard hits? High scores? Sounds way too dangerous.
4. Lacrosse an elitist, snooty, East Coast sport. Sure, MLL Commissioner David Gross recently announced the league is expanding in 2012, with new teams in North Carolina and Ohio—neither exactly a bastion of WASP aristocracy. But, hey, why let facts get in the way of a good bias?
5. The first formally organized lacrosse match in 1794 was a contest between the Seneca and the Mohawks, and it's offensive when sports teams appropriate Native American imagery for their mascots. (Editor's note: The players in that first game were, in fact, actual members of the Seneca and Mohawk nations.)
6. The first set of rules was developed by Dr. George Beers, a Canadian. That means lacrosse is yet another example of the swaggering juggernaut of Canadian cultural imperialism that's overwhelming the unique culture of the United States.
7. In 1636 Saint Jean de Brebeuf, a French Jesuit missionary described a popular stick-and-ball game among the Iroquois, and an apocryphal story has it that de Brebeuf named the sport after an imagined resemblance between the netted-stick and a bishop's crosier. That makes every single game of lacrosse that has ever been played on American soil a clear violation of the First Amendment's separation of Church and State. Once again, people: Canada.
8. Aficionados refer to the sport "LAX," also the name of an inconvenient West Cost airport, and so watching the MLL All-Star game may remind you of that awful weekend in LA when the airline lost your luggage and you were forced to attend an important business meeting in someone else's pants. Or is that just me?
9. The league has become far too commercial, with equipment giant Easton signing MLL players to multi-year endorsement deals, Upper Deck selling lacrosse trading cards, and—the most certain sign that a sport has gone corporate—you can even get your very own Fatheads of MLL players. Sorry, Andy Warhol. In the future, everyone will have their own Fathead.
And the number one reason that you shouldn't watch the MLL All-Star Game:
10. You are too busy prepping for an open casting call for the movie Crooked Arrows. It's the first big-budget motion picture to be made about the sport. And, apparently, Will Ferrell isn't in it.