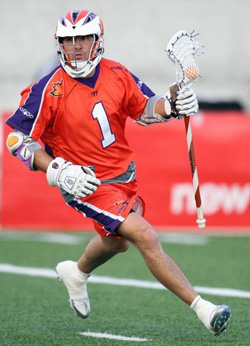 Joe Walters
Whatever you do tonight, please be sure that you and your loved ones avoid a potentially disastrous mistake. Do not, under any circumstances, watch the 2011 Major League Lacrosse All-Star Game. Yes, the game will be broadcast live on ESPN2 at 7:00 pm, which lends a certain legitimacy. Sure, missing the broadcast, brought to you by The Sports Authority, means you won't get to experience all the fun and excitement when the best of the 10-year-old, six-team MLL gather at Harvard Stadium. Watching the game would still be a huge, huge mistake. We've we've got the ten best reasons why.
1. If you watch, you might miss important, late-breaking news about the NFL and NBA lockouts.
2. You are too freaked out by the MLL's unusual all-star game format, in which the two players chosen by fans as captains, Nathan Solomon and Michael Hatala, got to choose their own squads for the match by alternating picks, playground-style.
3. You are a baseball fan, or like golf, and so all the excitement of lacrosse will frighten and confuse you. As Michael Evans of the MLL champion Chesapeake Bayhawks says, lacrosse is "fast-paced, hard-hitting, high-scoring. No one is standing around, like a lot of other sports, and the game doesn't end with a 1-0 score or a tie. " Action? Hard hits? High scores? Sounds way too dangerous.