Writing 'The Book of Mormon'
Like they've done on South Park and Avenue Q, the masterminds behind the Tony-nominated musical struck the right balance of sick and saintly.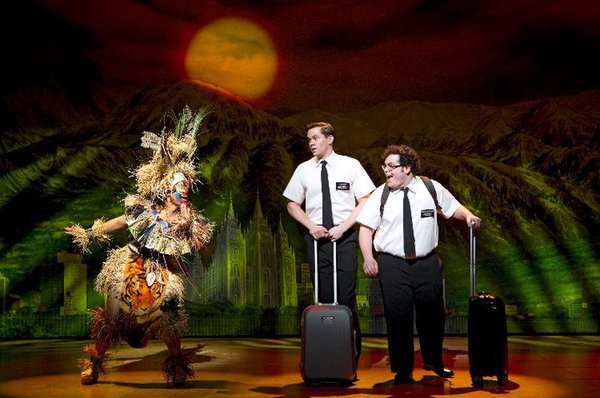 Joan Marcus
Filthy. Sweet. The two words rarely refer to the same thing. But time and again, critics emerging from The Book of Mormon–the brainchild of South Park's Trey Parker and Matt Stone, and Avenue Q's Robert Lopez–used them to describe the musical, which was nominated in 14 categories for Sunday's Tony Awards. Ben Brantley, the New York Times' infamously tough theater reviewer, called the production "heaven on Broadway," writing, "It is blasphemous, scurrilous, and more foul-mouthed than David Mamet on a blue streak … but has a heart as pure as that of a Rodgers and Hammerstein show."
Critics across the board praised the play, yet they could not hide the fact that they were surprised by its ability to balance smut and charm, intelligence and immaturity. But this is the trick that the show's creators have been pulling off for years, demonstrating that with a pure message and an innocent messenger, it is almost always possible to expand the boundaries of good taste.
In South Park–now in its 15th season–Trey Parker and Matt Stone have regularly pushed the tolerance of both their audience and their network, using the simplicity of their design and the naivety of their fourth-grade protagonists to candy coat their crass language and graphic imagery. For instance, it seems OK, and even funny, to watch a cardboard cut-out of Martha Stewart insert an entire turkey into her rectum, just as long as both Ms. Stewart and said turkey are nearly unrecognizable. And even when its rudimentary animation does not fully rescue it from vulgarity, South Park still benefits from the fact that its intentions are generally pure. In nearly every episode, Parker and Stone attempt to inject a positive, even uplifting, message about controversial moral debates ranging from censorship to illegal immigration. In fact, it was this generally upbeat attitude towards vulgar comedic writing–particularly through the use of Broadway-style musical numbers–that initially attracted Bobby Lopez to Parker and Stone's work.
Lopez is a self-described fan of South Park, and even today insists that Parker and Stone were personal heroes long before their collaboration on the Book of Mormon. According to Lopez, it was 1999's South Park: Bigger Longer & Uncut that actually inspired him to write Avenue Q. "When the South Park movie came out and had all those amazing comedy songs on it, that really pointed the way for me," Lopez said in an interview with The Atlantic. "In fact, it was just a week after that movie came out that my co-writers [Jeff Marx and Jeff Whitty] and I sat down and started to brainstorm ideas for Avenue Q."
Like South Park, Avenue Q employed buffers to balance charm and vulgarity. Instead of cartoon characters, for instance, Avenue Q used Sesame Street-like puppets to tell the very adult-themed stories of young 20-somethings in New York City. Furthermore, Lopez and co-composer Jeff Marx displayed an extraordinary knack for producing optimistic and catchy show tunes like "The Internet is for Porn" and "Everyone's a Little Bit Racist," to make the blasphemous funny. But Lopez wanted to deliver more than just comedy. "When we wrote Avenue Q, we worked hard to create something that could be funny and satirical but also had some surprise moments of heart, moments when the music itself could become a central player and create something sweet and moving," Lopez says. This they achieved, delivering the Tony-award winning musical that would, coincidentally, help spawn The Book of Mormon.
Lopez met Parker and Stone for the first time after a performance of Avenue Q that the two South Park creators had just attended. After the show, the three men gathered at a nearby pub to discuss their future plans. As Lopez recalls, "I mentioned to them that I was interested in doing a new project on Joseph Smith and the Book of Mormon, and they were like, 'That's what we want to do too!'" And so, over the course of the night, Parker, Stone and Lopez brainstormed ideas.
As each of the writers has said, their goal was never to bash Mormons for an entire evening, but rather to craft something that could be both optimistic and entertaining while also offering an informed perspective on religion. "We talked about our philosophies of religion that night and, as it turns out, all three of us all shared the fundamental belief that literal interpretation of scripture is not what's important," Lopez recalls. "Rather, it's the emotional truths and codes of conduct that religions can outline that actually make the world a better place to live." With those core principles in mind, the three began to create a traditional musical that could encapsulate their ideas in a positive–if occasionally profane–way.
As it turns out, the stereotypically cheerful Mormons provided just the right Disney touch, giving the writers room to both lampoon their contagious positivity while also building from it. "When you're trying to do a traditional book musical like Book of Mormon, it's always nice to have characters that could very naturally break into song, and its good to pick a subject matter that allows that to happen in a way that doesn't disarm the audience," Lopez says. So with the peppy Mormons as their musical army, Lopez, Parker and Stone worked together in what Lopez describes as a full collaboration: "We would just hole up in a studio and talk and talk about the story, the moment, and what the joke would be. As soon as something wasn't funny, we would cut it, and there really wasn't any division of labor. We were all contributing at some point, whether writing entire songs or just adding lyrics here or there."
The result is a brilliantly crafted, old-fashioned musical, stacked with a collection of upbeat and catchy songs that reflects a certain fascination–and even appreciation–for the rituals and culture of Mormonism. In fact, Lopez seems proud to note that many Mormons who have come to see the show have actually walked away with smiles on their faces. In a recent NPR panel, one Mormon admitted to Lopez that the show very accurately evoked some of the same emotions that he had felt when he was on his proselytizing mission, and that it meant a lot to him to see those trials play out on stage. Lopez was clearly touched. "It was a very wonderful litany of what we got right, and I choose to think that's how Mormons perceive our play," he says.
Certainly there are audience members who have been offended–whether Mormon or not–but many have embraced the Book of Mormon as one of the finest musicals in recent memory. Tickets are impossible to come by. Its soundtrack–recently released on the iTunes music store–has set new Broadway sales records. And the Tony awards, which air this Sunday night, are beckoning with open arms. At this point, it seems almost inevitable that Trey Parker, Matt Stone, and Bobby Lopez will once again triumph at what they do best: bringing delightfully filthy sweetness to an adoring audience.