Win or Die Trying: The Scorching 1964 U.S. Open
As the annual golf tournament approaches, a look back at Ken Venturi's death-defying victory 47 years ago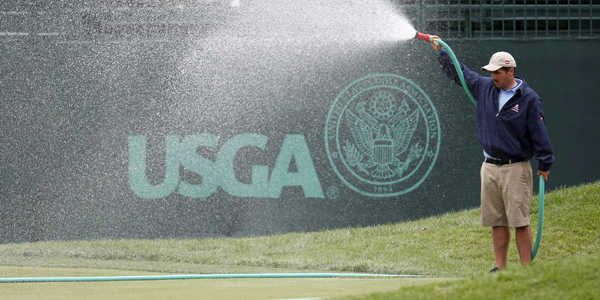 Jeff Haynes/Reuters
The 111th U.S. Open starts Thursday at Congressional Country Club in Bethesda, Md., and the weather is not expected to be cooperative. Rain is in the forecast for Thursday and Friday, followed by temperatures expected to approach 90 degrees on the weekend.
Tournament officials are undoubtedly glad the Open wasn't held last week, when a paralyzing heat wave reached the East Coast and sent temperature in Bethesda soaring into the low triple digits. But even conditions like that might not have matched the scorcher in 1964, when Congressional hosted one of the most remarkable physical and mental accomplishments in golf history.
Back then, the Open was played over three days, not four, with a 36-hole Saturday finish that broke even the strongest competitors (see: Snead, Sam, 1947). Going into the final day, Tommy Jacobs held a one-stroke over Arnold Palmer, while a hard-luck pro named Ken Venturi was six shots off the pace.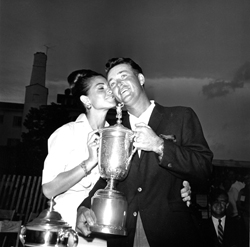 AP Images
Venturi was his generation's Phil Mickelson, a genial, well-liked player who had come agonizingly close to a major title on multiple occasions. As an amateur in 1956, Venturi led the Masters by four strokes with one round to play but choked under pressure, carding a final-round 80 to lose by one. The agony many felt watching Rory McIlroy's collapse at this year's Masters—when the young Irishman also held a four-stroke lead and also shot an 80 on the final day—paled in comparison to the sight of Venturi frittering away his chance to become the first amateur champion in Masters history. Two years later, he was on the short end of a controversial final-round ruling that went Palmer's way, propelling Arnie to his first major title.
By 1964, Venturi was nearing the end of his career, hampered by a circulatory problem that caused nerve damage in his hands. It appeared that Venturi, who had overcome a severe childhood stutter to become one of most well-spoken men on tour, would never capture the major many felt he deserved.
A half dozen strokes back after 36 holes, Venturi surged out of the gate on Saturday, carding a four-under-par 31 on the front nine to get into contention for the lead. But late in the round, he began to feel the effects of a brutally hot day, with 100-degree temperatures scorching a fairway that one columnist wrote was "probably closer to 130 [degrees]... because fairways are famously hotter on a golf course."
Venturi bogeyed the last two holes and headed for the clubhouse in second place, two strokes behind Jacobs with the afternoon final round still to go. The old pro had severe heat exhaustion, and Congressional's club doctor told him that he could suffer a heat stroke and die if he played the final round.
Venturi had maybe 30 minutes to decide what was more important: one last shot at a major championship or his physical well-being. He made his decision in far less time:
Venturi swallowed 18 salt tablets—"they say today that can kill you"—and back on the course he went, fighting off exhaustion to win by four shots.

"I don't remember walking to the first tee," Venturi said.

After making his last putt, Venturi lifted his arms, removed his cap and said, "My God, I've won the Open."
In grueling afternoon conditions that wore down most of the field—Jacobs faded with a final-round 76—Venturi stumbled his way through 18 holes, Everett walking with him carrying fluids and ice and ready to resuscitate him if necessary. Incredibly, he shot an even par 70, capturing the major title that had eluded him for so long.
The following year, the Open switched to a four-day format, in large part because of Venturi's near-delirious performance. As for the champion, Venturi retired later in 1964 and became better known as the voice of golf on CBS, as the stutterer-turned-orator anchored Masters telecasts for 35 years.
"I still get chills thinking about [the '64 Open]," Venturi recently told Yahoo! News's Jim Slater. "I will never forget it as long as I live."