Will the Maniac Always Dominate the Media?
In our "Question of the Day" feature for this year's Ideas Special Report, our readers tackle some of the emerging issues that are defining our time.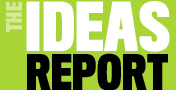 Charlie Sheen. Donald Trump. Jimmy "The Rent is Too Damn High" McMillan. Snooki. Our current media environment favors the bizarre and the out of control, argues 
Walter Kirn
in the July/August issue. "If the old advice to electronic communicators was to speak in sound bites and keep things simple, to cut through the noise by being straightforward and countering confusion with consistency, the new winning strategy is the opposite: embrace incoherence and become the noise," writes Kirn:
Sheen was the spilled beaker in the laboratory who proved that in an age of racing connectivity, a cokehead can be a calming presence. His branching, dopamine-flooded neural pathways mirrored those of the Internet itself, and his lips moved at the speed of a Cisco router, creating a perfect merger of form and function. Trump, though his affect is slower and less sloppy, also showed mastery of the Networked Now by speaking chiefly in paranoid innuendo. The Web, after all, is not a web of truths; its very infrastructure is gossip-shaped. The genius of Sheen and Trump and other mediapaths (Michele Bachmann belongs on this list too) is that they seem to understand, intuitively, that the electronic brain of the new media has an affinity for suspicious minds.
In other words, the cool self-control that was once considered the soul of telegenic behavior has been turned inside out by an ecosystem that favors the immediate -- and often insane -- exploits of media misfits.
Question of the Day: Is this dynamic between technology and celebrity out of control? And is there anything we can or should do to correct it?