Why Katy Perry Is Unstoppable
A classic mix of hooks and self-aware sex appeal has powered her unending stream of hits
A classic mix of hooks and self-aware sex appeal has powered her unending stream of hits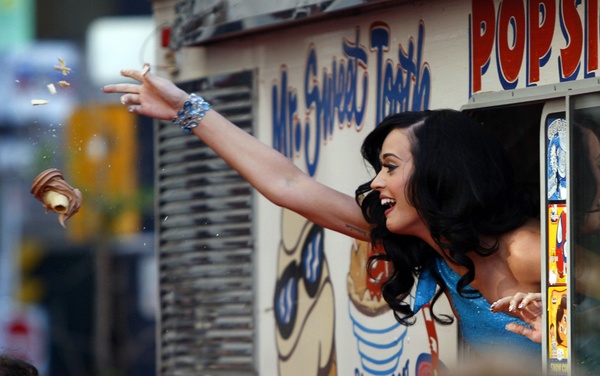 Reuters/Mark Blinch
Perry throws a cone as she arrives in an ice cream truck at the 2010 MuchMusic Video Awards in Toronto
Katy Perry is big. Really, really big. Last year's Teenage Dream became the ninth album in history to score four No. 1 singles, making it the the first CD from a female artist to do so since Mariah Carey's 1990 self-titled debut. If Perry's new single "Last Friday Night (T.G.I.F.)" hits the top spot, she'll have tied Michael Jackson's record of five No. 1's from Bad. What's more, she just became the first artist ever to stay in the Billboard Top 10 for 52 weeks straight.
So she's secured the type of omnipresence that allocates itself just a few times every generation. And yet Perry now seems mildly uncomfortable with the level of her success. "Our priority is fame, and people's wellness is way low," she says in a new Rolling Stone cover story. "I say this knowing full well that I'm a part of the problem. I'm playing the game, though I am trying to reroute."
Perry's referring to the music industry's age-old game: finding out what the American people want and selling it to them. Right now, she's not merely playing this game—arguably, she's winning it. Her newest video, for "Last Friday Night (T.G.I.F.)," is a brute-force display of the cheeky cunning that got her here. The song itself plays as a giddy piece of boilerplate synth pop meant to be heard at some point in a drunken night, while the video is a fun-if-obvious time capsule of teen memes across eras, grabbing everyone '80s teen stars Corey Feldman and Debbie Gibson to joke-of-the-moment Rebecca Black and Artie from Glee. Perry herself embodies the She's All That stereotype, a dumpy girl who needs a makeover to let her inner beauty shine—except she's really, really, really in on the joke. There's a Kenny G cameo. Hanson shows up, too. It's basically tailored to be forwarded by legions of tweens and bloggers to one another in a mix of adoration and disbelief.
There's a hint of sex in the video as well, which sees Perry waking up with a naked, chiseled football player at its start. But listen to the song's lyrics and you get more than just a hint: "Last Friday night / we went streaking in the park / skinny dipping in the dark / then had a ménage à trois." This is what she does best: slap an all-in-good-fun veneer on what might otherwise be called debauchery. Perry presents the most red-blooded American sexuality of any female pop star since Oops, I Did It Again-era Britney Spears or '90's Mariah Carey. Part of it is her cartoonish Bettie Page image, the way she exaggerates her physicality while walking around with a "Who, me?" look on her face. Everything is couched in metaphor—how she wants to see your peacock and get a taste of your sticky sweet (those songs are not about birds or hummingbirds).
Perry knows what she's up to. "This is a PG-13 show," she told an arena crowd two Sundays ago at Newark's Prudential Center. The evening was more of a carnival than a concert, attended by an all-ages crowd of families and college girlfriends dressed in their best Perry impersonations, with vendors hawking cotton candy in the aisles. Her stage was dominated by Candy-Land-meets-Alice-in-Wonderland set pieces, with vaguely erotic imagery. Perry pantomimed fellatio on the microphone during the chorus of "Peacock" and watched as her Solid Gold-styled dancers mock-smooched at the climax of "I Kissed A Girl." PG-13 is exactly right.
She isn't confusing her broad appeal for high art. "I know 'California Gurls' isn't going to save the world," she told Rolling Stone. "But I got a lot of heart from my upbringing and I put a lot of heart in my songs." The honesty makes her hits that much easier to enjoy, not that they need it: the songs are biologically engineered by Machiavellian pop producers like Dr. Luke, Max Martin and Christopher "Tricky" Stewart to get stuck in your head. She's really an A&R executive's perfect dream, a pin-up beauty with a fluttering falsetto willing to sing any kind of song in any kind of outfit. With the Rolling Stone quotes, it's oddly refreshing to see such a monolithic star admit to what she's selling without any pretense. But the fact remains that her music is a blast to listen to, even if we know we're being played.