Watch the Tonys, Even If You've Never Been to Broadway
With The Book of Mormon and Spider-Man grabbing headlines, the awards show comes in the midst of the Great White Way's biggest year in recent memory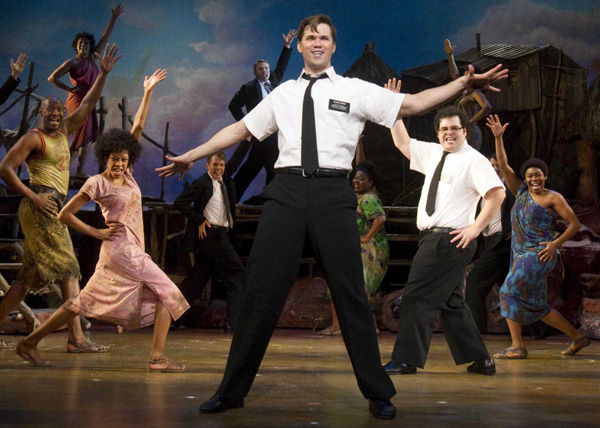 AP Images
It's been years since Broadway made national headlines—probably not since Wicked's megahit score slowly found its way into the mainstream beginning in 2003. This year, however, two separate stories that started at the Great White Way found their way into the mainstream news cycle. The first, a mammoth, overblown, injury-inducing creative debacle—Julie Taymor's disastrous Spider-Man: Turn Off the Dark—made news each time an actor dropped from the rafters during its tumultuous preview period. The second time was when an irreverent, politically incorrect musical about spreading the Mormon gospel pushed the envelope farther than anyone thought it could go, successfully and hilariously satirized religion while celebrating it, and earned some of the best reviews and box-office receipts Broadway has seen in a decade.
Both news events were significant, and both exemplify why the Tony Awards, which air Sunday at 8 pm on CBS, still matter.
It's easy to write-off an awards show that celebrates such a specific area of the arts&mash;as many critics do annually when the telecast draws less viewers than a repeat of Rules of Engagement. But Spider-Man and Book of Mormon show why Broadway is a medium to be celebrated, and one that deserves our national attention, even if it is once a year.
Both musicals, to different levels of success, took risks in an attempt to bring musical theatre back into the mainstream. Taymor raised an unprecedented amount of money to produce Spider-Man, which given the comic series and film franchise's massive, masculine popularity, had—and has—the potential to draw a whole new demographic of patrons to the theatre. She even drafted U2's Bono and the Edge to compose the score. Book of Mormon, by the creators of South Park, provoked and stirred controversy in an attempt to drum up business for a musical that, for all intents and purposes, is a classic Broadway showpiece in every traditional sense.

Yes,
Spider-Man
didn't open in time for eligibility&mash;too many, er, hiccups—but
Book of Mormon
and 13 other productions will compete for the night's top prizes (not to mention dozens of actors) and be showcased to varying degrees on the show.
Remember that actors ranging from Jerry Orbach and Angela Lansbury to Lea Michelle and Kristen Bell got their starts on Broadway—the next superstar could be honored Sunday night. Besides, if 13 million people think Glee is worth tuning in to, the chance to see un-autotuned, expertly choreographed professionals—the best in the business—out-jazz hand New Directions should entice countless more people to watch the Tonys. Factor in that the impossible-to-dislike Neil Patrick Harris is hosting the event, and celebrities including Daniel Radcliffe, Chris Rock, and Robin Williams will be presenting, the night should be as star-studded as any major Hollywood awards show—only with more unabashed kick line glory.
So now you're convinced to watch, but haven't been keeping tabs on this year's Tony races? Here's what you need to know:
Broadway is so over the Hollywood craze:
In past years, actors including Julia Roberts, Nicole Kidman, and Daniel Craig all made their debuts on the Broadway stage, bringing millions of eyes and dollars into Times Square. Last year, Oscar-winners Catherine Zeta-Jones and Denzel Washington, Oscar-nominee Viola Davis, and Scarlett Johansson all walked away with Tony Awards in very heated races. Some members of the theatre community cried foul, arguing that the A-listers won trophies over more deserving "theatre actors" in an attempt by the American Theatre Wing (which votes on the Tonys) to bring more attention to the struggling awards show.
Well, consider this year to be the backlash against Hollywood. Harry Potter himself, Daniel Radcliffe, was not only thought to be a shoo-in for a Best Actor in a Musical nomination for his performance in How to Succeed in Business Without Really Trying—he was considered by many the frontrunner to win. But on nomination Monday, his name wasn't called. There are a handful of Hollywood actors competing at Sunday's awards: Al Pacino (Best Actor, The Merchant of Venice), Edie Falco (Best Featured Actress, House of Blue Leaves), and Ellen Barkin (Best Featured Actress, The Normal Heart). But a large number of big-name stars were passed over, despite winning positive reviews: Chris Rock, Robin Williams, Kiefer Sutherland, Jim Parsons, Kathleen Turner, Cristina Ricci, and more. Chalk it up to yet another thing the Tony Awards has in common with other Hollywood awards shows: a nominations process rife with politics.
The Book of Mormon really is important:
Every year yields at least one hit Broadway musical, a show that's a money-making hit in New York: Jersey Boys, Wicked, The Addams Family. But occasionally a musical will cross that midtown Manhattan base into the social consciousness. It changes the creative direction of theatre, movies, and television. Kids begin singing its songs at auditions for their high school play. Dads in Iowa say things like, "Have you heard of this show called...?"
Book of Mormon is one of those shows. Its button-pushing content manages to get people talking while still respectfully making a point about the issues in hand (in this case, faith and tolerance). Not only that, but the show's music is of the finest quality, sending-up Gershwin, Rodgers, and Hammerstein as brilliantly as it pays homage to those classic Broadway composers. The just-announced national tour will likely encounter controversy&mash;and sold out box offices—at each city stop, and it's only a matter of time until the show is mentioned in the same breath as other modern musical theatre gamechangers. On Sunday, Book of Mormon will highlight its soaring anthem "I Believe," an anthem that not only encapsulates the overarching message of the show, but will surely put Tony viewers' faith in Broadway again.
And so is The Normal Heart:
If there's one play expected expected to sweep most of the awards on Sunday, it's the timely, resonant, and extremely powerful The Normal Heart. It's a revival of playwright and LGBT rights activist Larry Kramer's "scorching" 1985 drama, "an indictment of a world unwilling to confront the epidemic that would come to be known as AIDS" according to Ben Brantley in the New York Times that "blasts you like an open, overstoked furnace."
As the anniversary of the AIDS epidemic dawns, the fierce anger, frustration, and desperation that the play—about an activist and a doctor on a crusade to have this "gay disease" taken seriously—carried 26 years ago has evolved into a gutting stab in the heart today. Joe Mantello and Ellen Barkin are mesmerizing as the driving forces of the play; The Big C's John Benjamin Hickey, Pushing Daisies's Lee Pace, and The Big Bang Theory melt the audiences as the supporting players. Produced at any time, anywhere, The Normal Heart is an imperative docu-drama that incites outrage and, maybe, change with its content. But with this cast, this staging, and this poignant occasion in the history of battling the disease—it's sociopolitical and culture landscape-altering theatre.
And War Horse, too:
It's not very often that a Tony-nominated play is adapted into a Steven Spielberg-directed, big-budget film the same year it premieres on Broadway, but that's precisely what's happening with War Horse. The play is ostensibly a love story, about a young British boy in World War I and the horse he is inextricably bonded to. When the horse is sold into war service, the boy sets on a cross-country trek to be reunited with his friend. It's a plot that quite obviously translates into one of Spielberg's sweeping epics. But why is the story on stage so magical that it sells out each night, spawned a national tour, and extended its limited run indefinitely? Puppetry.
Not since The Lion King has puppetry been used on stage in such a revolutionary way. Made primarily of cane and plywood, it take three-actor teams to control the massive creatures. The fluidity of the movement, the astonishing balance reached between strength and grace, and the emotional heft given to what amounts to a stage prop not only makes the horse believable, it drives the entire emotional arc of the play. Tear-filled ovations are a regular occurrence at the Lincoln Center Theatre, where War Horse is playing. If viewers have any luck, the horse may even make an appearance Sunday night.
You'll soon know who Sutton Foster is:
Occasionally, "theatre actors" cross into the mainstream, becoming a hit on television (like Emmy award-winner Kristin Chenoweth) or even encountering Oscar (recent examples include Amy Ryan and Viola Davis). Even more rare is the "theatre actor" who finds fame for being just that, a "theatre actor." Sure, Patti LuPone has done TV work, and Bernadette Peters was a hoot in The Jerk, but Broadway divas they are, first and foremost.
Soon to join that prestigious list? Sutton Foster. Only 36, the tap-dancing, song-belting toast of Broadway already has five Tony nominations under her belt—and one win, for her debut as the ingenue in Thoroughly Modern Millie. Now starring as lounge singer Reno Sweeney in the smash revival of Anything Goes—a role coincidentally played previously by theatre royalty LuPone and Ethel Merman—Foster cemented her status as the reigning queen of Broadway. Her take on the iconic character and Cole Porter's songs are unexpected and fresh, as she's shown in her many TV performances promoting the production—and will show again on Sunday's Tony telecast. Sutton, pegged to take home the Best Actress in a Musical trophy this year, is proving that being a "theatre actress" in not always a celebrity ghetto indictment.
So grab a glass of wine, Tivo Game of Thrones, and experience a recap of a year in theatrical magic. Because whether you realize it or not, it's an art form that even in the age of iPads and Hulu, manages to create change.