Tying the Knot with Newsprint: The Ultimate Newsie Wedding
Two journalists find a perfect marriage theme in the trappings of print media, from typewriters to notebook-and-pen party favors
For most brides, an old-fashioned wedding brings thoughts of a romantic beaded strapless dress with a long train, fabulous flowers, and a bevy of bridesmaids and flower girls. Yes, Megan Poinski wanted all that. But she and groom Tim Fields also wanted their old-fashioned wedding to have a strong journalistic twist--sort of a marriage made in newsprint.
Think Royal typewriter centerpieces, newsboys in knickers handing out the eight-page "TMeg Gazette," and press passes for wedding place cards. What less could you expect from a couple who fell in love fighting corruption as an investigative reporting duo at The Virgin Islands Daily News?
My kind of wedding!
At a time when doomsayers warn of the death of print, Megan and Tim decided to celebrate their big day with an homage to their second love: the daily newspaper. "We wanted the news-geekiest wedding ever," she said.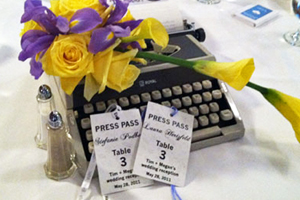 Both owe their careers--and romance--to newspapers. In 2003, Megan, now 31, was working in blizzard weather at The Star Beacon in Ashtabula, Ohio, when an ad for a job at the Virgin Islands paper caught her eye. Tim, now 43, was working at the Daily Republic in Fairfield, California, when he too jumped at the chance to "try something different and exotic."
"We were part of a new wave of reporters," said Megan, who started on the police beat, while Tim worked the business desk. But they teamed up for an old-fashioned investigative series about contract fraud and corruption that won them a journalism prize and, ahem, "brought us closer together," she said. "In all of this excitement, we fell in love," recalled Tim, in a joint late-night telephone interview.
After six tropical years at the Virgin Islands Daily News, the team headed north in 2009, settling in Silver Spring, Maryland. Megan went digital, working as an associate editor at a nonprofit news website, MarylandReporter.com, and getting a master's in information management from the University of Maryland. Tim decided to drop out of daily journalism for the more solid ground of the Certified Financial Planners Board of Standards.
But when they got engaged a year ago, they both wanted a "wedding about who we are and how we met," Megan said. "Doing journalism and newspapers, Caribbean style, seemed natural to us." So they sent out an invitation in typewriter font, along with a press release announcing the wedding details. They gathered old typewriters from thrift shops and eBay for table centerpieces, made gift bags for their guests out of newspapers, and handed out notebooks and pens as wedding favors.
Megan even designed her wedding bouquet with the print theme in mind, spelling out "LOVE" in typewriter keys on ribbons going down the stems.
Among the 125 guests at their May 28 wedding were many close friends from news days of yore. And, while they did have five bridemaids and five groomsmen (best man was publisher of the Virgin Islands Daily News), they also had Megan's cousins, 10-year-old twins, dress as old-fashioned "newsies," who were a hit with their cries of "Extra. Extra. Read all about it." When one of them later said he wanted to be a paper boy when he grows up, she was quick to correct: "No, you want to be a newspaper executive."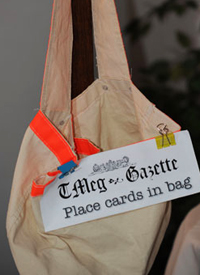 Rather than publishing their nuptials in the Sunday New York Times wedding section, Poinski and Fields sent an announcement to--where else?--Romenesko, the daily online must-read for those in the news-biz. And Romenesko did it up nicely, completely with wedding pictures of the newlyweds and their newsies.
The newlyweds are still waxing poetic about their theme wedding--and about newspapers:
"I think the print version of the newspaper is great. Even though I work in online media now, the print newspaper offers something that online media can't duplicate: You can pick it up, fold it up, take it with you," Megan says.
Her new husband agrees.
"I grew up with the newspaper," Tim explains. "I'm really glad I got a chance to work for newspapers, especially a smaller, scrappy little newspaper, when the newspaper was still king. It's sad to see print newspapers going the way of the horse and buggy, but I'm glad to have been part of it for awhile."
Whoa. Horse and buggy? This nostalgia thing is going too far.
I'm sure Megan and Tim will live happily ever after, reading newspapers together for as long as they both shall live. But just to help out, I'm thinking of sending them a lifetime subscription to The Washington Post.  Who knows? Maybe that will catch on as a popular wedding gift, and we can all do our part to keep newspapers alive.
Images: Courtesy of Megan Poinski