'The Trip': A Delightful Movie About Nothing
Two buddies tap into the joy of banter—and not much else—in this converted BBC mini-series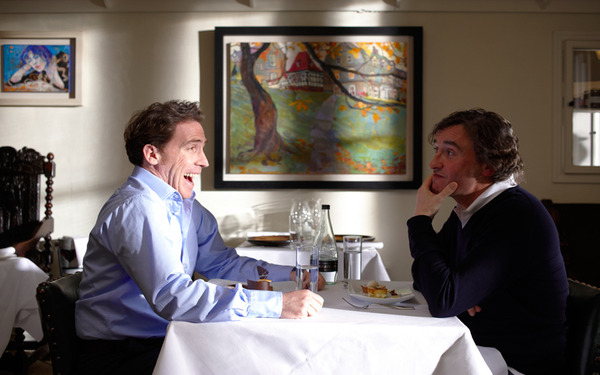 IFC
In 2005, Steve Coogan and Rob Brydon made a film. In 2011, they take a road trip. I'm referring here not to British actors Coogan and Brydon, who have between them made quite a few films and (one assumes) taken a great many trips. Rather, I refer to the eponymous characters, also actors, played by the duo, first in Tristram Shandy: A Cock and Bull Story and now in The Trip.
In Shandy, Coogan and Brydon dove into a literary wormhole, a scattered and incomplete film-within-a-film based on Sterne's famously discursive fictional autobiography. At the close of the film—after the ill-timed conception and grotesquely forcepped birth and fenestral circumcision (not presented, of course, in that order)—the two lightly fictionalized performers sit in an empty screening room, shooting the shit: Brydon offers an Al Pacino impression; Coogan critiques it and offers his own; and so on.
The scene is among the best in the movie, so it is perhaps little wonder that Shandy director Michael Winterbottom decided to revisit the Coogan-Brydon dialectic in expanded form. Originally broadcast as a BBC series of six half-hour episodes, The Trip has a conceit so slender that unless viewed from the right angle it vanishes altogether: Coogan, approached by a magazine to spend a week reviewing restaurants in England's Lake District, accepts the gig because his girlfriend is a foodie. When she decides they need a break from one another and moves back to America, he decides to bring along last-resort, quasi-friend Brydon instead.
Spliced and trimmed into a 107-minute theatrical feature, The Trip retains both its episodic nature and its haphazard charm. There are six chapters, each consisting of a single day in which Coogan and Brydon bicker, joke, and swap impressions in the car as they make their way across the glorious Northern countryside; subsequently, they bicker, joke, and swap impressions some more over a gourmet meal. Throw in a few quick bouts of tourism, and a series of scenes in which Coogan alternates between regretful calls to his girlfriend and liaisons with the hotel staff, and you pretty much have it: a comic diversion that aspires to the old Seinfeld gag of being "about nothing."
At one early meal, Brydon offers not merely a spot-on impression of Michael Caine, but a series of impressions, cataloguing Sir Michael's evolution from the cockney aggression of the 1960s to the avuncular gravitas of the present day—only to have Coogan interrupt with his own arguably more expert variation on the theme. (The scene has been YouTubed here.) The movie is full of such inconsequential delights: Coogan and Brydon segueing from Abba's "The Winner Takes It All" to the Muppet's Swedish Chef to Hans Landa of Inglourious Basterds to Sean Connery; the two men envisioning themselves in a martial costume drama in which the battle-cry "We rise at daybreak" is gradually amended to, well, maybe more like 9:30 or 10ish.
This improvisational tomfoolery is set against the luminous backdrop of the Lake District: the rolling mountains, glistening lakes, and winding roads closely hemmed by rough-hewn stone walls. There are frequent nods to Wordsworth and Coleridge, who were inspired by this landscape, and by whom Coogan and Brydon try very hard to be inspired in turn. (Alas, Beatrix Potter seems to have fallen by the wayside.)
The Trip quietly echoes My Dinner with Andre, not only in its scale and subject matter, but in the relationship between the two men. Coogan, the more famous (he's best known for his role as Alan Partridge on the BBC), is also the more dissatisfied, attuned to each slight or setback and eager to establish his predominance over his companion at every opportunity. It's a bargain that Brydon seems content to honor: indeed, contentment seems his lot. Even as Coogan negotiates his way between an ex-wife, a possibly-ex-girlfriend, and a couple of instantly-ex-bedmates, Brydon pines mildly for the domestic compensations of his own wife and baby back in London. Ultimately, The Trip itself offers related compensations—ones devoid of glitz or glamour, alternating between hilarity and languor, and, in their humble fashion, nice to come home to.