The Pitching Technique That's Threatening Baseball's Young Phenoms
Both the Yankees' Joba Chamberlain and the Nationals' Stephen Strasburg are victims of the "Inverted W"
New York Yankees Joba Chamberlain has a torn ligament in his elbow. This means the two most hyped pitching phenoms of the 21st century, Joba and the Washington Nationals' Stephen Strasburg, have now fallen victim to the same curse: the "Inverted W," or the "Inverted L," or whatever a particular trainer or sports physician wants to call it.
Per the website Texasleaguers.com, the inverted W is the position of a pitcher's arms as he picks up the baseball during the cocking phase of a pitch. When winding up, "the pitcher picks up both of his elbows above his shoulder," creating the inverted W. This puts a lot of strain on both the shoulder and elbow, which many baseball mechanics experts think can tear the ulnar collateral ligament, which stabilizes the elbow.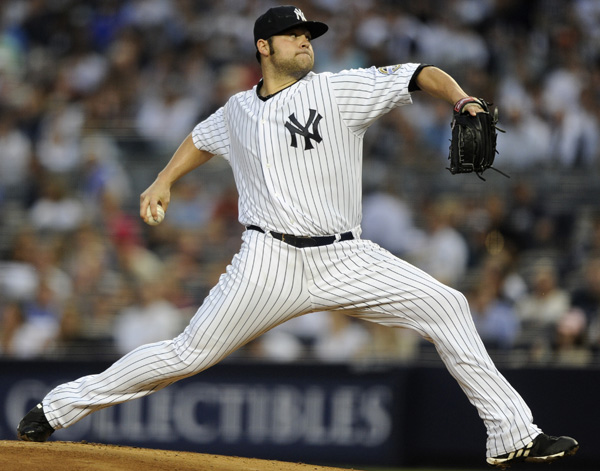 Chamberlain pitches against the Seattle Mariners in a 2009 game. (Image by Reuters.)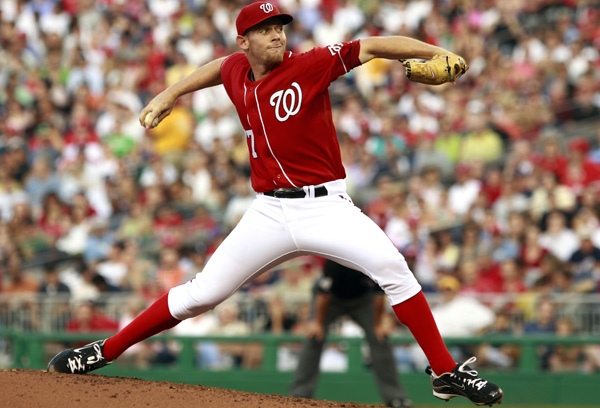 Strasburg pitches against the Chicago White Sox in a 2010 game. (Image by Reuters.)
Baseball observers have taken so long to identify the inverted W because it is a relatively recent development—that is, it didn't come into being until the windup disappeared almost entirely from baseball. Go back 40 to 50 years and look at pitchers like Warren Spahn or Juan Marichal and ask, "Why is it that they could pitch 300 more innings year after year and not hurt their arms?" There are several answers to that question, but the primary one is that pitches used to throw out of a full windup, which took advantage of the momentum of their whole body to give velocity to the pitch. In recent decades, with pitchers more concerned about holding runners on base, the windup has largely gone the way of the two-dollar hot dog. The Inverted W is the result of a pitcher trying to add speed or finesse on a pitch by forcing the delivery—in other words, his arm working against his body instead of with it.
The "W" took a little while to get Joba. When he made his debut late in the 2007 season, Chamberlain was the hardest throwing right-hander the Yankees had seen in more half a century. Roger Kahn, perhaps the greatest living sportswriter, saw every Yankees pitcher from the end of World War II through this century. Kahn told me three years ago that, "In his velocity and his fearlessness, he [Joba] most reminds me Allie Reynolds"—the flame-throwing right-hander who was the ace of Casey Stengel's five consecutive World Series winners from 1949-1953 and threw two no-hitters in 1951.
Like Reynolds, who was part Creek Indian, Chamberlain has Native American blood—on his father's side, the Winnebago tribe in Nebraska. And like Reynolds, he seemed capable of both starting (which he did in college for the University of Nebraska) and relief (which he has mostly been doing for the Yankees). A big difference between them, said Kahn, "Joba is eight years younger than Allie when he came to the Yankees. Another difference is that he throws harder than Allie ever did."
Blessed with a torrid, hopping fastball that sometimes topped 100 mph on the radar gun, Chamberlain also had a hard slider that broke downwards with such force that Ron Guidry, then the Yankees pitching coach, commented, "When you don't get good wood on it, it hurts your hands like you've just whacked a bowling ball with a broomstick."
When he first came up, he was coming off the mound like the great Tom Seaver, with a powerful, effortless stride. His mechanics were similar to Seaver's; as he started to move forward off the mound, his arm was already cocked and the ball just about his head. He pitched only 24 innings in 2007 but was positively overpowering, striking out 34 of the 91 batters he faced and walking just six. His ERA of 0.38 was, in the words of BronxBanter.com's Alex Belth, "lower than a Kardashian's IQ."
In the spring of 2008, after the words came the coddling. When this happens with a young pitcher, it is always a case of decision by committee. Then-manager Joe Torre and general manager Brian Cashman came up with "The Joba Rules," which limited the number of pitches he could throw in an outing and the frequency he was allowed to throw them, instead of just letting him pitch and see how long he was effective before tiring.
Worse, they began tinkering with Joba. Yankees new pitching coach Dave Eiland and special pitching instructor Rich Monteleone worked with him to add a curve ball and a change-up to his arsenal. The change-up was a natural—nearly every great fastball pitcher develops one, and the greater his fastball, the more devastating the change-up. But I remember sitting in the press box at Yankee Stadium with Baseball Prospectus's Will Carroll, who has studied pitching injuries for years, when we were handed the press release on the curve ball experiment. Carroll articulated my thoughts, "Why put strain on that young arm by teaching him a curve ball? What's wrong with fastball-slider-change?" To which I added, let him learn the curve ball as his arm grows stronger. We were right.
The Yankees couldn't decide whether Joba was going to be a starter or reliever; clearly that decision should have been made in spring training and development planned accordingly. But they went into the season without a plan, with the predictable results that Chamberlain wound up as neither a starter nor a reliever, starting 12 games and relieving in 30.
Almost from the time Joba started to throw curves you could see his motion and mechanics change. The curves were slow, lazy, elliptical, and almost never struck anyone out; you could see them coming from the awkward motion of his delivery.
By 2010, he still hadn't learned to throw an effective curve ball, but nevertheless he continually used the curve ball in strikeout situations where the fastball or slider would have been the most obvious choice. But the Yankees wasted much of his strength in silly assignments such "three inning limit starts," which helped Joba little, and which, even when he got through the three innings successfully, put more of a strain on the rest of the relief corps.
For the next two seasons, Joba slid into mediocrity, posting an ERA of about 4.60. A month ago he was named in a Sports Illustrated poll as one of the most overrated players in the game. The irony is that this season, Chamberlain was finally starting to master his trade, posting a 2.83 ERA in 27 games. And though his old hopping fastball wasn't hopping as hard—just 24 strikeouts in 28.2 innings—he had walked only seven hitters. But he was still throwing the ball with the inverted W motion. Instead of using his entire body to supplement his arm strength, he seemed to pit his arm against the rest of his body.
What's amazing about the Yankees' mishandling of Joba is how so many professionals over four seasons could not see the obvious problem: a flaw in mechanics.
It's hard to tell whether the Washington Nationals' Stephen Strasburg's problem was the same or the opposite of Joba's—that is, perhaps he could have used more coddling. Was he coddled, or was he rushed in too soon? The evidence shows that no more natural a fastball pitcher has ever lived—at age 21 he struck out 92 batters in 68 innings. He averaged 12.2 strikeouts per nine innings; in 1973, when Nolan Ryan set the major league record with 383 strikeouts, he averaged 10.6 strikeouts per nine innings.
Last August, when it was announced that Strasburg would miss a year after Tommy John surgery, BleacherReport's Todd Kaufmann made a persuasive argument that Strasburg was a victim of neglect: "They [the Nationals] brought him up too soon, and now they're paying the price for it. They should have shut him down long ago, especially since they were so far out of the race. They have no one to blame but themselves. They had nothing to play for, but ticket sales were up when he pitched, so they kept running him out there."
I didn't observe the Nationals' handling of Strasburg as closely as I did the Yankees' of Chamberlain. I do know two things. First, Joba did not start throwing with the inverted W motion until after the Yankees started overcoaching him. I also know from watching Strasburg on TV and looking at photos that he was using it at the time he incurred his injury. It would be interesting to know if anyone who monitored Strasburg's development from college (San Diego State) or with the Nationals farm teams (Harrisburg and Syracuse) could say whether or not he threw that way in the minors or whether he started doing it with the Nationals. I strongly suspect that the inverted W is the result of overcoaching, trying to rush his development.
There is at least one known cure for the Inverted W, though it's drastic: Tommy John surgery, named for the lefthander it was perfected on. Stephen Strasburg has undergone this surgery and is already throwing 30 to 40 fastballs three times week; the hopes are that he will pitch for the Nationals again this season, but not until September. Still others, not wanting to take any chances, are hoping he will wait until the spring of 2012. Joba Chamberlain will be undergoing Tommy John surgery within a few days.
The good news is that it generally works, or at least gets the pitcher back in a major league uniform. But there is some bad news as well: Even when the young pitcher returns to the mound, he seldom comes back as the phenom he was.
Perhaps it would be better for teams, young pitchers, and fans if coaches started recognizing the curse of the Inverted W before it has struck.