The New Oscar Rules Are a Mistake
By messing with the number of Best Picture nominees yet again, the Academy makes the awards race less inclusive—and less interesting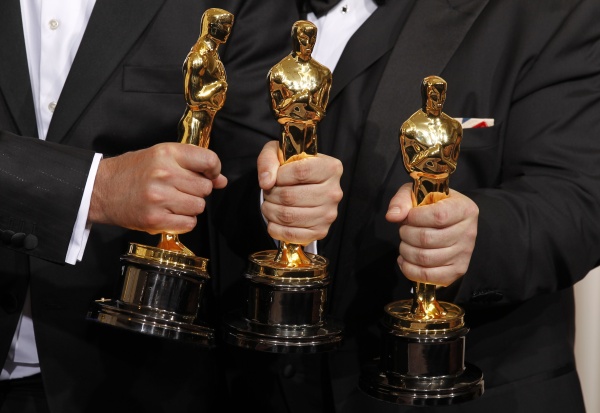 Mike Blake / Reuters
A few months after the Academy trotted out youthful—and supposedly youth-friendly—co-hosts Anne Hathaway and James Franco, only to see Oscar-telecast viewership among 18- to 34-year-olds decline from the previous year, the organization has resumed tinkering with its rulebook.
The Academy of Motion Picture Arts and Sciences voted Tuesday to introduce what its press release touted as "a new element of surprise" into the Best Picture race. The category will feature not five nominees (as it did for decades), and not 10 (as it has for the last two years, and intermittently did during the '30s and '40s), but rather "anywhere between five and 10"—a number that won't be revealed until the nominees themselves are unveiled. In order to receive a nomination, a film must garner at least 5 percent of the first-place votes.
"In studying the data, what stood out was that Academy members had regularly shown a strong admiration for more than five movies," says Academy executive director Bruce Davis in the press release. "A Best Picture nomination should be an indication of extraordinary merit. If there are only eight pictures that truly earn that honor in a given year, we shouldn't feel an obligation to round out the number."
Davis's implication appears to be that, in the expanded Best Picture-nominee field of the last two years, there have been films that didn't "truly earn" the right to be there. His eye is obviously on the disparities in voting-percentage numbers—he notes that if the new system had been applied between 2001 and 2008, there would have been years "that yielded 5, 6, 7, 8 and 9 nominees." But he leaves us to wonder precisely which recent nominees haven't been "of extraordinary merit." Was 2010 Best Picture nominee A Serious Man not of high enough "merit" simply because it never threatened to edge out The Hurt Locker or Avatar to win the prize?
Widening the field to 10 films might have been a transparent ploy to drum up viewer (particularly young-viewer) interest in the awards ceremony. But even so, the Best Picture nominations of the past two years have been eclectic and inclusive, and arguments about the relative virtues of the candidates have seemed to be more spirited. Sure, the rule change didn't alter the inevitable triumph of The King's Speech, this past year's most most traditional, safely middle-of-the-road prestige option. But even if only handful of the nominees have been actual, snowball's-chance Best Picture contenders, these most recent two Oscars finally felt like a celebration of the year in movies—from deserving blockbusters (Inception) to micro-budgeted indies (Winter's Bone).
With its announcement this week, the Academy has more or less retrenched, and in the process suggested that it had recognized more films than had actually deserved to be cited. It's as if the Academy acknowledged that there's quality work being done, just not as much as it had seemed two years ago, when the number of nominees ballooned from five to 10—an unusual sentiment from an institution dedicated to celebrating the industry. Some might find this honesty refreshing and support the idea of harder-earned Best Picture nominations. But it's likely the Academy will revert to privileging bland prestige pictures, which is too bad: By commending modest indies (An Education) and intelligent blockbusters (District 9) over the past two years, the Academy had cultivated a much more fluid and up-to-date definition of what constitutes quality.
If this system stays intact—and, given the Academy's recent futzing, the odds aren't good that it will last for long—the Best Picture category might begin to play as more of a referendum on the year in movies than a simple celebration of it. The Oscars are supposed to honor the motion-picture industry, but if the minimum possible number of films are nominated, won't it automatically brand the previous 12 months as an off-year for the medium as a whole?