The Boys Who Would Be Bieber
No challenger has credibly threatened Justin's teen-pop reign—but why?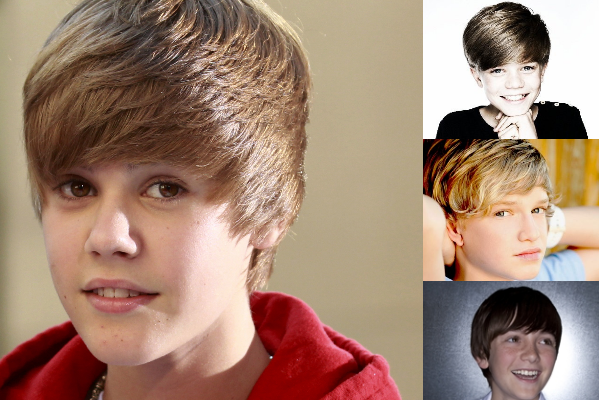 Reuters / Ronan Parke on Facebook / codysimpson.com / greyson-official.com
At the start of this month, England crowned a new Justin Bieber.
Twelve-year-old Ronan Parke—cherubic, bangs side-swept, missing canine tooth giving him a slight Alfred E. Newman-esque air of mischief, with a precociously soulful singing voice—was runner-up on the latest season of Britain's Got Talent. Long before he even had a chance to lose, however, the UK press had elected him heir apparent to Bieber's throne.
The quest for the boy who will overthrow the Canadian pop wunderkind is not a phenomenon exclusive to the British media or music industry. Parke descends from a long line of "next Biebers."
The first of these was Australian singer-songwriter Cody Simpson—"Queensland's Justin Bieber"—age 14. Like the best Biebers, he has the haircut, plays an instrument (Justin plays four), and launched his career by singing pop covers on YouTube. His acoustic version of Justin Timberlake's "Cry Me a River," could bring Vin Diesel to tears. He was discovered by Shawn Campbell, a producer who has worked with Jay-Z and R&B singer Ciara, and early last year signed a four-album deal with Atlantic Records.
Greyson Chance, 13, made his first televised appearance on The Ellen DeGeneres Show after a video of him performing a melismatic cover of Lady Gaga's "Paparazzi" at his sixth-grade talent show in Edmond, Oklahoma surfaced on YouTube last year. During the Ellen taping, he received a call from Mother Monster herself, who had some characteristically inspirational advice: "Everyone loves you so much," she said. "Just keep following your dreams and work really hard, and stay away from girls and be focused." Chance became the first artist signed to DeGeneres's label, Eleveneleven, a subsidiary of Geffen/Universal.
And then there's Jackson Guthy. At 15, he's a little over the Bieber hill – but don't count him out just yet. The Los Angeles-born singer is also a DeGeneres favorite; he performed his single, "L-O-V-I-N-G" on her show in April.
Honorable mention goes to Jamie Laou and Matty B. The former is an impertinent Australian high school senior with no musical ability who gained traction at the end of last year for his uncanny resemblance to Bieber. "i read EVERY LETTER, wear every item," reads his bio on Twitter, where he is more popular than his country's Prime Minister. The latter, a rapping 8-year-old with the musical prolificacy of Lil Wayne, is both the youngest and most disturbing wannabieber, the obvious product of determined stage parents with a production budget and a dream.
Girls can be Biebers, too. Teen YouTube sensations Charice Pempengco and Rebecca Black – whose video for "Friday" reached 100,000 YouTube views before Bieber's "Baby" did–have both been angling for portions of the boy star's audience.
Beyond the hairstyle (which its progenitor has already moved past), viral celebrity, heartthrob-ish first names, and lovelorn musical subject matter, these Bieber successors have one thing in common: They have yet to succeed on a grand scale. That is, none have come close to the youth-culture stranglehold the original enjoys.
In the '90s, pop acts had analogues whose sales rivaled that of their alpha versions. The Backstreet Boys gave rise to a decreasingly popular profusion of boy band alternates: *NSYNC, 98 Degrees, O-Town, LFO, et. al. Without Britney Spears, there would be no Christina Aguilera, Jessica Simpson, and Mandy Moore, who are all still hanging in there.
By contrast, Bieber is singular, a one-boy hegemon. Greyson Chance's biggest hit to date has been "Waiting Outside the Lines," which never entered the Billboard Hot 100 singles chart. Cody Simpson hasn't even made it at home—his biggest hit, "iYiYi," peaked at 19 on Australia's ARIA singles chart. Jackson Guthy's Ellen performance currently sits below 50,000 YouTube views. You might own a pet that's more famous.
Regardless, it seems as though the music industry and press will not stop until Bieber is replaced—or, at least, credibly rivaled. By his devoted audience's decree, like Highlander, thus far, there can be only one.
"It's so sad that [people] just want to dethrone the person that's on top and find someone else. I mean, it happens all the time," says Seventeen magazine Entertainment Director Carissa Rosenberg Tozzi. "There is always someone new. It could happen in a year. It could happen in six months. It could happen in three years."
Tozzi also says that boy bands had it easier by offering fans a range of members from which to choose a favorite. "It has a different kind of appeal," she says. "It's harder for a boy as a solo artist–you really have to fall in love with him."
Therein lies the challenge. No amount of promotion from a record company, reality show, or Ellen DeGeneres can force a young person to fall for someone. It's the media equivalent of their parents suggesting who they should date. Beyond his clear talent as a performer, the ownership Bieber's fans feel over the singer is key to his peerless, pervasive appeal.
Much of that comes from the early bond he formed with his fans through social media, long before traditional media took notice.
"He was really a pioneer with Twitter," Tozzi says. "He was direct messaging his fans right off the bat and I think that he made every one of them really feel special. It was not so much of a generality, like, 'Oh, I love my fans so much,'—he literally took the time to respond directly to them."
Bieber's tour photographer Robert Caplin, who spent six months following the singer backstage, in the studio, and on his tour bus, where he awoke to piercing screams in a different city every morning, concurs.
"He has a genuine drive for success that most teenagers his age lack," he says. "Justin and his team worked very hard to build a following. He doesn't have to rely upon a label to market him. He can just do it himself on Twitter. That's pretty amazing."
Ultimately, finding someone who can live up to the "New Bieber" title in a meaningful way may just take time.
"There's the sort of 'Puff The Magic Dragon' thing where the kids will grow out of him, and then they'll be embarrassed," Paul Carr, a social media expert and columnist for TechCrunch, says. "It's like that thing you see with social networks like Bebo or MySpace and stuff that were very popular with one generation, but the moment they grew up, the thing just died. So you might see that the first generation will grow up, and the next one wants their own Justin Bieber.
"He's got a challenging few years ahead," Carr says. "I wouldn't want to be him."
---
More on Justin Bieber from The Atlantic:
Why Justin Bieber Lost the Grammy
Daydream Believer
Is 'Swag' Here to Stay?