Stanley Cup Finals: The Hit Heard 'Round the Hockey World
Canucks defenseman Aaron Rome slammed into Bruins forward Nathan Horton during Game 3 on Monday night--and was punished for it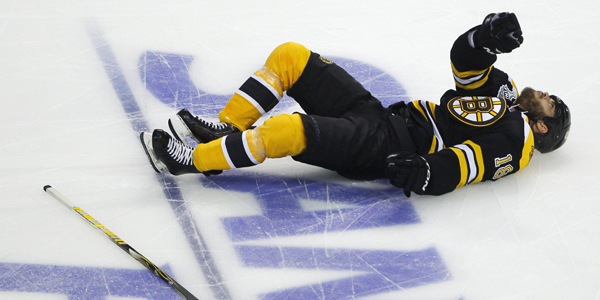 Brian Snyder/Reuters
Back in March, I sharply criticized the National Hockey League and its enablers for their tepid and ultimately unacceptable response to an awful incident which occurred in a game between my beloved Montreal Canadiens and the Boston Bruins. Zdeno Chara, a Bruins defenseman, violently crushed forward Max Pacorietty into the Bell Centre's boards and a stanchion, fracturing the young Canadien's neck and ending his season. At the time, Bruins' fans (and many others) defended Chara's hit, questioned the severity of Pacioretty's injury, and generally bemoaned my lack of perspective and objectivity on the matter.
Almost exactly three months later, it is now Boston and its hockey fans who are wailing about a vicious hit that prematurely has ended a young forward's season. This time, the victim is Nathan Horton, a key member of the Bruins' Stanley Cup run, and the perpetrator is Vancouver Canucks defenseman Aaron Rome. This time, it was a Bruins player carted off the ice with a severe concussion. This time, it was Boston's home rink that lay silent for minutes as spectators clasped their hands in prayer. Rome just devastated Horton with a late, open-ice hit.
But this time, with the whole world watching the final round of a scintillating playoffs, the League lowered the boom on the miscreant. Incredibly in my view, Chara was neither fined nor suspended for his hit on Pacrioretty. Other violent crusaders have escaped punishment in the interim as well. But Rome immediately was suspended for four games, through the remainder of the Stanley Cup Finals (which the Canucks now lead 2 to 1). Horton is gone, too, of course, and he was Boston's second-leading playoff scorer. So, on Tuesday, Bruins' fans were naturally furious at the injustice of it all. "There's no place for that in hockey," one talk-radio listener said. [Rome]'s a piece of "fecal matter," the radio host helpfully added.
I agree with Bostonians about the hit (but "fecal matter"? Really? Well, I guess Boston is the cradle of higher education in America). There is no place in hockey for Rome's hit on Horton. And there was no place in hockey for Chara's hit on Pacioretty, either. Or for the head-hunting and other cheap shots that have laid low some of hockey's best players this past year-- including it's best and marquee player, Sidney Crosby. It shouldn't only be an outrage when it happens to happen to a member of the team for which you are rooting.
To its credit, the NHL's discipline against Rome was swift and severe (no other player in NHL history has ever received more than a one-game suspension in the Finals, although several players, including the great Maurice "Rocket" Richard, have been suspended from the playoffs altogether for in-season penalties). This is a good thing--it sends the right message--and it presages a new attitude (and new rules and regulations) the League has promised to implement next year. We'll see.
Of course, next year already is too late for poor Nathan Horton. And it's too late for Aaron Rome, too. These young athletes have given their lives to hockey for the dream of playing one day for the Stanley Cup. And now those dreams are dashed, no matter which deserving team ultimately drinks from Lord Stanley's Cup. What a shame.