Serve and Volley: The Classic Tennis Strategy You Won't See at Wimbledon
Today's players have abandoned the style used by greats like Pete Sampras and John McEnroe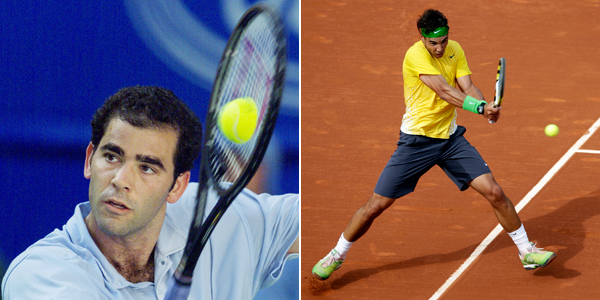 Reuters
Okay, pop quiz. With Wimbledon underway, which of the following are sports fans least likely to encounter at this year's edition of the iconic English tennis tournament?
(a) Strawberries and cream replaced by Slim Jims and Four Loko;
(b) Pippa Middleton and Anthony Weiner, exchanging texts in the Royal Box;
(c) Defending champion Rafael Nadal playing an entire match in trousers and a cable-knit sweater, atop blue-and-orange Astroturf at Centre Court;
(d) A player following his serve by charging to the net for a put-away volley, and doing so regularly.
All set? Good. Pencils at ease. The correct answer, obviously, is D—and if you had to think about it, then you probably haven't paid attention to the last decade of professional men's tennis. Like moderate Republicans and anything Netscape, the classic serve-and-volley style is all but extinct, a victim of shifting mores, disruptive technology, and competitive obsolescence.
This is a shame.
It's a shame because net-rushing can be fun to watch, an exciting display of skill and élan. It's a shame because tennis seems somehow impoverished when a huge chunk of the playing surface goes unused, like a basketball game in which the players never enter the paint. It's a shame, too, because the sport doesn't have to be this way, an endless procession of baseline bashers trading topspin with metronomic consistency of the boxing robots in that upcoming Rocky meets Transformers flick.
Once upon a time—read: most of tennis history, and as recently as the 1990s—the serve-and-volley game epitomized by John McEnroe, Stefan Edberg, and Pete Sampras wasn't an afterthought among top pros. It was viable. Downright popular. At the All England Club, it was king, and with good reason: Grass courts made for quicker balls and low, skidding bounces, which in turn made groundstrokes more difficult. Advantage, deft volleyers.
Boris Becker served-and-volleyed his way to three Wimbledon titles. Sampras amassed seven championships—four of those against rival net-rushers, including three-time All England runner-up Patrick Rafter. Between 1981 and 2001, only one baseliner—all-time great Andre Agassi—won the tournament.
Of course, that was then.
The 2002 Wimbledon final between Lleyton Hewitt and David Nalbandian marked the first time since 1978 that two baseliners met for the tournament title. In a combined 150 opportunities, neither player attempted to serve-and-volley. Not once. It was a sign of things to come. Today, Rafael Nadal, Roger Federer, and Novak Djokovic dominate tennis, and all three are more liable to approach the net for a post-match handshake than a volley. So are the sport's lesser lights. Meanwhile, France's Michael Llorda is the top serve-and-volley player in the world, practically the only net-rusher of note—and he's a 31-year-old veteran, ranked No. 25 on the ATP Tour.
The Centre Court grass tells the story: in the past, the playing surface would wear down along the "T," akin to the supply line of an invading army, marching forward; in the here and now, the same grass is far more likely to appear trampled along the baseline, and pristine by the net.
So what happened?
In part, serve-and-volley became a victim of its own success. By the mid-1990s, big-serving attackers—again, see Sampras—were winning points and games in bang-bang fashion, producing complaints of boring, monotonous tennis. The griping had merit: bereft of long rallies, matches between net-rushers lacked both flow and consistent action, reducing a game of ebb, flow and varied geometry to a soccer penalty shootout.
In response, courts were tweaked to make balls bounce slower and higher. Wimbledon, for instance, altered the composition of its grass in 2001, producing a firmer and more durable playing surface. This shifted the balance of power in the direction of baseliners, giving them valuable extra time—think a tenth of a second, which is all they needed—to line up returns and passing shots. In 2002, net-rusher Tim Henman complained that the All England grass was the slowest non-clay surface he had played on all season; six years later, a BBC broadcast compared a pair of Federer serves to show that the courts had become even slower. The first Federer serve was hit in 2003; the second in 2008. Both were clocked at 126 miles per hour. The latter serve bounced higher, and came off the grass travelling nine mph slower.
As court changes worked against net-rushers, composite rackets and synthetic strings allowed baseliners to tee off on service returns and passing shots like never before—hitting the ball harder and with more spin, and doing so from a wider variety of angles and court positions. Lunging defensive stabs became down-the-line winners. As Taylor Dent, one of the last prominent American serve-and-volley players, explained in an interview:
[Returners] can get so much dip on the ball at such a high pace. In the past, if you were serving and volleying, it was really tough for the guy to get a return down at your feet because you can't generate that kind of spin off a first serve. Generally speaking, you're just trying to keep it low over the net. But now, if you don't really stretch a guy out, it's coming back at your feet, and then they can hit passing shots so hard because they can generate so much spin ... the main reason you don't see more serve and volley is because it's too much of an advantage to give away [playing that style].
Meanwhile, widespread strength training—and perhaps performance-enhancing drug use—compounded the above. So have other factors. Unlike the players of McEnroe's generation, contemporary stars play relatively little doubles, neglecting a prime opportunity to polish their net skills. On the other hand, they have little incentive to bother: the power baseline game reigns supreme because it works, a state of affairs that influential tennis coach Nick Bollettieri says is particularly pronounced in the junior ranks:
In order to become an effective serve-and-volleyer, it takes even the most skilled players until their early 20s. When young athletes face the pressure at 17 or 18 years old of ITF junior rankings and earning college scholarships, they often opt for the route that will have them winning the most matches at a young age—which, of course, is the power game.
The end result is tennis as we currently know it: the occasional change-of-pace and/or desperation net rush, increasingly quaint amid long, grinding rallies that, ironically, can be just as dull and metronomic as the big serve shootouts they usurped. Heavy topspin shot. Heavy topspin return. Much grunting. Both players working to gain a marginal advantage, until someone uncorks a winner/error down the line or crosscourt.
Yawn.
Look, I'm neither an old man nor a wooden racket purist. The serve-and-volley style isn't the equivalent of a Star Wars light saber, an elegant weapon for a more civilized age. However, it can be captivating and beautiful when played at a high level, a study in grace and reflexes, like watching a Major League hitter with a syrupy swing. Net-rushing also is risky, and therefore courageous, an aggressive, pressure-generating tactic that forces the other guy to come up with the goods. It creates instant tension, Drama, too. It is—to put it bluntly—a balls-out way to play. As Steve Tingor of Tennis.com puts it:
There's a sense of adventure to it that's missing from the baseline grind. You hurtle in and force the action. You have to react immediately, without knowing what type of shot you're going to need to hit. You have to improvise athletically—bend, lunge, leap—which is a pretty exciting thing to do. The whole court is yours—front, back, above your head, down at your toes. You don't just hit the ball at chest height while standing inside a two-foot strip at the back of the court.
In boxing, there's an old saw: styles make fights. As the closest thing to the sweet science that does not involve punching someone in the face, tennis is the same way. The sport's most memorable matches—and greatest rivalries—often have sprung from the clash of serve-and-volley against baseline play, of knockout artist against counterpuncher. Sampras and Agassi brought out the best in each other. So did McEnroe and Bjorn Borg, whose 1980 Wimbledon final still is considered by many to be the finest contest ever played. This is no accident. Diametrically opposing styles spin sport into theatre, transforming tests of skill into battles of will. Which player will impose theirs? Something ultimately has to give. Getting there is all the fun.
Imagine Borg without McEnroe. Agassi without Sampras. On second thought, don't bother. These days, there's no need. Such is the depressingly uniform state of contemporary tennis, Wimbledon especially, a sport and a tournament of shriveled possibilities. It's a shame, really. Oh, sure—perhaps serve-and-volley will make a comeback. And perhaps the All England dress code will swap stately white for neon pink.
Extra credit: I'm not counting on it.