'Sad Keanu' Reeves Publishes Poems About Happiness
Introducing "Ode to Happiness," the melancholy actor's attempt to push back against his own meme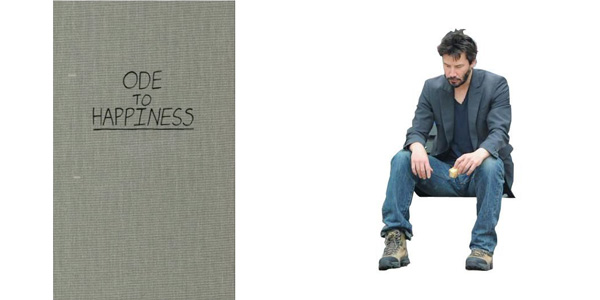 "Sad Keanu" is one of the Internet's most popular memes: a photo of a gloomy-looking Reeves has been pasted into the Situation Room, the iconic image of construction workers eating lunch, and more. Now the Matrix actor is pushing back against his mopey reputation with a book of poems called Ode to Happiness. According to a description on the publisher's website:
Ode to Happiness is a grown-up's picture book, a charming reminder not to take oneself too seriously. With drawings by painter Alexandra Grant, text by actor Keanu Reeves, and in collaboration with mutual friend Janey Bergam, this facsimile artists' book is about making the best of a bad situation. In the tradition of a classic "hurtin' song", Reeves' text externalizes a melancholy internal monologue and subtly pokes fun at it.
Reeves is not the first actor to capitalize on his own Internet meme: In January, James Van Der Beek launched a site featuring animated GIFs of his own facial expressions in response to the "Crying Dawson" meme.
Read more about Ode to Happiness at the Steidl website.