NBA Finals, Game 1: King James Leads Heatians to Victory Over Dallasites
How the Heat beat the Mavericks in Game One of the NBA Finals, King James Bible version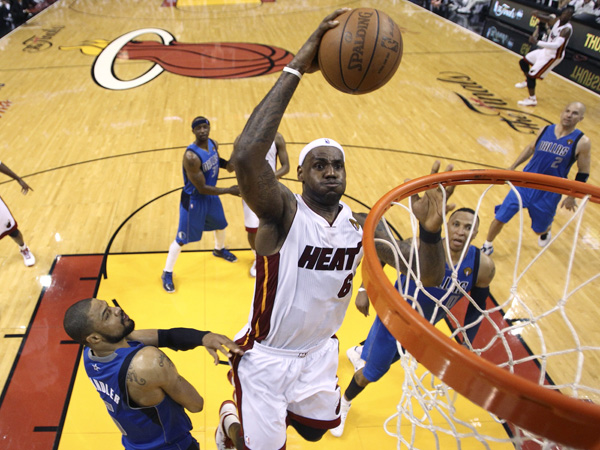 Reuters
The Bible of King James, Book of the Finals, Chapter 1
And so it came to pass in the first year of the reign of King James over the Heatians of Miami. The king made ready his armies for war against the armies of the Dallasites, rulers of the western kingdoms. And King James and the Heatians did gather in the land of Miami, before a mighty throng in white, to make battle with the Dallasites. And they did battle.
And Dirk, king of the Dallasites did leadeth his armies, and he maketh many jump-shots, though his feet be heavy as stone. And he maketh all his free throws. And his team doth take a lead in the first half, 44 to 43.
And King James looked upon this, and he became angry. And he spake unto the Dallasite king, saying, "Thou hast angered me with thy profligate ways! For thy willfulness thou shalt be cursed. A pox of double-teams upon thee!"
So the king said, and so it was done. Lo, did the Heatians Bosh and Udonis torment Dirk, saying unto him, "Our hands shall afflict thy face like scorpions! Our bellies shall press against thy belly whenever thou hast the ball, and thou must now pass out of the double-team to get open looks from the perimeter, lest thy people perish."
And, yea, verily did Dirk passeth out of the double team, throwing unto the Dallasite guards Jason, Kidd the Elder and Jason, Terry the Younger. But woe came unto the Dallasites. For the elder Jason did shooteth badly, and Jason the Younger also stinketh, hitting but three shots of the ten that he taketh from beyond the line of three.
The lead did changeth ten times. But the wrath of King James fell upon the Dallasites late in the second half. And he didst dunk upon them, with great vengeance. And he did hitteth off-balance shots from outside, and he did playeth sick defense, and he finisheth the game with 24 points. And so thus did King James and the Heatians wear down the Dallasites in the fourth quarter, and strike them down with a terrible fury, and defeat them.
And afterward did King James call unto Wade the Heatian guard. And the king spake unto him saying, "Yea, though I dribble into the paint and a lane of tall defenders, I shall fear no hard foul, for thou art with me. Thy passing and blocked shots refresh me, and thy twenty points and nine rebounds shall surely comfort me for all my minutes on the court."
Thus it came to pass in the land of Miami, in the first year of the reign of King James, that the Heatians did smite the Dallasites by a score of 92 to 84. And they did win the first battle in their best-of-seven-battles war. And so did they feast richly, and bind their wounds with balms and ointments, making ready to battle in days to come.