'Larry Crowne:' A Throwback to When Star Power Sold Movies
Can Tom Hanks and Julia Roberts compete against superheros, robots, and talking animals?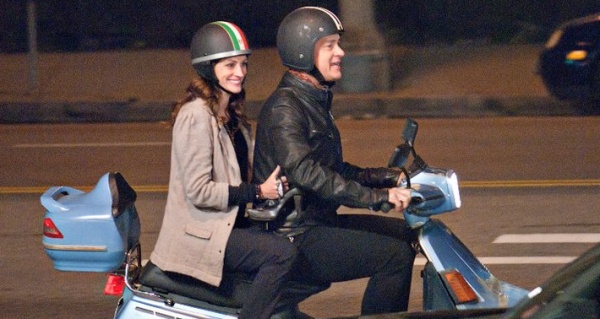 Universal
There was a time—let's call it the '90s—when you could find little better guarantee for the success of a movie than by having Tom Hanks or Julia Roberts star.
But that was in a different Hollywood, one in which superhero movies were niche rather than ubiquitous, the world knew little of viral marketing, and 3-D was a long-forgotten novelty fad.
So it is that this week's Larry Crowne, starring Hanks and Roberts (and directed, co-written and co-produced by the former), is being seen a "real test" for the movie industry, says veteran film critic Marshall Fine. Is there still an audience for the star-driven summer movie based on original material? Early signs aren't great: Reviews have been generally negative, and The Hollywood Reporter says there's been "relatively soft" audience interest tracking. Plus the film is being released amid deafening, all-consuming Transformers mania.
The story of a middle-aged man (Hanks) who enrolls in community college and falls for his professor (Roberts) after being fired from his job, the film possesses what Movie City News editor David Poland calls a "gentle" spirit.
Yet the picture is being marketed entirely on the strength of its stars, with Universal stressing the "Tom" and "Julia" in large letters above the much smaller "Hanks" and "Roberts" at the top of many print ads. The TV spots and trailers bank on Hanks' everyman appeal ("Can you get this hunk of junk working?" he says, ostensibly referring to an old scooter) and Roberts' famed smile.
Forgoing men in tights, explosions, and gratuitous dirty jokes, it's the rare big-studio summer movie meant for adults. And that's inherently a risky proposition. These days, "movies for adults are not as sexy for private investors and private investors fund a lot of development and production," Poland wrote in an email.
"[Studios] think in terms of home runs, not singles and doubles or even triples," Fine says. "They want the big return right now. They're looking at the short term, not the long term. They recognize that [about] 50 or 75 percent of what a movie's going to make it makes in the first month."
This is why Larry Crowne represents a gamble. "The adult audience is not driven by opening weekend the way younger audiences are," Poland says. "A movie for them needs to be supported longer and keep its theaters longer, even if the evidence that it's catching on is scant. And maybe it's not really catching on."
In that climate, any movie that's not "pre-sold" represents a serious risk, Fine says. That's why so many summer titles are derivative: Prequels, sequels, remakes and comic book adaptations all come with built-in constituencies. "I wouldn't even pitch an original idea anymore," Oscar-winning screenwriter Christopher McQuarrie ( The Usual Suspects, X-Men, The Tourist) told New York earlier this year. "What [studios] want is — through no fault of their own — a piece of pre-existing material that's survived some sort of a litmus test, like a graphic novel." A-list stars aren't immune: Hanks's biggest hits of the past decade were The Da Vinci Code and Angels & Demons, based on the sensationally popular Dan Brown novels. Roberts's most-notable success was the remake of Oceans 11 and the resulting sequels.
That all seemingly leaves out Larry Crowne, a small film with an original screenplay of modest ambitions, starring two aging stars whose "glory days were 10 or 15 years ago," as Fine puts it. The currently top-targeted audience was "barely born when 'Forrest Gump' and 'Pretty Woman' came out," he adds.
Still, the old-fashioned marketing campaign, if helped along by that dinosaur known as positive word of mouth, might just pay off. There are plenty of viewers eager for a taste of what big studio movies used to be, starring actors they've loved. Witness this summer's swelling success for Woody Allen's Midnight in Paris, or the phenomenon that was My Big Fat Greek Wedding nearly a decade ago.
"It's an underserved audience," Poland says. "When they get a whiff of something that doesn't suck, they really show up."