Isiah Thomas Could Return to the Knicks, Whether You Like It or Not
The unpopular former team president's potential comeback highlights a sad truth about sports: Fans can't control mercurial owners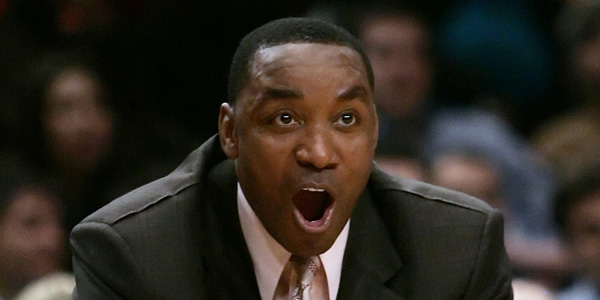 Reuters
Knicks fan Sean Gladden said it doesn't matter who replaces the 70-year-old Walsh, since the team's problems start at the top.
"Dolan is a bum," said Gladden, 38, of Brooklyn. "We need a new owner. He bears responsibility for all the Knicks' bad decisions."
–June 4 story in the New York Daily News
"Hide the Sharp Objects: Isiah Thomas Talks the Knicks Job," blared a headline from the sports blog Deadspin on Monday evening. The headline succinctly summarized the feeling of one of professional basketball's oldest, proudest fan bases in the wake of the news that team president Donnie Walsh would resign on June 30—and reports that Thomas was discussing the possibility of succeeding him. Knicks fans had already lived through the nightmare that was Thomas' first run as president—his return to Madison Square Garden could well lead to revolt.
The Knicks were putrid in the so-called Isiah Era, which ran from 2003 to 2008: 141-241 with one playoff appearance and zero playoff wins. But to truly understand the depth of hatred New York fans feel for Thomas, you have to look beyond the Xs and Os, to the $11 million sexual harassment suit and the ill-fated coaching attempt and the almost single-handed destruction of the Continental Basketball Association and countless horrendous long-term contracts. The fans' disdain of Isiah runs so deep that the mere prospect of his return had diehards kissing the team's championship hopes goodbye.
So the people who pay to consume the product that is the Knicks are near unanimous in their dislike of Thomas. And yet New York owner James Dolan will likely hire him anyway, once again highlighting the underlying disconnect of team sports: The consumers view it as something akin to religion, while to the management it's often just business—or worse, a vanity project.
No other multi-billion dollar industry has such a vast difference between what its consumers want it to be and what it in fact is. Diehard sports fans love, follow, and consume their teams in a manner more befitting a cult than a collection of children's games involving balls, hoops, goal posts, bases, and nets. Fans—a term shortened from the more apt fanatics—will go as far as to name their children after players and coaches, poison hallowed landmarks of rival college football programs, and beat the opposing team's fans into a coma. And that's separate from their lavish consumption of tickets, season tickets, personal seat licenses, and merchandise in furtherance of their fandom.
In principle, there's nothing wrong with slavish devotion to a sports franchise. I'm a diehard New York Yankees fan and will readily argue the merits of Joe DiMaggio's 1941 MVP candidacy until I'm blue in the face. But to the management of these franchises, the facet of fandom that matters most involves the checkbook. Owners have been running their teams like a business for more than 100 years—if you're not convinced, read Breaks of the Game, David Halberstam's unparalleled tome on the 1978-79 Portland Trail Blazers. For every George Steinbrenner there are a dozen Larry Weinbergs, men and women who care as much about the bottom line as the box score and have no compunctions making personnel moves—or, in some cases, actual moves—that break a fan base's collective heart.
Worse still are the trust-fund owners like Dolan, who assumed control of the Knicks from his father in 1999. Dolan, who also owns the NHL's New York Rangers, has been unfathomably supportive of Thomas and spent an inordinate amount of time supervising the Knicks City Dancers while running one of basketball's most iconic franchises into the ground. It got so bad that Charles Dolan wrote a letter to the New York Times in 2006 defending his son against the horde of critics.
Walsh's departure and Thomas's possible return have reignited fan outrage against Dolan. Three Facebook groups vehemently opposing an Isiah redux have popped up in the last week. "I may have to seriously consider NOT being a Knicks fan if this dude gets another chance to run the show," bemoaned one commenter.
Indeed, dissatisfied Knicks fans have only one recourse: spend their money on something else. Professional sports owners can linger like a rotting cheese and are often viciously thin-skinned. Just ask Washington City Paper sportswriter Dave McKenna, who published a titanic takedown of Washington Redskins' owner Daniel Snyder that included an A-Z list of his failings. "The Cranky Redskins Fan's Guide to Dan Snyder" earned McKenna the respect of D.C. residents and a libel suit from Snyder.
The suit is still pending, Snyder is still making money off the team, and Redskins fans are still bemoaning their franchise's decade-long descent into mediocrity. Meanwhile, Knicks fans await the announcement of a new president, hoping against hope that's it not Isiah 2.0. New York hasn't won a playoff game in 10 years, by far the longest stretch in team history. Dolan will be the owner of his iconic franchise-turned-trust fund toy for the foreseeable future. And there's nothing Knicks fanatics can do about it.