In TV News, Payola Is on the Rise
More and more we'll see televised news programs paying to feature momentary pseudo-celebrities to increase ratings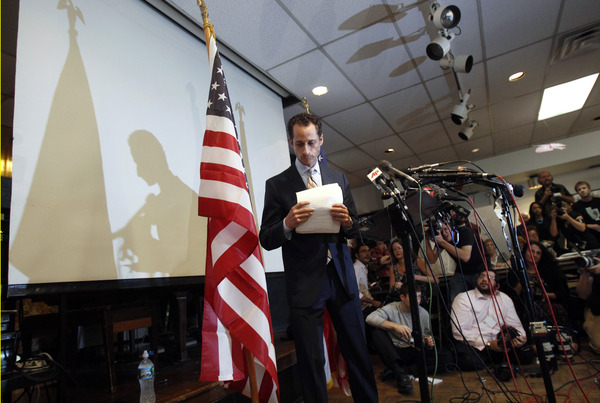 Wherever you look these days, money seems to be changing hands for news. A major takeout in the
New York Times
recently explored the practice at ABC and NBC of paying substantial amounts for interviews, photographs, and other forms of exclusive access to figures in the political scandal or crime du jour. Before going too far with indignation, it is worth remembering that it has been a time-honored tradition among magazines and newspapers (started in the days when they could better afford it) to purchase book excerpts and personal adventure or survival stories and even, as far back as the 19th century, to mount expeditions into the wilds. These days, documentaries and news films are routinely for sale, and book publishers pay advances, often very large sums, to those esteemed or notorious enough to find themselves in the news. I see no problem in rewarding genuine achievement in a chosen field. Captain Chesley (Sully) Sullenberger's landing of a U.S. Airways 737 in the Hudson made him a deserving national hero, and probably a rich man from books and speeches. Much less admirable was General Tommy Franks, who was principally responsible for planning the build-up to the Iraq invasion in 2003, and who retired two months into the campaign as the going turned tough—with a multi-million dollar book advance. It won't take you long to think up your own example of this genre.
The recent discouraging trend, however, concerns payouts by news organizations to figures whose momentary fame quickly turns into a cash-on-demand transaction. The notion of ABC News paying $15,000 to Megan Broussard, one of the recipients of Representative Anthony Weiner's lewd photos and Twitter come-ons, was especially easy to disparage. While the fact is that the news business and show business have long veered toward each other, the trend in television is definitely on the rise. The increasingly routine competition among news divisions to secure someone briefly in the spotlight because of a tragedy, a sordid revelation, or tabloid-style behavior feels like another drop in standards. A paid "exclusive" doesn't amount to intrepid reporting. ABC, for instance, was apparently prepared to give $10,000 to the woman who said she was giving her eight-year-old daughter Botox shots before beauty pageants, until the story turned out to be a hoax.
Defending the Broussard payment, ABC's Chris Cuomo said he took responsibility for that fee. He told Howard Kurtz on CNN's Reliable Sources:
The commercial exigencies of the business reach into every aspect of reporting now. . . . it's my decision. I'm the anchor of 20/20. I could have said 'Don't do it.' I don't because it is the state of play right now. I wish money were not in the game. But you know, it's going to go somewhere else. You know someone else is going to pay for the same things.
Cuomo may be claiming the credit, but he surely got approval from ABC higher-ups before the dough went out.
In the heyday of network news, the divisions prided themselves as the classy counterpart to entertainment programming. In that era, news was a loss-leader to justify to regulators the right of NBC, CBS, and ABC to use the broadcast spectrum—a public resource—to make a fortune on situation comedies, melodramas, and variety shows. Those days are long gone, and the tendency to join the scramble for whatever will draw high ratings is the latter-day stance of televised news, especially the lucrative morning shows and prime-time magazines. Whatever money in the multiples of thousands of dollars is being spent these days for the rights to feature momentary pseudo-celebrities is probably going to increase because there is no one with any interest or authority to stop it from happening. And the results in higher ratings doubtless relieve any sense of tackiness at the process.
PBS always has bought its programming from stations and independent producers, so that form of exclusive arrangement seems altogether fine. And yet I felt a twinge in reading that, as of next fall, two major PBS shows—Nature and Nova—would include four breaks for promotional spots during the hour-long shows instead of the traditional pattern of bunching the announcements at the beginning and end of shows. Uninterrupted programming always has been one of my favorite aspects of the PBS formula. "My first reaction is that in any kind of marketing opportunity, if you give up something that is desirable and differentiates you from your competition, it's too bad and that's what this is," Alberto Ibarguen, president and chief executive of the Knight Foundation and a former PBS chairman told the New York Times. Commercials, although technically still called underwriting announcements, are already an accepted part of public television's continuing effort to pay for itself, but breaking the shows into segments of no longer than fifteen minutes, which is the plan, is bound to change their character. The risks of PBS joining the auctions for paid, cheesy interviews are negligible, even if it is becoming more like commercial broadcasting with each effort to boost its finances. The truth is that, all across the information spectrum, the demands for revenue are greater each year, as audiences find they have an ever increasing array of choices. In many ways that count, public television programming retains admirable standards in public affairs and quality programming. Let's hope more commercials don't take it down the path that ends with the ignominy of payola.
Image: REUTERS/Shannon Stapleton