How Will the Impending NBA Lockout Affect the Draft?
A look at the ways players and teams alike are adjusting their strategies this year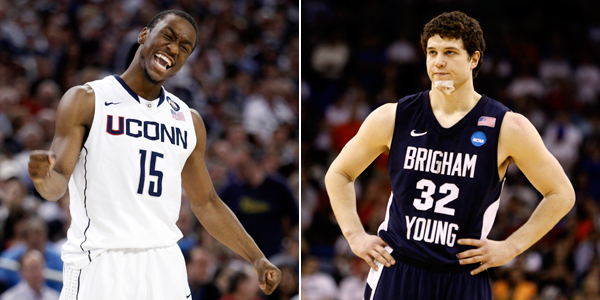 Reuters
Will there be an NBA season in the fall? No one is really sure. The season has ended, but the labor negotiations drag on. But at least one thing will go on as it has: the draft, which takes place this Thursday. It's a year fraught with even more unknowns than usual, as the potential lockout has caused the level of player talent to fluctuate and the teams' draft strategies to vary.
It starts with the labor negotiations—the owners want salaries to drop, while players say they're exaggerating the steps that need to be taken. If an agreement isn't reached by June 30, drafted players won't be able to sign a contract, grounding them in a no-activity purgatory until everything gets worked out. The safe move for players who—barring injury—are guaranteed to be picked high when they come out is to stay in school and enjoy another free year of instruction, education, and college lifestyle. Today, most highly touted freshmen end up leaving after a year in school. Even though they weren't considered as skilled as previous freshmen standouts like Derrick Rose and Kevin Durant, players like UNC's Harrison Barnes, Ohio State's Jared Sullinger, and Baylor's Perry Jones III would've certainly been top-5 picks in the draft. Instead, they surprised many and elected to stay in school. But who could blame them? One freshman who declared was Duke's Kyrie Irving, now considered the best college prospect in the draft no matter how crazy the Cleveland Cavaliers, who hold the number one pick, try to act. As a whole, more league-ready freshmen stayed in school than in recent years, depleting an already shallow talent pool.
Instead of griping over this year's runny lot, the NBA GMs have shifted their attention to a number of unproven-yet-attractive players. Take BYU's Jimmer Fredette and Connecticut's Kemba Walker. During the college season, it was assumed that both players would be an unlikely fit for league stardom—their relatively short statures would limit their defensive ability against the NBA's bigger players, and they wouldn't be allowed to dominate the ball the way they had in college. Traditionally, NBA teams draft for potential over production, as college stats can be an inconsistent prognosticator of league success. But as more league-ready players dropped out, Fredette and Walker became catchier prospects due to their visibility—Walker led an overachieving UConn team to the NCAA championship, while Jimmer became somewhat of a national phenomenon. Before the season, Fredette would've been a tough sell as a lottery pick. Now, he's been predicted to go as high as number three to the Utah Jazz, and Walker could go to Toronto at number five.
Similar uncertainty has aided the hype surrounding foreign unknowns like Enes Kanter, Bismack Biyombo, and Jan Vasely. Kanter is the former Kentucky signee who sat out a year because he received a salary while playing for a Turkish professional team. Though he hasn't played competitively in almost two years and refused to work out for most teams, the Cavaliers looked at him multiple times, leading to speculation they could select him over the widely-admired Irving (likely a smoke screen, but you never know). Biyombo is a Congolese player who was an unknown one year ago, but after a standout performance at the Nike Hoop Summit, he's skyrocketed into the high lottery. Vesely was known more for his dunking mixtapes than his playing acumen, but now he could be asked to rescue a crappy team. The lack of information and playing footage hasn't prevented them from getting looks, but it's harder for fans to feel confident in these relatively untested prospects.
With the negotiations leaving salary flexibility unknown, it makes sense that teams would try to draft for need and plug existing concerns rather than shooting for the moon—indeed, players like Fredette and Walker have looked like promising-if-limited players in pre-draft workouts, while Kanter, Biyombo, and Vesely could develop into dependable role players. The lack of talent may make teams re-configure their draft-day expectations, and look for a rotation banger rather than a franchise star. It could also make them get more desperate to strike big. But if you care about basketball, the usual draft excitement hasn't been tempered by the uncertainty. If anything, it gives us something to follow until everything stops at the end of the month.