'Happily Divorced': Hollywood's Latest Fairy Tale
Fran Drescher's new sitcom documents a couple who continue to live together even after they break up. Does it work?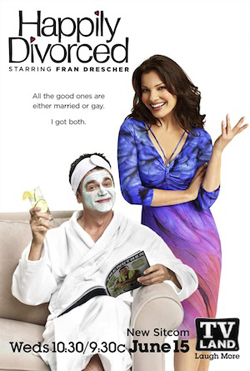 TV Land
You can guess the plot of the new TV Land sitcom Happily Divorced just by hearing the title and looking at the poster. In the opening moments of the pilot episode, Fran (Fran Drescher) sits in bed with her husband of 18 years, Peter (John Michael Higgins), and reacts with shock when he reveals that, though he loves her deeply, he's gay. (That explains why Higgins appears in a bathrobe and clay facial masque in the poster.) She demands a divorce. He agrees but says he won't move out of their home. He'll live in the guest room, and they'll remain friends. They resolve to be—here comes the title—happily divorced.
Drescher's break-out hit sitcom—The Nanny, which ran for six seasons in the '90s—was an update of the ancient Pygmalion story, which says a woman of humble means can win the affection of a wealthy man. Happily Divorced, which premieres tonight at 10:30 p.m., is the latest spin on a more modern fairy tale: the story that broken families can get along, without animosity, after divorce.
We've seen snatches of this story in romantic comedies over the past decade or so, as divorce has become more and more common: In Clueless, a young man comes back to his ex-stepfather's house for school vacations, even though his mother is married to someone new. In Everybody Says I Love You, Woody Allen's character is still good friends with his ex-wife Goldie Hawn, despite the fact that she's been happily remarried to Alan Alda for years. Runaway Bride includes a scene where Richard Gere's character plays a piano duet with his ex-wife, as her new husband looks on from the doorway. In Something's Gotta Give, Diane Keaton's character, a playwright, collaborates with her ex-husband professionally. The "happily divorced" story even exists offscreen: Witness the picture-perfect relationship Demi Moore and husband number two Ashton Kutcher have with Moore's first husband, Bruce Willis.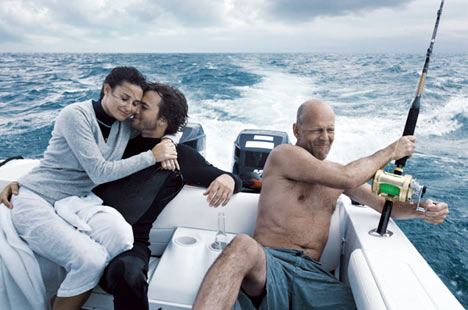 Vanity Fair
But these stories have largely been subplots—this is one of the first TV shows dedicated to documenting a couple who remain close after splitting up. It has particular promise for realism because it's based on Drescher's own life: She claims to be "best friends" with her ex-husband, Peter Marc Jacobson, who co-writes Happily Divorced with her. So how does the show do in portraying the complicated dynamics of post-divorce friendship?
At first glance, not particularly well. The show often displays a grating glibness toward divorce, reminiscent of Nora Ephron's "Divorce" section on The Huffington Post (original tag line: "marriage comes and goes but divorce is forever"). The series' opening sequence features animated dancing stick figures and an upbeat, jingly theme song with lyrics like, "She got married anyway / Turns out he was gay." In the middle of her first post-Peter date—dinner with a handsome music executive who's also divorced—Fran exclaims, "Divorce is the new marriage!" Fran and her date then proceed to make out in front of a restaurant full of people.
But beneath the cheery veneer, there are hints at the painful challenges of the situation. The reason Peter can't move out is that he can't afford his own place—a nod to both the current economic downturn and the financial devastation that so often accompanies divorce. And the show also highlights the mixed emotions that come with seeing a former spouse move on. As Fran prepares for her date, Peter says he doesn't know how he feels about her going out with another man. Fran snaps, "You can't be jealous and gay." Can't he? When Peter later interrupts Fran's romantic night at home with her new boyfriend, it's clear that, despite his recently discovered sexuality, he's not quite ready to let go of her.
As the season progresses, we'll see how Peter comes to terms with his ex-wife's new love life—and how Fran reacts when Peter starts going out with other men. As with any fairy tale, especially one based on real life, "happily every after" will be harder than it sounds.