From Monterey Pop to Bonnaroo, the Hippie Endures
A cultural history of the modern flower child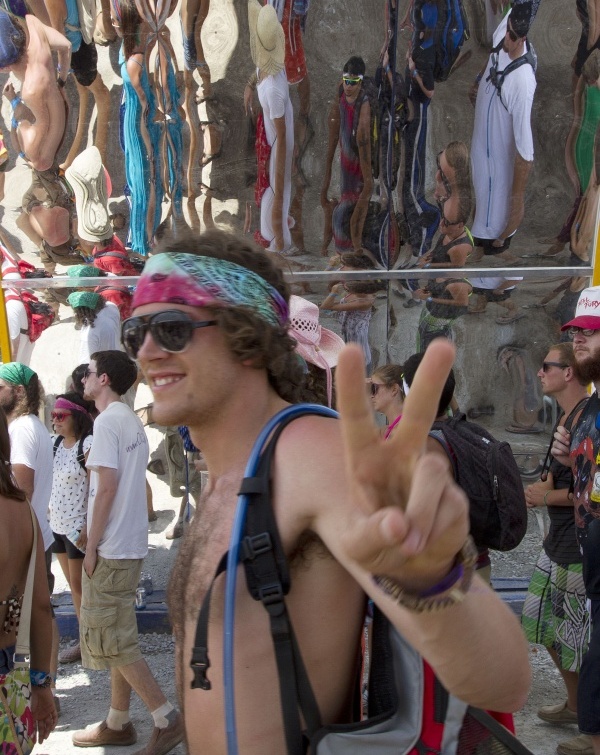 AP Photo/Dave Martin
Music lovers arrive at the Bonnaroo Music and Arts Festival in Manchester, Tenn., Sunday, June 12, 2011.
Forty-four years ago this past weekend, a group of musicians, impresarios, and true believers in the nascent, acid-soaked counterculture of San Francisco staged the Monterey International Pop Music Festival. Billed as three days of "Music, Love, and Flowers," Monterey mixed 32 musical acts and an arts exposition with elements of a political rally and a church service, sparking a revolution. It was the first true rock festival—progenitor of and template for every one that followed, from Woodstock two years later to this month's Bonnaroo.
Musically, Monterey was a jailbreak—a creative explosion. There had never been a festival line-up so varied, with room for Johnny Rivers' rockabilly, Hugh Masekela's trumpet, and Ravi Shankar's sitar. By embracing such a stunning range of musicians, and by giving instant legends like Jimi Hendrix, Janis Joplin, Otis Redding and The Who national exposure for the first time, Monterey announced that rock had come of age as a serious art form. Monterey declared that it was in rock music, not jazz, where the most innovative musicians were to be found; that it was in rock, not folk, where the growing youth protest movements would find a voice; and it was rock stars, not poets, painters, authors, filmmakers or any other sort of artist who would be most effective at communicating new, counter-cultural values to mainstream American society.
That communication could be explicit, like when Country Joe McDonald sang his antiwar protest, the "I-Feel-Like-I'm-Fixin'-To-Die Rag." Or it could be implied, like with the long hair, love beads, and phosphorescent wardrobe of MC Brian Jones, all of which seemed a calculated assault on middle-class values. Or Janis Joplin, who took the stage and embodied the liberated woman in all her passionate contradictions, living feminism in way that academics like Gloria Steinem and Betty Friedan could only describe.
But the festival also marked the debut of a new national archetype—an entirely new stock character in the American repertoire soon to be as iconic, and arguably as influential, as the cowboy, quarterback, or frontiersman in a coonskin cap. At Monterey, the world met the hippie, who lived by the newborn creed of Flower Power in the experimental communities rising in San Francisco's Haight-Ashbury district, perhaps best exemplified by the colorful, placid, and often communally-minded fans of the Grateful Dead. Before the festival, hippies were a few thousand denizens of one neighborhood in a medium-sized city. After Monterey, hippies and their sensibility would become a global phenomenon.
For most of the United States, the middle of 1967 would be known as "The Long, Hot Summer," with race riots breaking out in seemingly incongruous cities like Buffalo and Tampa. Not so in San Francisco, where the success of Monterey and subsequent media attention set off the famed "Summer of Love," a mass migration of nearly 100,000 young people who converged on Haight-Ashbury, many sporting flowers as instructed by Scott McKenzie's saccharine rendition of "San Francisco."
When America's youth flocked west, the media glare went supernova. In July of 1967, Time Magazine ran a cover story, "The Hippies: Philosophy of a Subculture." In August, CBS News broadcast a special report, "The Temptation of the Hippie." The world discovered that Flower Power was often fueled by marijuana and LSD, bringing more crowds, and lots of unwanted attention from the law. By October, the Haight seemed played out, and a bunch of locals staged a mock "funeral for the Hippie" in Golden Gate Park. They declared the hippie dead, killed by greed, commercialism and media exposure.
They couldn't have been more wrong.
The media attention may have crushed the scene, but like Gallagher's sledgehammer on a watermelon, the blow also scattered seeds. Less than a month later, Eric Burdon & The Animals released "Monterey," a single lionizing the festival, declaring that "religion was being born" there. The concert film that followed in 1968 helped nurture that new faith. The hippie's now-signature syncretic stew contained chemically-inspired mysticism, Buddhism, Hinduism, Transcendentalism, neo-Pagan Earth worship, and a tangle of the philosophies that would come to be called New Age, all wrapped in a famously unkempt, middle-class baiting anti-fashion.
In 1969, Woodstock reaped what Monterey sowed. The masses of Baby Boomers who swarmed Yasgur's farm that weekend may have called themselves "freaks" or "heads," instead of hippies, but the festival's animating spirit was pure Flower Power, straight out of the Haight. Almost by accident, Woodstock evolved over those three famous days from a rock festival into a kind of public art project, an experiment in alternative community that demonstrated, however briefly, the possibility of organizing a society around values diametrically opposed to those of corporate capitalist America. On camera at least, Woodstock made that new society look like heaven. Less than four months later, the Rolling Stones' disastrous festival at Altamont made it look like hell.
Corporate capitalism, though, has never met a menace it couldn't co-opt and exploit, and there was clearly big money in big concerts. Huge festivals, sans the utopian fantasies, continued into the 1970s. In 1973, the single-day Summer Jam at Watkins Glen drew a record-setting 600,000 fans to hear and see, sort of, the Allman Brothers, The Band, and Grateful Dead. In 1974, the Ozark Music Festival, featuring The Eagles, Blue Öyster Cult, Lynyrd Skynyrd, and a rumored Beatles' reunion, drew an estimated 350,000 for a chaotic mid-Missouri weekend. (The Beatles, in case you were wondering, didn't show up.)
But the dozens of giant, music festivals we know today, like the Jambaloosa in Pittsburgh and Some Kind of Jam in Kempton, Pennsylvania, took a few more decades to appear. For that, and for creating a second, and even a third generation of hippie, we can thank, and/or blame, the Grateful Dead.
The house band for the Haight never stopped touring throughout the '70s and '80s, fostering a huge community of supremely devoted fans. For an astounding seven straight years from 1988 to 1995, according to Pollstar's Top Tours, the Grateful Dead never left the top-five grossing acts in North America. In the fields and parking lots around the venues, though, they did something even more remarkable. The Dead were less a band than a Flower Power version of a tent show revival, winning converts to the hippie faith. A huge traveling city grew up around them—with an equally huge underground economy based solely on love, music, tie-dye shirts, friendship bracelets, and, oh yeah, millions and millions of hits of LSD.
Unlike the band, however, most of the Deadheads dropping acid in the Clinton era didn't remember Monterey—because they hadn't been alive for it. The hippies filling stadiums for Dead shows in the '90s were a new breed, a second generation. They were Gen-Xers who donned their elders' garb, but tended to ascribe a different meaning to it. They had to. The political and social connotations of hippiedom that were radical in the 1960s, like, say, a man having long hair, or an unmarried couple living under the same roof, had become mainstream by the 1990s, and the second generation of hippies didn't have as many cultural battles to fight. Where the Boomers had a sex, drugs, and rock and roll revolution, Gen X grew up in the messy blowback of AIDS, crack and MTV, and the Gen X hippie tended to be much less interested than their predecessors in trying to change the world and more about creating worlds of their own.
Soon, these new hippies not only took over the audience. They took over the stage as well. The Grateful Dead had released their thirteenth studio album on Halloween 1989. Ironically named in retrospect, Built to Last, it would be their final studio recording. The same year, a little-known Vermont band named Phish released their first, Junta.
Phish were heavily, heavily influenced by the Dead, both in their unconventional approach to the music industry, and in the penchant for extended, free-form, occasionally brilliant, often self-indulgent, jazz-like improvisations. They became the archetypal "jam band," the most successful in a patchouli-soaked wave including Widespread Panic, Gov't Mule, Leftover Salmon, Rusted Root, and the String Cheese Incident—all of whom copied the Dead's ethos and style, if not their sound.
In 1995, after Garcia died, Phish inherited a huge slice of the Dead's younger fans. Literally. Seventy thousand people showed up next summer for the multi-day Clifford Ball, the first of Phish's legendary "summer camp outs," later imitated by bands like the Disco Biscuits (who started Camp Bisco in 1999) or moe. (who began holding their annual moe.down in 2000). In 2002, Bonnaroo was born, and the golden age of the music festival had arrived.
Even at new, all-modern rock festivals like Coachella, though, you would see kids wearing the exact same clothing that was cool at Monterey. But the music had changed. In the '80s and '90s, computerized beats wormed their way into the suburbs, mostly through hip-hop and dance pop—music that most good hippies, be they Gen X or Boomer, would likely think robotic and cold.
Not so for the Millennials, a.k.a. the Hippie 3.0. They grew up in a world where synthesized music was the norm. They also grew up when LSD was getting rare, and a galaxy of club drugs had replaced it. The music they made, and so enjoyed seeing at festivals, changed to reflect the more synthetic experience.
Take Atlanta's Sound Tribe Sector 9. An electronic collective formed in the late 1990s, STS9 found themselves early support from many in the Phish-fan crowd.* They've since become festival favorites, joining all sorts of other rave, house, techno, and/or hip-hop influenced acts like Pretty Lights and Ghostland Observatory as big festival draws. Even for hippies.
Certainly any festival heavy on the mandolins will have a higher percentage of tie-dye in the crowd than, say, the Detroit Electronic Music Festival. But the varied musical palate of Hippie 3.0 does lead to incongruous, but somehow delightful and altogether Monterey-like sights. Like earlier this month at the Wakarusa Music and Camping festival, a rustic setting deep in the Arkansas backwoods, where kids dressed like they just flew in from 1967 raged to the frantic beats of Bassnectar and gaped at Quixotic Fusion—a multimedia arts collective mixing violin-based pop, ballet, modern dance, Cirque du Soleil-like aerobatics, and a dazzling light show.
Still, what's amazing about hippies isn't how much they've changed. It's how much they haven't, especially as society has changed around them. Their musical tastes may be a bit broader, and there's undeniably a scary leap from smoking weed to snorting ketamine. But in terms of belief systems and the styles that represent them, there's a remarkable continuity from the first Flower Power crowd at Monterey and the third generation throngs who'll be at Phish's three-day Super Ball IX festival over 4th of July weekend. And, as the tie-dye wearing toddlers who'll also be in that crowd will demonstrate, the Millennials are already working on a Hippie 4G.
---
*This post originally stated that Phish and Sound Tribe Sector 9 had toured together. We regret the error.