Food is everywhere in series like The Boxcar Children, Game of Thrones, and Little House on the Prairie
"One warm night four children stood in front of a bakery. No one knew them. No one knew where they had come from."
–opening lines of The Boxcar Children by Gertrude Chandler
This was one of the scenes in a book that first stuck with me when I was growing up: four homeless children standing in front of a bakery at twilight and debating whether to buy bread or cake with their dwindling supply of money. Food is everywhere in the Boxcar Children books, even after the Alden children find a home with their grandfather. They drink coconut milk on an island adventure; they marvel over enormous cookies; they cook enough chowder and baked beans to feed an entire coastal town during a festival. Those images were so tantalizing that it's not surprising that when I first learned to cook, it was from The Boxcar Children Cookbook, starting with a recipe for brownies that inspired the youngest Alden to reach out to a lonely local boy in The Lighthouse Mystery. I was never as hungry as the Aldens were when they were orphans, but baking those brownies gave me the powerful sense that I could be my own source of plenty. In the novel, they brought another character into the Aldens' orbit, and by recreating them, I stepped into that world as well.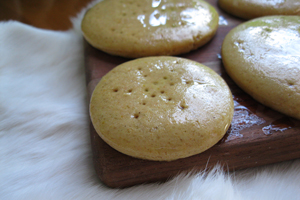 Inn at the Crossroads
It wasn't until HBO's fantasy epic Game of Thrones started airing that I remembered the origins of my first solo cooking efforts. When a colleague invited me to a viewing party for the second episode, I tracked down Inn at the Crossroads—a food blog based on the dishes that show up in the George R.R. Martin books on which the show is based—so I could find a thematic dessert recipe. I selected lemon cakes, a recreation of the delicate favorite dessert of Sansa, the somewhat naive daughter of a noble house in the kingdom of Westeros. In the books, these cakes serve as a recurring symbol of her weakness for things that are beautiful and rich. The cakes weren't anything like I'd imagined from reading about them in the book—they were spongier and less sweet, and hard to imagine as a dreamed-of delicacy. But they were delicious, a powerful visceral connection to the people on screen and the world in which they live.
"The blog started as an accident," says Chelsea Monroe-Cassel, who cofounded Inn at the Crossroads with her friend Sariann Lehrer, neither of whom are professional cooks. "We both really like food, we like cooking, and we like the books."
It's easy to see why Martin would inspire Monroe-Cassel and Lehrer to take to their kitchens. By their count, he names more than 160 dishes in the four novels he's published in the Song of Fire and Ice series so far. And he uses food to signal everything from a character's disposition to plot developments: a phlegmatic and dangerous noble refuses alcohol; the northern guards of an ominous border wall, deprived of variety in their food supplies, become fussy about how they spice their wine; a Southern kingdom of warriors stokes the fires of their rage with spicy dishes; a feast careering towards disaster is so excessively lavish that it makes the participants physically ill in a way that matches their emotional unease. And looming over all these specific meals is the danger that a bad harvest may not last the nation throughout a hard winter.