First Drafts: Gary Soto's 'Talking to Myself' and 'Sunday Without Clouds'
Gary Soto is known for poetry that depicts the visceral side of working-class Mexican-American life. Jobs in factories and fields have shaped his work, as has an apprenticeship under fellow poet Philip Levine. A winner of the Nation/Discovery Award and the Levinson Award from
Poetry
magazine, he has also been a finalist for the Pulitzer Prize and the National Book Award. Of his job as a writer, he has said, "My duty is not to make people perfect, particularly Mexican Americans. I'm not a cheerleader. I'm one who provides portraits of people in the rush of life." In addition to his poetry, Soto has written novels, short stories, memoirs, and over two dozen children's books. Here he shares the drafts of two poems, one from his 1985 collection,
Black Hair
, and one from a forthcoming volume,
Sudden Loss of Dignity.
---
No poet who grew up in a home without books writes alone. I'm companion to a semi-literate muse, feathered gossip who will sit in a tawdry dress on my shoulder. Sometimes she will whisper lines into my ear, lovely conjectures and occasionally laughable ditties. I will then share my poem first with my wife, who wears not a tawdry dress but stylish clothes and, hey, are those Jimmy Choos on her feet? She'll look at my creation—this week it's a poem debating whether my hearing is really gone—and she'll frown sourly as she reaches for a red pencil from the canister on my desk. When she finishes with this first draft, my poem will be lashed with suggestions. It'll be bleeding but a heartbeat will be present.
Then I will put in the mail this revised poem, perhaps with others, for my buddy and poetry editor, Christopher Buckley—not from the Republican Buckley clan but the poet who grew up surfing in Santa Barbara. He's been my rewrite man and drinking chum of the first order since graduate school at UC-Irvine. I remember the first time I presented a poem to the class, all ten of us with sadness in our satchels. Buckley uncapped his fountain pen--a functional Parker--and began, "I think we have a poem here, but..."
I bristled, as I was 21, full of myself, having already appeared in such notable journals as Raccoon Review! What does this guy know? I thought. Apparently more than I. He possessed an MA in literature and easily dropped the names of philosophers, artists, foreign movies, and trendy critical theorists—Foucault, for instance. And just think, as a Fresno boy wet behind the ears, I thought Foucault was the ultimate stage of drunkenness. Names of established poets were tossed around like horse shoes, sometimes hitting the irons with loud rings.
So from fall 1974 until last week, he has played the part of editor—no, editor is not the proper word. He's an advocate and friend. He enjoys what he does and is good at it, altering for the better poems from this friend, other friends, colleagues and students. I can picture Chris, beady-eyed when he examines an envelope creased by its journey from Berkeley to Lompoc. The envelope is packed with poems. I next picture him in his recliner, Cecil the cat in his lap, with an invitation to make things better, for me at least. He'll cut lines, scold me for ineptitude, and add his own lines, then later accuse me of lifting lines from his work. "Sucker," he has warned, "quit stealing from me. I know lawyers!" It's all laughable, these fights with dented armor, buckled swords, and completely without rancor.
I say this publicly: For good or bad, without Chris I think I wouldn't have finished a lot of my poems. For his 60th birthday, I bought him a vintage Mont Blanc, a signature Hemingway, a costly gift but not more precious than what he has given me.
As I said, "No poet who grew up in a home without books writes alone." Now there's awkward phrasing, something about which Christopher Buckley might growl, "Won't this menso learn!" and begin his work. He'll pet his cat and make suggestions with the gold nib of his pen, flowing in friendship and a larger calling.
–Gary Soto
An early draft of "Talking to Myself," which will appear in Sudden Loss of Dignity, Tupelo Press, to be published in 2013: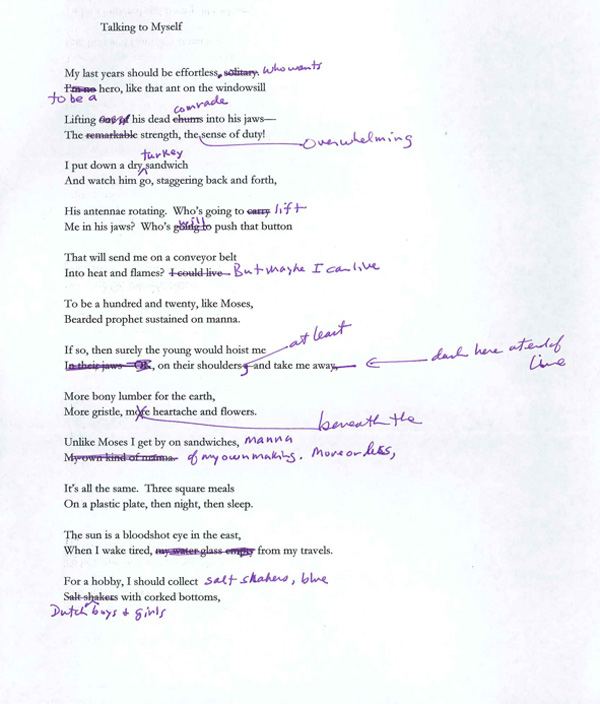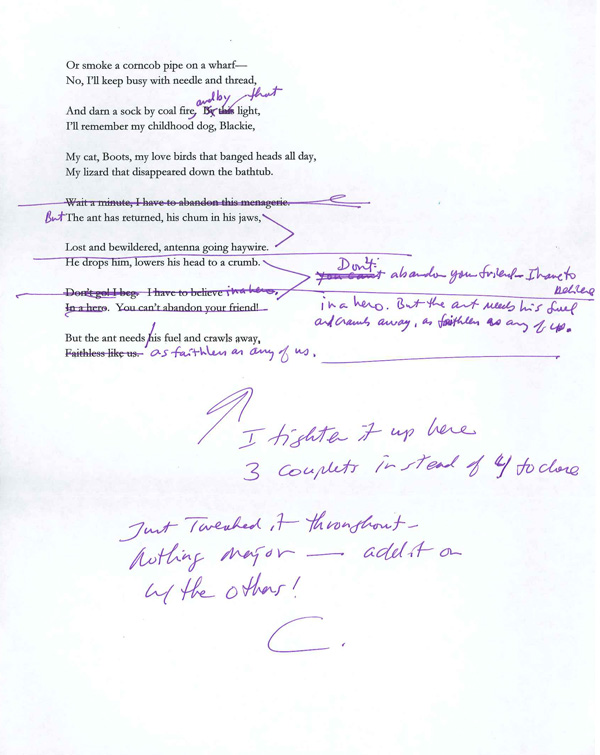 An early draft of "Sunday Without Clouds," which appeared in Black Hair, University of Pittsburgh Press, 1985:
---
More in the First Drafts series:
The Mountain Goats' 'Dance Music'