Design History Hoodies: Target Embraces Vintage Type
A mega-retailer and a tiny wood type museum in Wisconsin join forces to bring a different kind of style to the back-to-school crowd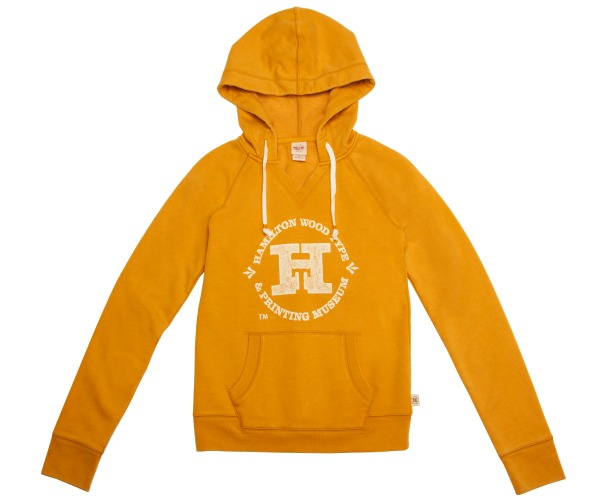 Target, already known for partnering with designers Michael Graves and Isaac Mizrahi, has entered a curious alliance with
The Hamilton Wood Type and Printing Museum
of Two Rivers, Wisconsin. Drawing on Hamilton's rich vintage type collection, on July 11 Target is releasing typographically designed street wear for kids who probably don't know the difference between a serif and a sheriff.
Michael Alexin, Target's Vice President of Product Design and Development for Apparel and Accessories, told me that after Target's design team saw a film about Hamilton at the Walker Art Center, they "fell in love with the spirit and passion of the museum as well as the vast archive of historical wood type prints and original poster designs." He added that Bill and Jim Moran, the artistic director and museum director of the Hamilton Wood Type and Printing Museum, began talking about the idea of creating a collection of apparel capitalizing "on the popularity of vintage graphic prints while highlighting the museum as a national treasure."
The collection, Alexin said, is evidence of how Target is consistently reinventing the definition of partnership. "Our team previously identified an important trend in fashion that was growing: the importance of looks and styles that are inspired by American heritage and vintage. By maximizing this trend in a unique way, Target is taking an innovative approach and surprising our guests with the unexpected. At the same time, we're hopefully able to raise the visibility of the museum and introduce more people to the art of typography." What's more, he injected, "The museum has a commitment to literacy, and Target shares this value as we support reading and education through our community outreach programs."
Nonetheless, wood type is rather arcane in today's digital font world. Since the tees and sweats are geared towards kids, there must be a hook, right? "The hook was creating true vintage graphic design—with the Target 'wink,'" Alexin explained. "It's cool, authentic, and based on real graphics from America's typographic history." Apparently, wood type also has "handcrafted appeal and a vintage collegiate vibe, which we thought would be perfect to include in our back-to-school collections."
Who would have figured old typefaces would have that je ne sais quoi?
Target's goal, however, was not to make wood type fashionable—"we just found the fashion within wood type," said Alexin, who asked designers to make hand-pressed prints at the museum, take them home, and then toy with scale, layering, and color, and after injecting wit, create the "eclectic collection of vintage graphic tees, hoodies, and more." Target's fall campaign, based on the conceit that "Cool Never Fades" and what was cool 25 or even 50 years ago will be cool again, builds on the notion that the Hamilton Wood Type and Printing Museum "speaks to this growing affinity towards heritage and a resurgence of retro among our younger guests," Alexin said.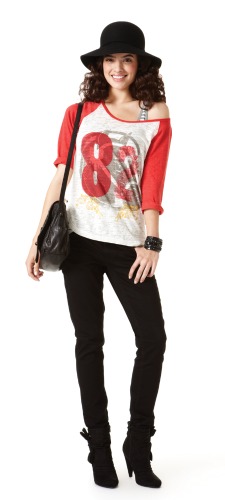 For Bill Moran, Hamilton's artistic director, working with Target is an opportunity to make the collection much more popularly visible. Hamilton had been selling posters and other merchandise online since it opened in 1999 but with limited success. "When my brother Jim and I were enlisted as Museum Director and Artistic Director we decided to renew our efforts at creating merchandise," Moran explained. "We immediately recognized the aesthetic value of this archive as it included hand-carved, multi-colored blocks that were used to print everything from postcards to five-foot-tall show posters."
These prints were in great demand, yet only by museum patrons and occasional web site visitors. Frustrated with the lack of response, the brothers Moran considered partners who could handle the merchandise on a broader scale. "Target's design team immediately recognized the timeless appeal of mid-century American advertising and worked to build enthusiasm within the company," notes Moran. "A grassroots consensus quickly emerged that this was a story worth telling and a visual legacy worth preserving."
Obviously running a printing museum in Wisconsin, the heart of cheese country, is not exactly a cash cow, so Moran reckons that merchandising is a logical way to not only pay the bills "but also let patrons take something home when they visit." Still with a two-person staff, designing a line of apparel was not feasible. "Therefore, we hosted members from the Target design team for a three-day session where they identified a group of images that fit into their 'Vintage Varsity' design theme for fall." Moran printed hundreds of images on 70-year-old presses that the design team took back to the Twin Cities "to work their magic with. The resulting designs showcase the collection beautifully and we're really proud to have our name associated with them."
Moran hopes visibility among non-designers will increase the Hamilton's significance exponentially. "Whether you're interested in roller derby, rodeos, auto racing, or farm animals," he said like a true salesman, "the subject matter in the collection readily transcends type and printing. The fact that our museum specializes in hand-made printing seems to really resonate with the DIY crowd. Letterpress has a unique homespun feel to it and Target's clothing line definitely captures the vocabulary of the printing press." Alexin added, "It was almost impossible to stop this collaboration from happening. I have never seen our design team more excited to begin."
 Moran is also open to any other products that spread the gospel of wood type—tees and hoodies are just the beginning. "If it's authentic and reflects the aesthetic that can be found in the museum, we'd consider it." In fact, his long-term goal goes beyond the Hamilton, to fund initiatives that will support K-12 arts and literacy programming. "We have an incredibly diverse fan base of college students and recent grads who attend our workshops but we want to fill a dire need in arts education."
In the future he sees a Type Bus that will pick up school groups within a one-hour radius who can come to the museum to learn about printmaking using Gutenberg's technology. "A 10-year-old rearranging and printing wood type on a simple press merges art, literature, literacy in a way that nothing else does," he proudly noted. "And if that works as well as we think it will perhaps we can take the show on the road. Truly movable type!"
---
More information about the museum and the partnership is available in the following video:
Images: Courtesy of Target