Clarence Clemons and the History of the Rock Sideman
With rock bands becoming less and less visible, will there ever be another figure like Springsteen's legendary, saxophone-wielding partner?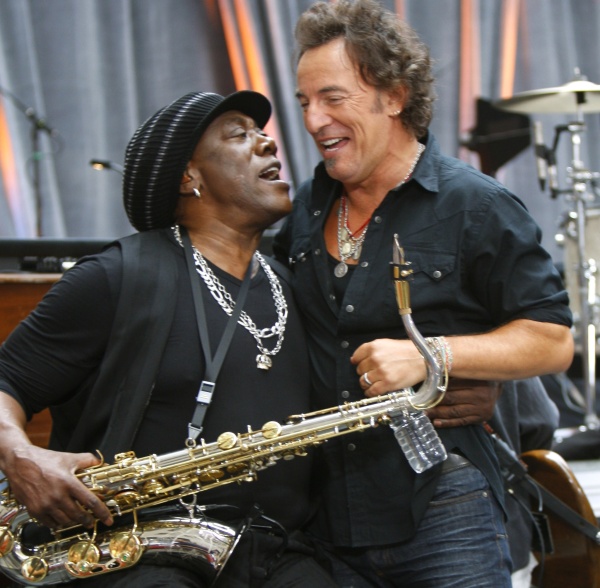 REUTERS/Brendan McDermid
When you open the gatefold of the Born to Run LP, completing the suggestive half-image on the album cover, you get not only one of the most indelible images we have of the late saxophonist Clarence Clemons, but a visual definition of the sideman. You see Bruce Springsteen literally leaning on Clemons, his eyebrows ever so slightly raised, his mouth curved into the sort of smile you save for inside jokes. It's clear that Springsteen not only counted Clarence as part of the E Street band, he counted on him: as a direct tie back to the sweaty and raucous black R&B of their youth, as a mountainous teddy bear of sheer physical presence, and of course as one of rock and roll's finest soloists, capable of taking over the middle two minutes of the final epic song of the biggest rock album of the '70s, sending the whole thing giddily heavenward.
Clemons died of a stroke this past Saturday, a sadly appropriate feat of timing given that he contributed his signature burst of sound to one of the year's biggest singles—Lady Gaga's "Edge of Glory"—in the midst of an extended moment in which everyone from pop starlet Katy Perry to indie heroes Deerhunter have incorporated sax solos in their songs. To many, Clemons is equivalent to former Doobie Brother and Steely Dan contributor Michael McDonald: a curious relic of an earlier era when flashy earnestness like the "Jungleland" solo ruled. But real rock and roll fans know him as one of the most indispensable sidemen of all time.
What makes a great sideman? Finding an answer means thinking about rock and roll as a theatrical art. Like a great supporting actor, they provide crucial charisma, chemistry and virtuosity, but by definition defer to the frontman as the true star. In the case of David Bowie's guitarist Mick Ronson, a sideman can embody rock's romantic ideal of itself as a populist or meritocratic art form. Ronson's chunky riff on "Ziggy Stardust" and indelible solo from "Moonage Daydream" were crucial to Bowie's pop ascent in the early 1970s. And like a good sideman, Ronson, the tough bloke from the industrial town of Hull, gamely sported the makeup and lycra required to blend in with the Spiders from Mars cast. Or in the case of the working-class Heartbreakers, Tom Petty's lifelong sideman Mike Campbell helps ground the band's narrative by providing a throughline back to the pair's sweaty formative years in Florida blues-rock band Mudcrutch.
The further you go backwards, the more you start to realize that the birth of rock 'n' roll as we know it couldn't have happened in the way it did without the colorful contributions of sidemen. When Elvis Presley wanted to cut his first singles in Memphis, he requested a Western swing guitarist named Scotty Moore to enhance his hopped-up blues and country covers with a touch of Chet Atkins's Southern refinement. Moore's Gibson produced the gorgeous filigrees that put a suit coat on the hillbilly glee of "That's All Right." A couple years later, Presley would hear a Telecaster solo on Dale Hawkins's "Susie Q" belonging to James Burton, who was quietly helping make Ricky Nelson a superstar at the same time. Ten years after, Presley would recruit him to shape his Vegas-based "TCB Band," which Burton would lead until Presley's death in 1977.
The argument could be made that the sideman role likely even predates rock and roll and can be traced back to the earliest "band" formations: Benny Goodman's reliable axe-man Charlie Christian was the first irreplaceable sideman, highlighting the guitar as a solo-worthy instrument in the late '30s and early '40s. A couple decades later, as '60s soul and R&B were hybridizing into funk, James Brown showed his allegiance to the rituals of jazz combos in his own band, giving Clyde Stubblefield his own drum solo on the song named after him. Yet on the opposite end of the spectrum, there's bassist James Jamerson's experience within Berry Gordy's assembly line system at Motown. Jamerson may be the most influential bassist of the '60s, yet he was anonymous in his own day, despite providing the beating heart of "My Girl," "Dancing in the Street," and "You Can't Hurry Love," among dozens of others. Marvin Gaye wanted Jamerson badly for the What's Going On sessions, and had to crawl through several bars to find the troubled musician, who by that time was in the early years of a lengthy fight with drug abuse and alcoholism. Jamerson sadly represents the sideman as exploited labor.
Sometimes, sidemen aren't instrumentalists, but yet are necessary because their uniqueness and presence automatically renders any performance or recording extra memorable. This could be called the "Billy Preston Corollary," perhaps. Steely Dan brought studio jazz's predilection for revolving session players into the rock realm, yet their most well-known sideman wasn't a saxman or guitarist, but vocalist Michael McDonald. Possessed of a pitch never heard before or since—not so much "soul" as an uncanny simulation of soul, a sort of robotic earnestness—McDonald makes the choruses of "Bad Sneakers," "Peg," and "Time Out of Mind" sound surreal and, moreover, are unimaginable without his presence. Same goes for Public Enemy's court jester Flavor Flav, who provided unforgettable and necessary comic relief and tonal variation ("yeahhhhh boyyyyyy") to Chuck D's fire and brimstone and the Bomb Squad's unrelenting squall of noise.
But is the rap hypeman the last vestige of the nearly-80-year tradition of reliable sidemen? Is it possible to virtuosically wave a towel around and swig from a bottle of water with eight other hangers-on? Not quite, but it's clear that sidemen have declined in importance as the traditional rock mythology—which the E Street Band embraced wholeheartedly—gave way to the more ironically-inclined post-punk ideal. Through the 1980s and '90s, there seemed to emerge a breed of sideman most prominently known for doing nothing at all. The film 24 Hour Party People introduced us to the Happy Mondays' legendarily drugged-out stage decoration Bez, the indie rock documentary Dig! prominently features tambourine-shaker Joel Gion, and fans of the 90s ska-rock band The Mighty Mighty Bosstones adore the band's "dancer" Ben Carr.
Like most of the great rock music made today, it seems that the sideman has largely retreated to the indie underground. In the 90s, Pavement's Bob Nastanovich perfected the role of excitable onstage renaissance man, and over this last decade, Chicago scene veteran Jim O'Rourke has emerged as an indispensable contributor to recordings by Sonic Youth, Joanna Newsom, and Wilco. Speaking of Wilco, one of the biggest and most respected American rock bands recruited avant-garde guitarist Nels Cline to provide inflammatory solos and arty texture for the band's last two albums (and, it's been argued, to replace bandleader Jeff Tweedy's collaborator Leroy Bach and acrimoniously departed sideman Jay Bennett). Like Clemons, Cline is steady, flashy when needed, but never ready to upstage his boss for too long. He might just belong on Wilco's next album cover.